Rio 2016: Great Britain hockey shoot-out hero Maddie Hinch had it all in her notebook
Danny Kerry's side pulled off a historic victory over the Netherlands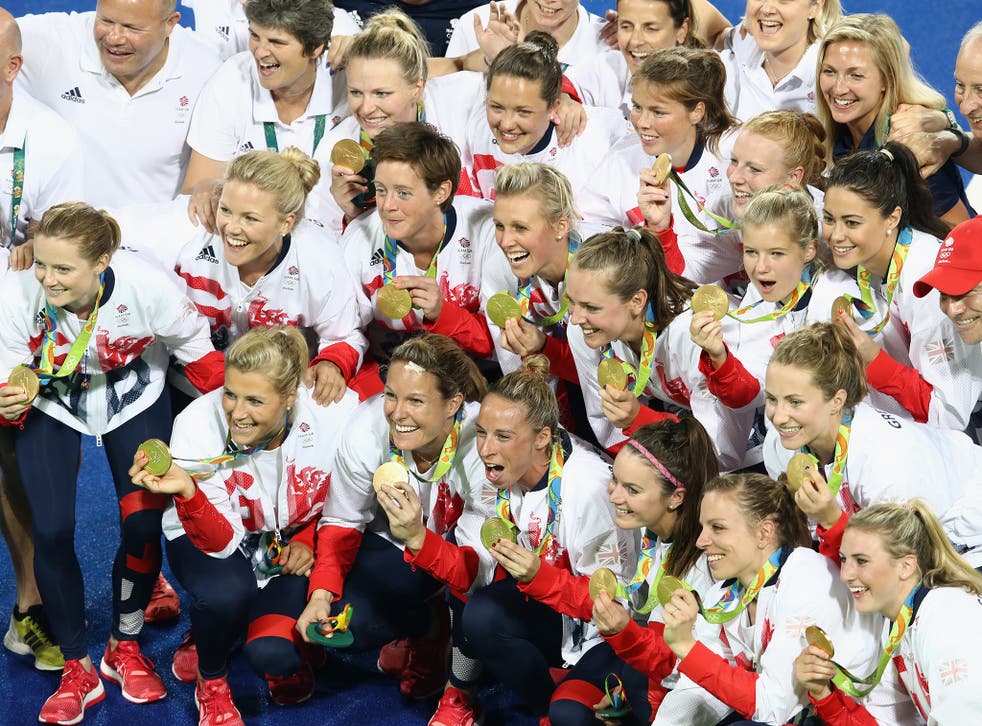 The Dutch must be sick of the sight of Great Britain's goalkeeper Maddie Hinch and her little red notebook. She was the star of the show on Friday night as GB won an amazing gold in dramatic fashion, clinching the final on a penalty shuffle shootout after the 60 minutes had finished 3-3.
Hinch proved unbeatable in the shoot-out as GB won 2-0 and the goalkeeper also saved a penalty stroke in normal time. Add to that her starring role in last year's European Championship final when Britain beat the Dutch, as she is probably persona non grata in the Netherlands. And it's all down to her skill and her data collection.
"Goalkeeping has its highs and lows," a calm Hinch said after the initial frenzied celebrations had calmed down and she had collected her gold medal – GB women's first in Olympic history. "You can be the villain but you can also be the hero. That was a huge team effort. We knew the Dutch would have their moments because they are a fantastic side.
"But we definitely backed ourselves going into the shootout. I was a bit nervous and my legs felt really heavy but I was confident as well. It was a great chance for me to do my bit as a goalie. I do enjoy shootouts."
Hinch is a great believer in homework. And how it paid off. "It was quite helpful that the Dutch had a shootout [against Germany] a day before. I just give myself a game-plan for each player and I go out and execute that. It is all in the notebook. I am constantly keeping my database up to date.
"Thankfully the Dutch did what I thought they would do. We have a huge amount of data and I can go back years and years and look at details of one player, what she has done every time. I narrowed it to one plan for each player. I am just glad I made the nation proud."
Captain Kate Richardson-Walsh, who has been leading the side since 2003 and who with this win is bowing out of international hockey, was proud of team. "If you are prepared to do whatever it takes to realise your dream it can happen," she said. "If you are prepared to work together as a group it can happen."
Despite the one-sided nature of the final the GB coach, Danny Kerry, said he just had a feeling throughout that they would win it. "It was surreal. Some days you just know you are going to win. We didn't play well in the first three quarters – they battered us - but we were toughing it out. And then when it came to a shootout I just knew."
Richardson-Walsh made history by winning gold in the same team as her wife Helen Richardson-Walsh, who scored in the shootout, which made victory all the sweeter. "To win an Olympic medal is special, to win it with your wife standing next to you on the podium, after she scored in the shootout, is so special. We will cherish this for the rest of our lives."
Team GB's Rio 2016 gold medals

Show all 26
Was she nervous though when he wife stepped up to take that penalty? "I was so confident. The more the crowd booed the more I knew she would score. I know how that inspires her: the passion of wanting to prove others wrong."
"What a journey it's been," added Helen. "There have been many ups and downs over the 17 years. Eighth in Sydney in 2000 and from that moment both myself and Kate just wanted to win a gold at an Olympics. It's not been easy. It shows if you put your mind to it these things can happen. There were many times when I thought it never would."
The pair are now off to play league hockey in Holland. "I hope they are kind to us!" said Kate. "At least we go with a bit of clout!"
Join our new commenting forum
Join thought-provoking conversations, follow other Independent readers and see their replies