Rio 2016: 'I'm not very marketable,' says five-time Olympic champion Jason Kenny
Kenny's experience and power shone through as he overcame teammate Callum Skinner in an all-British sprint final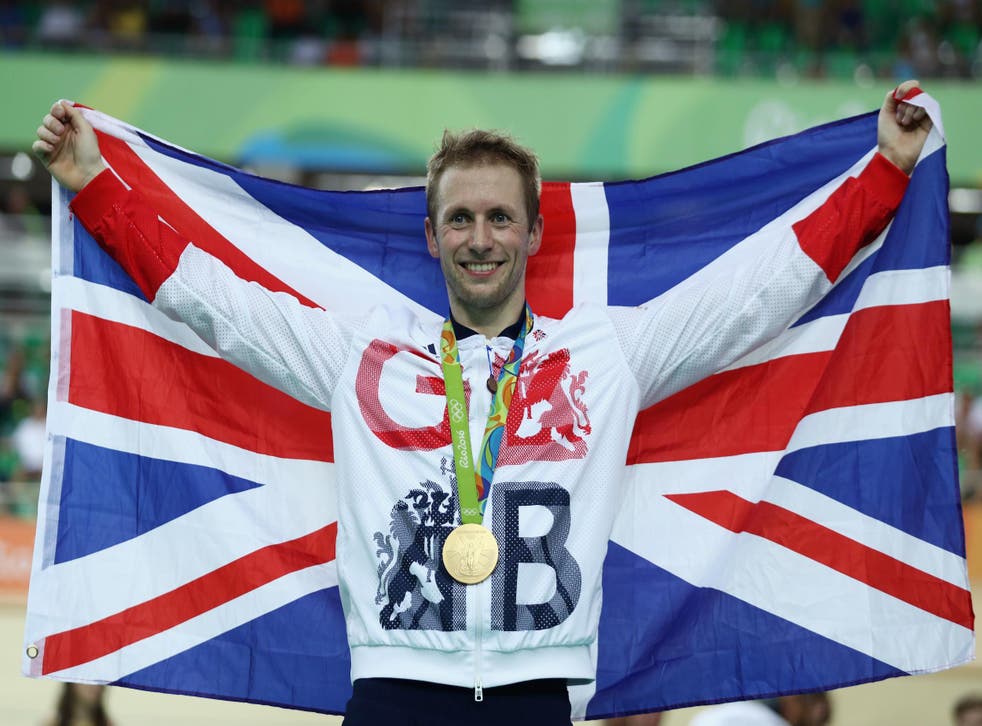 Jason Kenny apologised on Sunday night if anyone had thought he was moaning when he said last month he was not "pretty" enough to have a personal sponsor and that he might fare better if he looked like Tom Daley. "It wasn't meant to be moaning," he said. "I'm just not very marketable. I've come to accept that. I like flying under the radar a little bit."
The hope for sponsorship must surely be at an end after the Olympic day which can only be known as Super Sunday for Britain. No sooner had Max Whitlock taken his own historic second gold than Kenny was making his own piece of history as a five-times Olympic gold medal winner, successfully defending his Olympic individual sprint title by beating team-mate Callum Skinner. The latest piece of metal puts him on a par with Sir Bradley Wiggins and Sir Steve Redgrave for golds attained: five of them. Kenny has won two at these Games.
"I don't feel any different to how I felt the other day when I had won three," added Kenny, illustrating the absence of ego which contributes to him operating under the limelight.
Watch the moment Usain Bolt became triple Olympic champion in the 100m
There were echoes of the press conference Whitlock had just given a few hundred yards away – with the gymnast a little taken aback by the publicity– as he discussed the particular challenge which these Olympics have brought. They have included adapting to a training regime which has entailed a drop-off of conditioning work in favour of peak speed. "Fortunately there were big gaps between competition so I had time to recover."
The conversation with him was prosaic, skirting around such subjects as when he would be seeing his girlfriend Laura Trott – "I'll pop around tonight when I get back. We're neighbours" – and the daily routine: "It's really boring."
But his fifth gold, secured by two straight race wins over fellow Briton Callum Skinner in the sprint, merits more acknowledgement of this individual. There might not be soundbites from Kenny but there is a sense of why British cycling dominates, Olympics after Olympics.
"The thing about the Olympics is we have a really good team of people. Our whole programme is based around winning Olympic medals and is focussed on that. The World Championships mean the world to us at the time but a lot of the team are working purely to the Olympics. The last 12 months running up to the Games you start getting that feeling and all that momentum. You starting getting the nice new shiny stuff coming out and all of a sudden you see the guys you haven't seen for four years who come out of the wood work and really push us on " he said.
"I think it's that last little nudge over the line really, that really helps us and keeps it together. And I think I'm the last piece of the puzzle. You've got a whole series of guys making sure I'm in the best possible conditions and whole series of guys making sure I'm on the best possible bike. I don't really have to think about anything apart from turning up here and doing my best."
More of the conditioning might have helped, given on the tough last few days. The semi-final was hard for Kenny, who needed three all races to beat Russian Denis Dmitriev. "With the sprint being over three days, you don't sleep much," he said. That left him with the strange situation of sharing a room in an apartment with his final opponent.
Rio 2016 Olympics - in pictures

Show all 74
"We did the same thing we normally do, had dinner, went to bed, had breakfast, had lunch and came here," he said. "It did take me back to Beijing a little bit [when he and Sir Chris Hoy raced for gold and silver]. I remember sitting having breakfast with Chris that morning and it was a bit of the same this time. I enjoyed it, it was a bit lonely at London 2012 with it only just being one per nation and being on my own in the finals. It's just better to be with someone who's going through the same thing."
There was more camaraderie between the gold and silver medalists than there had been between Whitlock and Smith. The pair draped a Union flag over their shoulders before they disappeared from the track. One of Kenny's first jobs might now be to amend his Twitter profile from the "three times Olympic Champion" which it was still stating last night. "I'm just getting on with what I like doing, which is racing," he said.
Join our new commenting forum
Join thought-provoking conversations, follow other Independent readers and see their replies