Rio 2016: Jellyfish and giant waves – the perils of being an Olympic marathon swimmer
The 10km marathom swim is one of the most brutal contests at the Olympics, as Kane Radford tells David Cox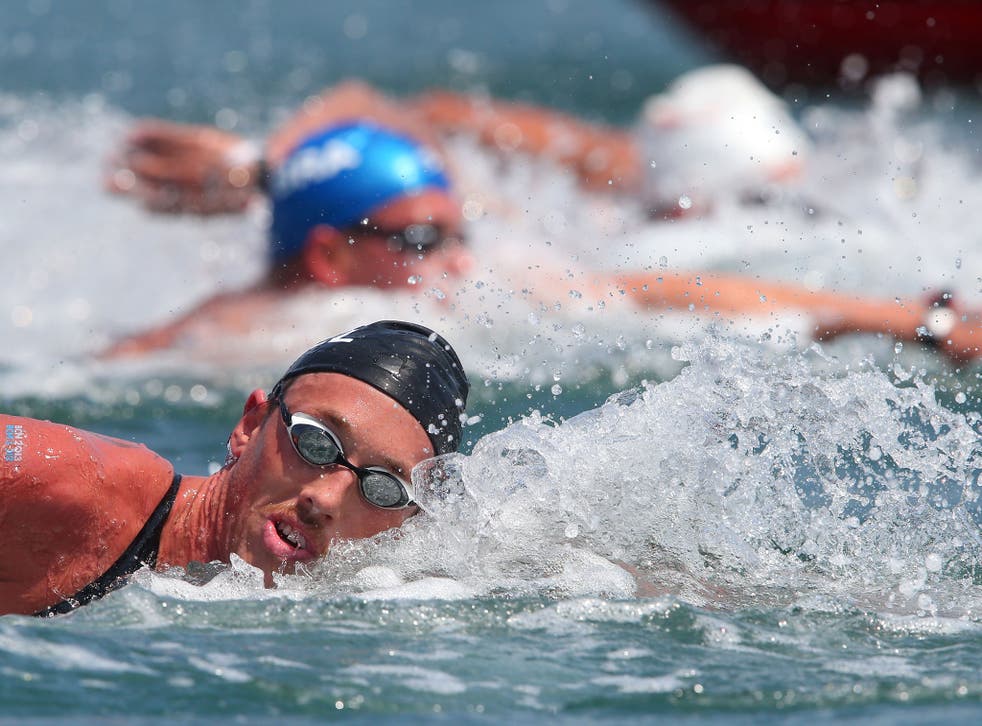 Kane Radford will never forget his first major marathon swimming race. "It was the World Championships, we got round to the first buoy and I just got absolutely hammered," the 25 year old Olympian from New Zealand grins.
"I remember taking an elbow in the ribs and being like, 'Woah!' I ended up popping up vertically and then getting dunked underwater by the guy right behind me. He wasn't gonna stop. And then there were a couple more guys who swum over me before I could come back up."
Such is marathon swimming, arguably one of the most physically brutal contests in the Olympic, which takes place next Monday and Tuesday. 25 competitors (26 in the women's race), battle it out around a 10 kilometre open water course winding around Copacabana Bay and marked out by a series of buoys.
Unlike races in the pool where athletes swim in separate lanes, in marathon swimming they are bunched together in a thrashing, wrestling pack. And no one has any intention of taking prisoners. "There's some big guys in the field and when they wanna hit you, you know about it," Radford says. "But everyone knows to expect that. You're kidding yourself if you expect to swim in an open water race and not get hit a few times."
But as brutal as it can be, in many ways the physical nature of the race is the least of many athletes' worries. After all in an open water competition, the local wildlife doesn't stand back to spectate.
Britain has two marathon swimming entrants - Keri-Anne Payne, veteran of three Olympics and the silver medallist from Beijing, and Jack Burnell who qualified by finishing fifth at last year's World Championships. Burnell admits that to become a seasoned marathon swimming competitor, he's had to overcome some of his natural fears.
"I've had to swim with jellyfish in the past which freaked me out a bit," he says. "But it's something you have to get over mentally. The more you can expose yourself to the unpredictability of the sport, the better you'll be able to cope with it."
South African swimmer Chad Ho is competing in his second Olympics and has experienced his fair share of problems with the wildlife during his career. "You get them in nearly every race in Australia," he says. "You can see them around and you never quite know if you're gonna be stung or not. I've been stung before and there's nothing you can do apart from keep swimming. At the end of the day, that little pain is nothing compared to what you're feeling that last little bit of the race."
To cope with jellyfish, marathon swimmers cover their bodies in a layer of Vaseline or petroleum jelly, hoping that the sting will only penetrate the coating rather than their actual body. But apart from that, there's not a lot they can do.
"You have what we call stingers, which are just the tentacles of the jellyfish," Radford says. "They float in the water and you can't see them. They can react with your skin and everything which causes a lot of havoc. At the World Championships in 2013, there were guys getting stung across the face and everything. But it's part of it. Really anything can happen in our race and that's what makes it so incredible."
But if the jellyfish don't get you, then giant waves might. American athlete Sean Ryan is one of the medal contenders in Rio after finishing fourth at the World Championships and he recalls competing in ocean venues where the competitors where continuously being almost wiped out by four-six foot waves. "All you can focus on is your stroke technique," he says. "You just try to keep plugging away. It breaks the experienced guys apart from the less experienced."
Rio 2016 Olympics - in pictures

Show all 74
Radford describes one race in Mexico, part of the marathon swimming World Cup series, where underwater currents are so strong that the athletes found themselves stuck helplessly in the same position for about five minutes. "When going round one of the buoys, we literally had to aim a good 300-400m away from it otherwise we would have missed it completely because we were getting pulled so strongly," he says. "We ended up getting dragged onto rocks and some of the guys ripped their wetsuits that day. Experience really comes into it. Some guys can even read the water and feel the way it's moving. Coming from New Zealand, we're surrounded by ocean and swim in the surf growing up so I naturally have a pretty good feel for it."
In some ways, the Olympic course in Rio may sound like a bit of light relief for the athletes. While large waves may feature, jellyfish will not be present. But the pre-Olympic build-up over the past six months has highlighted one of the major problems which marathon swimmers regularly contend with, poor water quality.
Studies on the water in Copacabana Bay have found viral levels at up to 1.7million times what would be considered risky in the United States or Europe. Medical experts have suggested that athletes who ingest just three teaspoons of this water could be infected with pathogens which are linked to stomach and respiratory illnesses, and even heart and brain inflammation.
Marathon swimming competitors will be competing in this water for two hours or more, and all are aware of the potential risks. Six years ago American marathon swimmer Fran Crippen, bronze medallist at the 2009 World Championships and one of the stars of the sport, died during a competition in Abu Dhabi. Crippen collapsed during the race, thought to be due to a combination of heat exhaustion and poor water quality, and drowned. His body was found by divers two hours later.
But many of the competitors in Rio believe that a lot of the fears about the Olympic course are simply 'media scare-mongering.'
"I've swum at the Copacabana venue in the past so for me the water quality isn't an issue at all," Ho says.
Radford admits to avoiding the 'dirty swims' as much as possible after a race in Hong Kong two years ago which left him feeling ill and needing a course of antibiotics for two weeks. "The water was dirty enough that when you put your hand in it, you couldn't see it," he says. "But this is the Olympics, you pretty much have to do it. The media reports don't look good but they don't concern me too much as they had a test run on the course last year and none of those guys got sick. I spoke to them afterwards and they said it was pretty good, not super clean but not super dirty either. But if I didn't know that then I'd be a little concerned."
Various strategies are being employed to try and minimize the risk of falling ill. Burnell intends to drink flat Coca-Cola after the race to try and kill any pathogens ingested during the swim, while Ryan says he will use antibiotics for the first time in his career. 16 year old Australian swimmer Chelsea Gubecka says she will take antibiotic ear drops ahead of the race to minimize infection.
But at the end of the day, every competitor insists that whatever the risks, there's no doubt as to whether it's worth it.
"There's all the injections we've had before we even came over which will help protect us," Radford says. "We've got stuff afterwards if we feel even the slightest bit sick. So that way we know we'll be alright. And at the end of the day, if you get a little bit sick, it's after the race. You can worry about it then. It's the Olympics. It's something you worry about once you're done."
Join our new commenting forum
Join thought-provoking conversations, follow other Independent readers and see their replies