Rio 2016: Jessica Ennis-Hill takes silver in thrilling conclusion to heptathlon
Belgium's Nafissatou Thiam wins gold after producing five personal bests across the two days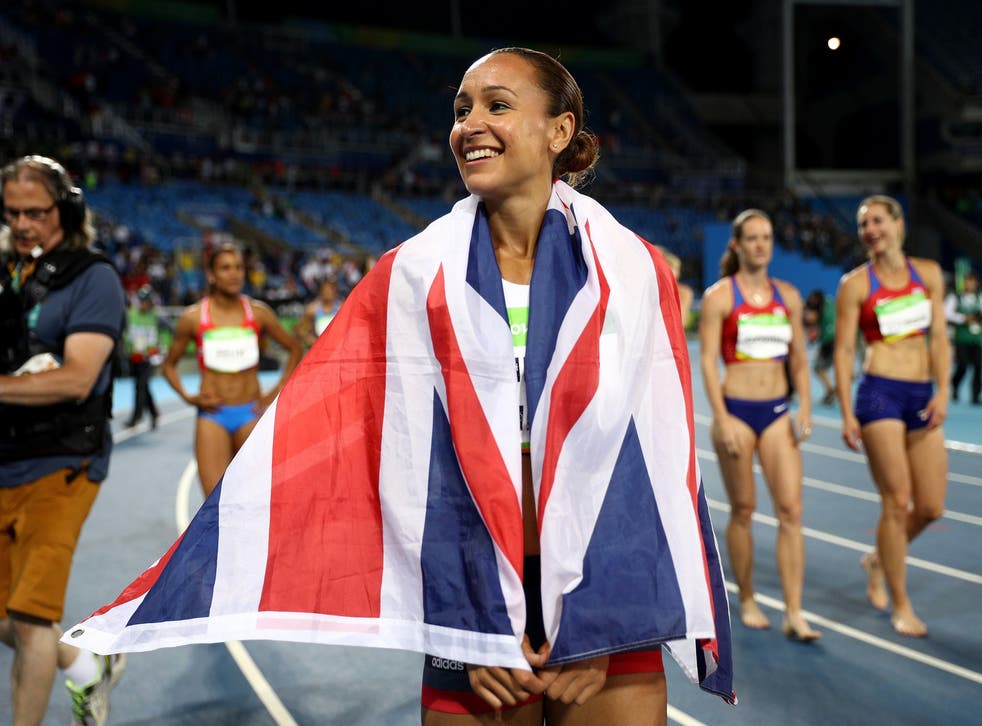 Reggie will be proud. And Jess Ennis-Hill should be too. The British poster girl of London 2012 is now the poster girl of Rio 2016 too, despite failing to back up her Olympic gold of four years ago in the heptathlon here on Saturday night.
The 30-year-old had to settle for silver when she failed to beat the Belgian Nafissatou Thiam by the 10 seconds she needed to win gold in the night's final event, the 800m, in the Olympic Stadium in Rio.
Her fellow Brit Katarina Johnson-Thompson could only come home in sixth place after a miserable javelin.
Adding silver to her gold of four years ago is still a remarkable achievement. That she has done it just two years after giving birth to Reggie makes it all the more gobsmacking.
Ennis-Hill was a mere two seconds away from being the first British track-and-field woman to win back-to-back Olympic titles and finished just 35 points behind Thiam. The Brit had needed to rub out a 10second advantage in the night's final event and she shot into the lead. With Thiam at the back at the field there was briefly hope of GB golden joy.
The Briton continued to pull away and finished in 2 minutes 9.07seconds but Thaim, who managed a sprint of her own down the home straight, came home in 2min 16.54, just shy of eight seconds behind. Ennis-Hill was all smiles afterwards perhaps aware of her achievement in winning any sort of medal.
Only two women have given birth and retained their titles in the same Olympic cycle: Australia's Shirley Strickland, who won 80m hurdles gold in 1952 and 1956, had a son in 1953 and Cameroon's Francoise Mbango Etone won triple jump gold in 2004 and 2008 and had a son in 2006. Ennis-Hill was so close to joining that exclusive club.
But to win Olympic gold two years after childbirth – she was restricted to a very limited range of activities for the first three months - in an event that comprises seven disciplines – involving twisting, jumping, sprinting, turning – would have been an incredible feat. Perhaps we hoped for too much but then his incredible athlete did win World Championship gold in Beijing last year after all – and she wasn't even sure if she would compete until the last minute.
Ennis-Hill has reset the clock since giving birth: she now has a set of PPPB's (post-pregnancy personal bests) as well as PBs. Well, this is a PPPB if ever there was one, even if it is silver-coloured.
Coming into the evening action and the last two disciplines of the heptathlon - javelin and 800m - Ennis-Hill was second to Thiam - but only by five points after the morning's long jump in which the Belgian had been excellent.
The Brit delivered a decent first attempt in the javelin, her traditional weakness that cost her gold in the world championships in 2011, with a throw of 45m 91. Thiam responded magnificently, though, with a throw of 53.13, not far off her lifetime best. Ennis-Hill upped her game and hit 46.06 – still short of her PB of 48.33m. Thiam hit only 46.37 but Ennis-Hill messed up her run-up with her third effort and could only make 42.17.
Ultimately the javelin and poor shot putt on day one cost her.
Rio 2016 Olympics - in pictures

Show all 74
Meanwhile, Johnson-Thompson's hopes had faded. She entered the evening action in third place, just 46 off the lead. But her javelin was weak. She threw 36.36 in her first attempt (her PB is 42.01), fouled the second, put her head in her hands in despair and hit just 33.42 in her third. Bronze was slipping away.
Earlier in the day, Thiam had claimed the lead with a personal best leap of 6.58m in the long-jump to overtake Ennis-Hill, who had been ahead by 72 points overnight. The Brit had jumped 6.34m and seemed set to hold on to top spot going into the evening action but Thiam improved dramatically on her second-round 6.18m. Johnson-Thompson's first-round 6.54m moved her up to third from her overnight fourth.
Rio 2016: Yesterday's Highlights
Ennis-Hill's coach since she was 13, Toni Minichello, openly admits he did not know if his charge would return to action after giving birth. He puts her decision to get back on track down to her phenomenal work ethic and her love of winning.
This was not a win – but it should feel like one.
Join our new commenting forum
Join thought-provoking conversations, follow other Independent readers and see their replies