Rio 2016: Justin Rose captures golf's first gold medal in 108 years
Rose overcame Henrik Stenson in a thrilling showdown that was settled on the 18th hole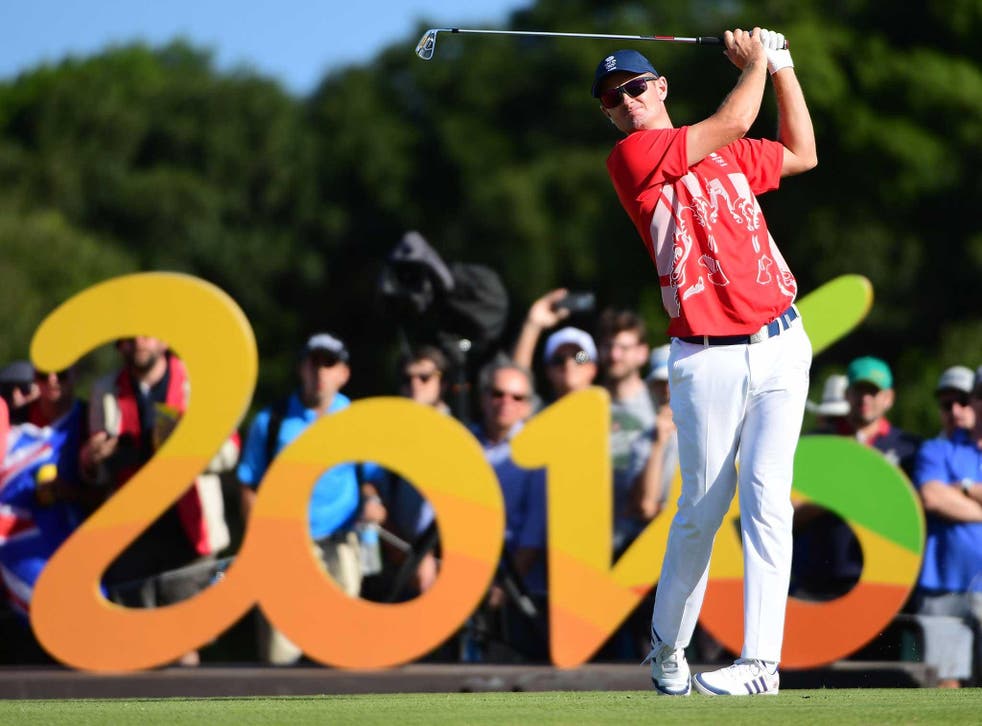 Olympic Rose. Horticulturalists of the world you can have that one on Justin. Has a three-foot putt ever meant so much? A primal scream, a clutch of the Great Britain jersey above the heart. That is what ownership of the first Olympic gold medal in 108 years meant to Justin Rose.
An epic week fed into an enthralling final day and a gripping last hour when Rose and Henrik Stenson arm wrestled down the stretch. Rio could not have wished for more, two major winners feeling it big time on on the back nine of championship Sunday.
This was the antithesis of social golf. It meant plenty even to Matt Kuchar, who spent most of the day swinging freely outside the medals. Witness the buckling of his knees in disappointment after leaving his birdie putt in the jaws at the last, a 62 sitting right there on the lip of the hole.
His 63 was good enough to claim bronze, and when the day was done he was thrilled with that. Sergio Garcia, who shot a 66 to tie for eighth tweeted. "Whoever said Olympic golf didn't mean anything must've been on drugs cause this is absolutely amazing! Coming to Rio, my best decision ever."
Not being here is beginning to look less like a miss and more an insult. Stenson and Rose locked in a battle for hegemony down the back nine on a Sunday would grace any tournament. There was never more than a shot between them all day until the denouement on the 18th green, which ended with Rose tapping in for birdie and a 16 under par total, two clear of Stenson.
"I have been dreaming of this moment for three years. I was hoping my ranking would get me here. To be involved was incredible. To come out with gold was unbelievable," Rose said. "I'm very proud of the achievement. I had to beat a world class player to win it."
World class is right. Stenson, already an Open winner this season, took defeat like the champion he is. "It was always going to come down to who played best coming down the last. We were tied and he birdied so I can have no regrets," Stenson said."Congratulations to my good friend, who won it today."
With five to play Stenson was the man with his nose in front. Rose will look back at the 25-foot par save at the 14th after Stenson bogeyed as the stroke that saved his day. To miss that might have seen momentum drain. Instead a birdie at the next made it a two-shot swing in two holes leaving him once more in the ascendency.
A birdie at the 16th brought Stenson level again and so it remained with the pair standing two at the side of the par-5 18th. Gold would come down to a chip and a putt. Stenson went first and long. Rose chipped to three feet. Stenson would have to hole to take this to a play-off. He didn't. He three-jacked, leaving Rose with the simplest of tasks to make history.
His caddie, Mark Fulcher, who along with all loopers here this week were classed as equipment, and therefore left without a medal, let slip how a picture of Michael Phelps had been an inspiration, the greatest Olympian of all time captured in a photo alongside a rival in the pool who could not take his eyes of him.
That's the picture Rose had in his head all week. He wanted to be the one to whom all others deferred. And how. The tournament was not without its faults. The punters were not perfect in their adherence to golfing etiquette, often engaging in conversation while players were addressing the ball, getting caught on crossways when players were ready to play and other minor irritants.
This was a failure of marshalling as much as ignorance on his part and the authorities might have had a better response had instructions to move this way or that been issued in Portuguese not English. Minor quibbles that in no way diminished the experience or detracted from the authenticity of the event..
Join our new commenting forum
Join thought-provoking conversations, follow other Independent readers and see their replies