As it happened
ended
1471225814
Rio 2016 live: Usain Bolt wins third 100m title as Team GB dominates on Sunday night with gold rush
Follow the latest medals and news from Rio as Usain Bolt confirms his status as the world's fastest man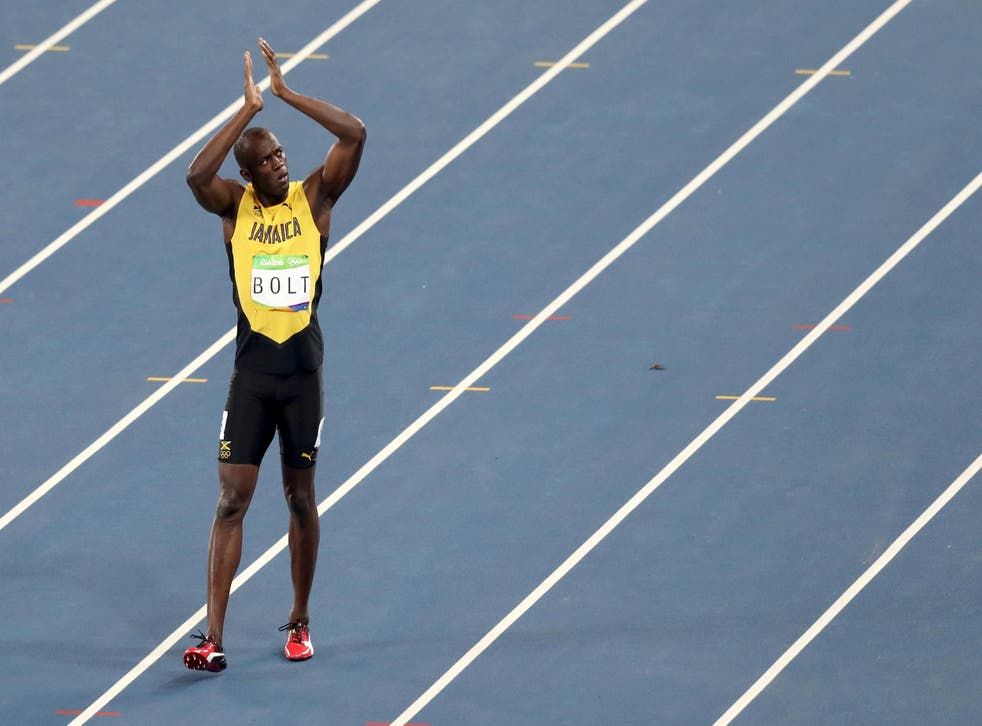 Inside the Olympic Stadium, Usain Bolt stormed to gold in the men's 100m as he crossed the line in 9.81 seconds. Here are the latest updates:
Follow the live action below...
Please allow a moment for the live blog to load
This winning a gold medal thing is becoming a bit of a habit for Great Britain who added three more on day eight to take their tally to nine – with success coming in the rowing, cycling and athletics on another 'Super Saturday'.
The GB joy was delivered at the scenes of their recent successes: the velodrome and Rodrigo de Freitas Lagoon, home of the rowing. Yet it was the sight of Mo Farah powering home down the final straight inside the Olympic Stadium that could prove to be the iconic image of this Olympics from a British perspective.
Rio 2016 Olympics - in pictures

Show all 74
Farah's dreams of a third consecutive gold medal - and the second in the 10,000m following his double triumph at London 2012 - was nearly derailed by aan early fall when his American training partner, Galen Rupp, accidentally tripped him.
But Farah bouonced back immediately, and held off a spirited last-lap attack from Kenyan Paul Kipngetoch Tanui to clinch a thrilling victory.
1470434834
More on the sad news Pele will not be able to attend tonight because of ill health. 
"I'm not in physical condition to take part in the opening ceremony," Pele said.
"Only God is more important than my health. In my life, I've had fractures, surgeries, pain, hospital stays, victories and defeats. And I've always respected those who admire me." 
Samuel Stevens
5 August 2016 23:07
1470441395
And now the inexorable march of athletes. Hang in there folks, you can do it. Given my inability to correctly identify German table tennis players, I'll leave you in the capable hands of our sport guys.
Christopher Hooton
6 August 2016 00:56
1470442138
Aruba looked a happy bunch. Didn't know where it was. Looked it up and now it's obvious why they're a happy bunch.
Matt Gatward
6 August 2016 01:08
1470442634
Here come China. This could take some time
Matt Gatward
6 August 2016 01:17
1470443293
Egypt. That's with an E. Fifth letter of the alphabet. 21 to go if my maths are correct...
Matt Gatward
6 August 2016 01:28
1470443571
Flag carrying Rafa Nadal with a massive beam on his chops as he leads Spain out into the Marcana. 
Matt Gatward
6 August 2016 01:32
1470443756
The U S of A ... Hundreds of em. Very preppy with the white chino look
Matt Gatward
6 August 2016 01:35
1470443876
Russia soon....what reception will they get?
Matt Gatward
6 August 2016 01:37
1470444212
Team GB in the house. Andy Murray with the flag. Not sure about the jackets
Matt Gatward
6 August 2016 01:43
Join our new commenting forum
Join thought-provoking conversations, follow other Independent readers and see their replies