Rio 2016: Mo Farah wins gold in the men's 5,000m to secure historic 'double-double'
Farah has now repeated his successes of London 2012 to claim gold in both the 10,000m and 5,000m at Rio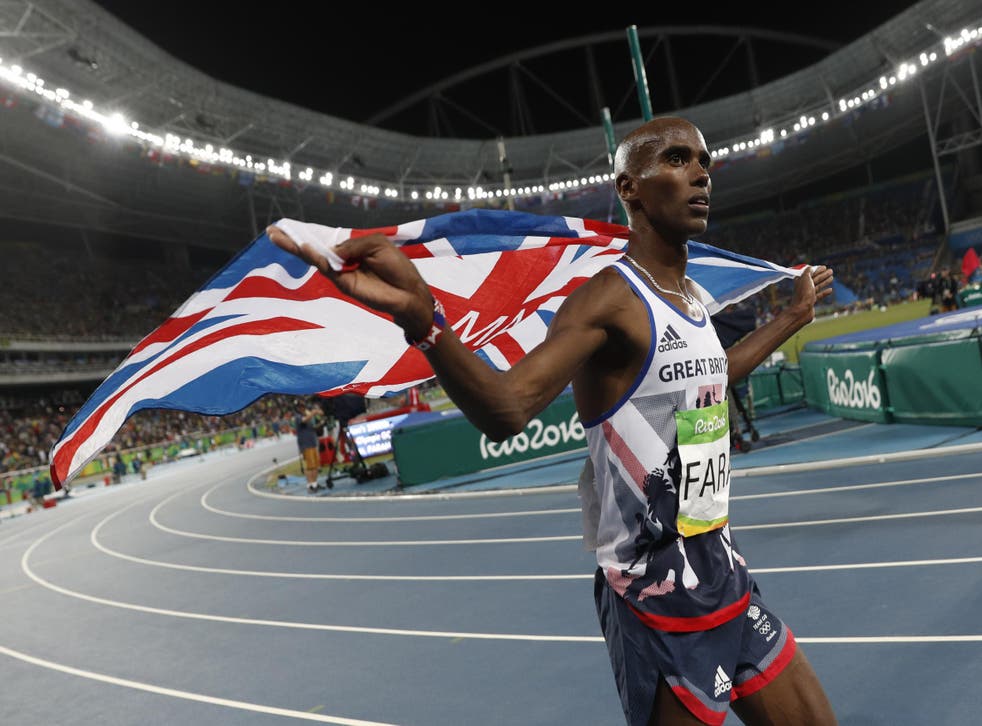 Mo Farah feared that there may be more collisions around him in the 5,000m final but he ran a spellbinding race on Saturday night – beating off threats from everywhere in the field to secure another gold and cement his status as one of the all-time giants in British athletics.
Farah was challenged first by the Ethiopian Hagos Gebrhiwet and then the American Paul Kipkemoi Chelimo in a sensational last lap. But he kicked for home at 200m and managed one of his legendary bursts on the home straight as Chelimo looked briefly as if he might pull off an upset.
But he had too much for either of them. The 33-year-old Farah's pace in the last lap – 52:83 – put him on another level. He eventually clocked in at 13:3.30 minutes to take the top spot on the podium.
The threat was precisely as Farah had anticipated it, with the Ethiopians Gebrhiwet and Hagos Gebremeskel taking it in turns to assume the lead at the front of the pack, setting a pace that they had hoped would tire the Briton.
But Farah had a compatriot of his own for company. He and Andrew Butchart ran closely together for much of middle section as Farah kept well within touch of the Africans. When Farah had first taken the lead, Butchart then joined Farah at the front of the pack. Butchart faded but had performed an invaluable role.
Farah began the race at the back of the pack to avoid trouble, as he had in the 10,000m, but he quickly began moving up the field.
The Ethiopians needed to build a substantial lead over Farah, knowing the pace of his finish. With five laps to go he moved into second, splitting the Africans, and seconds afterwards drove to the front.
There was huge symbolism about Farah's win. It guarantees that Britain will now match the 65 medals they won at the London Olympics with boxer Joe Joyce set for either gold or silver in Sunday's super-heavyweight final against Tony Yoka of France.
He also defeats the challenge of becoming the second man after Finland's Lasse Viren (1972/76) to retain both the 10,000m and 5,000m titles.
Register for free to continue reading
Registration is a free and easy way to support our truly independent journalism
By registering, you will also enjoy limited access to Premium articles, exclusive newsletters, commenting, and virtual events with our leading journalists
Already have an account? sign in
Register for free to continue reading
Registration is a free and easy way to support our truly independent journalism
By registering, you will also enjoy limited access to Premium articles, exclusive newsletters, commenting, and virtual events with our leading journalists
Already have an account? sign in
Join our new commenting forum
Join thought-provoking conversations, follow other Independent readers and see their replies