Rio 2016 Olympics: Sailors warned over sewage-infested waters, dog carcasses and even 'human corpses' in Guanabara Bay
Five years after Brazil won its Olympic bid, athletes have condemned the site of the Olympic sailing and windsurfing events as a 'dump'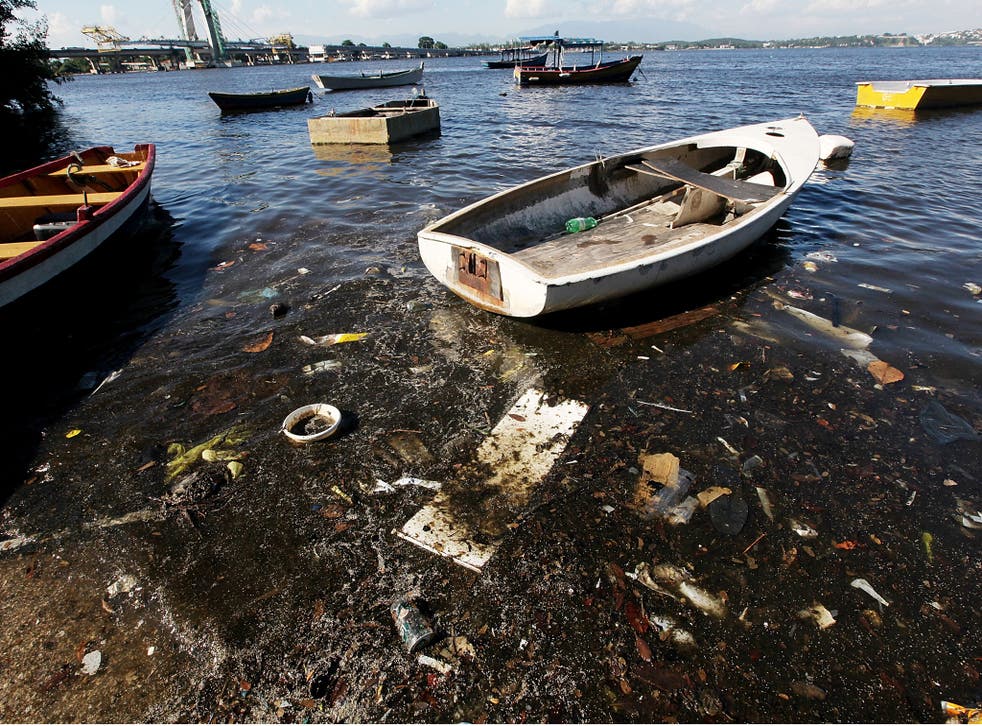 Olympic sailors looking to compete in the 2016 Summer Games have voiced concerns over sewage-infested waters swamped with rubbish and human waste in Rio de Janeiro's Guanabara Bay, where the Olympic sailing and windsurfing events will take place.
Athletes have described having to dodge a deluge of rubbish including floating mattresses, car tyres, submerged sofas, dog carcasses and even human corpses, as former Olympian medallist Lars Grael claimed, when sailing in the water - five years after Brazil won its Olympic bid.
The Bay was condemned as a "dump" in March by Germany's sailing team because of the garbage-filled waters, where they questioned how the sailing regattas would be organised there.
Nico Delle Karth, an Austrian sailor told The New York Times the stench of sewage made him scared of putting his feet in it to launch his boat. "I've never seen anything like this before," he said.
In pictures: Guanabara Bay ahead of the 2016 Summer Olympics

Show all 6
"It can get really disgusting, with dog carcasses in some places and the water turning brown from sewage contamination," Thomas Low-Beer, a Brazilian Olympic hopeful who sails in the bay added.
The fears over the conditions in the water come after The Associated Press claimed to have obtained a letter from Rio's state environment secretary Carlos Francisco Portinho, where he told sports minister Aldo Rebelo that pollution flowing into the bay could be cut to "over 50 per cent" - well below the promised reduction of 80 per cent.
Nearly 70 per cent of Rio's sewage goes untreated into its waters, according to AP. Danish Olympian Allan Norregaard, a bronze medalist at the 2012 Olympics, said Guanabara was "the most polluted place I've ever been." Other sailors interviewed by the AP referred to it as an "open sewer."
State officials are now using rubbish boats to collect floating debris and officials contend criticism of Guanabara Bay is exaggerated. Carlos Portinho, an environmental official in Rio, said reversing pollution in the bay was a "long-term project" and while three small "ecoboats"currently correct rubbish, 20 or 30 might be operating by the Olympics.
"If someone picks up a bag, or hits a sofa or something like that, then clearly that is going to affect them in the race," Mr Fox said.
"We've seen numbers from teams of the fecal content in the Guanabara Bay, which clearly are not safe," he added. "For us, that's a matter of concern. We've been assured again by the organisers that they are doing everything they can."
However, Mario Moscatelli, a biologist and outspoken environmentalist said retrieving floating rubbish would not address the problem of untreated sewage.
In an open letter to Brazilian President Dilma Rousseff, he asked for the "release of the funds needed to recover the environmental assets, which are being used in Rio as garbage dumps and latrines."
The International Olympic Committee has said it will not conduct its own testing.
Join our new commenting forum
Join thought-provoking conversations, follow other Independent readers and see their replies