Rio 2016: 'Proud' Jess Ennis-Hill as good as admits athletics career is over after silver triumph
The 30-year-old had to settle for second place when she failed to beat the Belgian Nafissatou Thiam by the 10 seconds she needed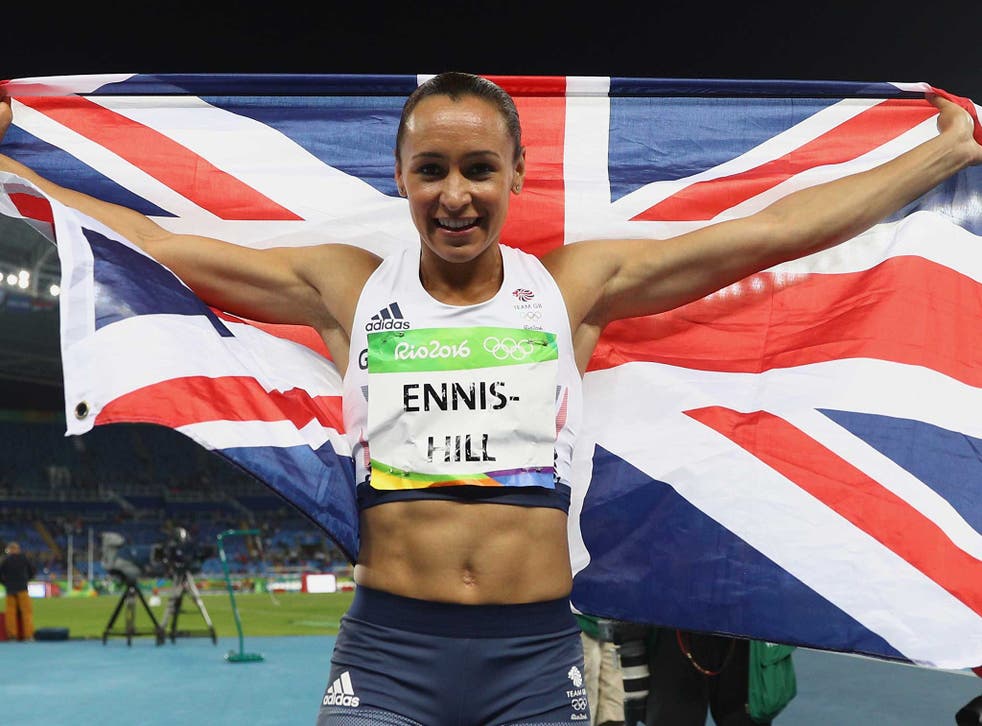 An emotional Jess Ennis-Hill as good as admitted that her athletics career had come to the end of the road in Rio after she claimed silver in the heptathlon in the Olympic Stadium on Saturday night.
The 30-year-old had to settle for second place when she failed to beat the Belgian Nafissatou Thiam by the 10 seconds she needed to to win gold in the night's final event, the 800m in the Olympic Stadium in Rio.
Ennis-Hill broke down in tears when speaking to journalists in the mixed zone after the 800m as she contemplated the end.
"I'm pretty emotional but these are happy tears," she said. "I'm just proud to be back on the podium. These two days have been pretty tough, but I'm really proud.
"It is a mix of everything: thinking back over the last few years and I'm just so emotional. I've got to make a decision as to whether this is my last heptathlon or not. But I'm so proud of what I've achieved over the last few years."
Did she think it was? "I mean, I've got to think, yeah."
Since giving birth to her son Reggie in 2014, Ennis-Hill has exceeded all expectations in her return, winning the World Championships in Beijing last year and now claiming silver in Rio all the while having the thought of retirement at the back of her mind.
Rio 2016 Olympics - in pictures

Show all 74
"I've just tried to stay focused on here but, yeah, it does creep into my mind that this is possibly my last competition. I might not do that event again, this event again. It's a really strange part of my career. It's all new to me and there will be big changes."
So the World Championships in London next year were not enough to keep her going for one more year? "Yeah, it makes it harder with it being London next year," she admitted, "but, yeah, it's a tough decision. It's a tough event and I've done it for so long… so… we'll see."
An Indian summer in 100m hurdles – her strongest event and one that she has considered doing on its own in the past - does not beckon either. "I love hurdles and I always said I'd love to give it a go – but I kind of think that boat has sailed now. The hurdles is so competitive, I couldn't just come back and train two or three days a week. I don't want to be that kind of athlete. I'd have to train incredibly hard to be at this level. I want to be the best at what I do. I chose the heptathlon and I'm glad I stuck with it."
Ennis-Hill went into the final event on Saturday night with a huge gap over 800m to make up on Thiam and it was always going to be a tall order. "I knew I had to beat her by 10 seconds," she said. "When I came off after the javelin I said to Toni [Minichiello, her coach] 'what have I got to do?' He said: '10 seconds.' I was like: 'God, that's so much.'
"But I just thought I'm going to run hard like I always do in the 800 and see what I could do - so I could come away knowing I had given everything .
"I knew it wasn't enough at the end. There was a long delay but I knew she was going to run hard for gold – she wasn't going to let that slip. She had had two days of amazing performances.
"I think I just let points slip in a few events – long jump probably and shot putt wasn't great. But I gave it everything. So I can't walk away and think I wish I'd done this or that because I gave it my all."
Ennis-Hill agreed with her compatriot Katarina Johnson-Thompson, who finished a disappointing sixth, that the scheduling of the heptathlon was poor.
"It was ridiculous," she said. "I had four hours sleep [on Friday night after day one] by the time we'd recovered here at the track and got back to the Village and eaten and got stuff ready for the next day it's like half one, two in the morning and then we were back again at 6-6.30 in the morning . It's been tough, demanding. It was the worst I've known."
So as she heads off home to see her son Reggie and husband Andy and they take some holiday, it could be the end of her long-term relationship with her coach Minichiello – but it is not a bad way to bow out. "I think he'll be proud," Ennis-Hill said. "He probably knew the 800m was too much of a stretch but he wouldn't let me think that. Hopefully he'll be proud. It's a silver medal after all and I'm back on the podium.
"I've put up with Toni for 18 years – that deserves another medal in itself."
Join our new commenting forum
Join thought-provoking conversations, follow other Independent readers and see their replies