Rio 2016: Abbey D'Agostino and Nikki Hamblin embody 'Olympic spirit' by helping each other finish race
'She helped me first. I tried to help her. That girl is the Olympic spirit right there'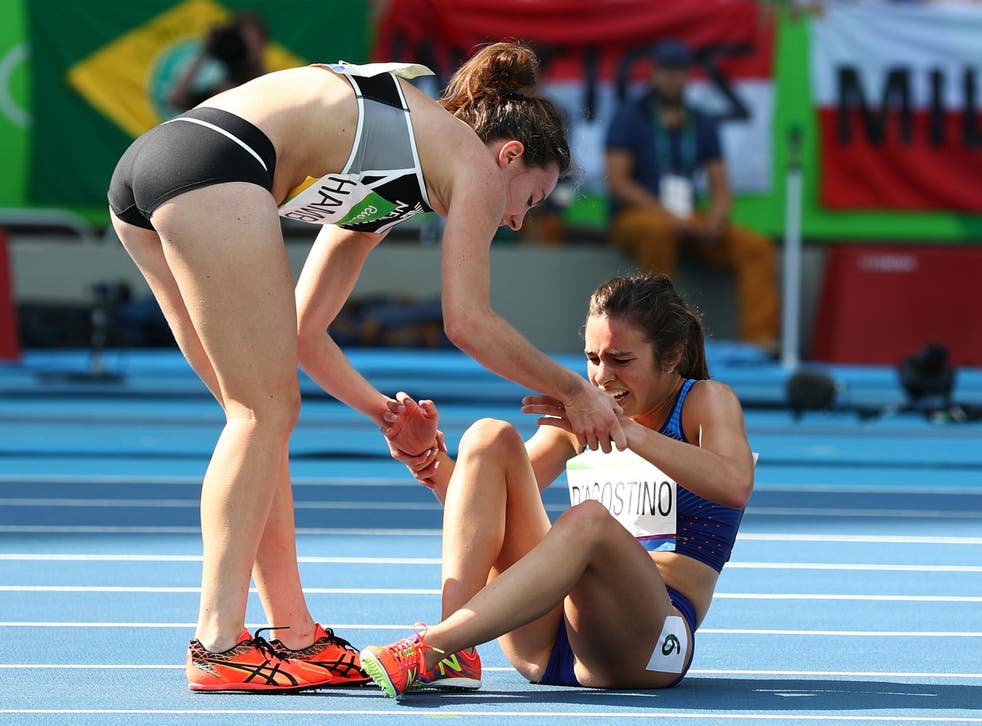 Two Olympic runners have been praised for embodying "the Olympic spirit" after they stopped mid-race to help each other after falling in the women's 5,000m qualifying heat at the Rio Games.
New Zealand athlete Nikki Hamblin fell four and a half laps into the race on Tuesday, accidently tripping up America's Abbey D'Agostino with around 2,000m left to run.
D'Agostino, 24, quickly got back up, but, rather than carrying on with the race, she stopped to help her fellow competitor who remained on the ground and appeared to be crying after falling hard on her shoulder.
Rio 2016: Yesterday's Highlights
Crouching down on her hands and knees, D'Agostino was seen helping up the New Zealander and urging her not to continue.
D'Agostino helped Hamblin back on to her feet but had injured her leg in the accident.
Refusing to quit, D'Agostino ran the rest of the race with what appeared to be a right ankle injury, while 28-year-old Hamblin stayed by her side to help her continue.
Hamblin later finished in 29th place, one ahead of D'Agostino who limped across the finish line.
The pair embraced at the finish, before D'Agostino was taken from the track in a wheelchair.
"That girl is the Olympic spirit right there," Hamblin said after the race. "I've never met her before. Like I never met this girl before. And isn't that just so amazing. Such an amazing woman.
"Suddenly, there was this hand on my shoulder, like 'Get up. We have to finish this' and I was like 'Yup, yup, you're right'. This is the Olympics Games. We have to finish this.
"She helped me first. I tried to help her. She was pretty bad," Hamblin said, who eventually left D'Agostino behind and was certain the American would have to stop.
"I didn't even realize she was still running. When I turned around at the finish line and she's still running, I was like, wow."
"I'm never going to forget that moment. When someone asks me what happened in Rio in 20 years' time, that's my story."
The pair were both given places in the 5,000m final on Friday, after their team officials successfully submitted protests, CNN reports.
The show of sportsmanship has joined a series of iconic moments at this year's Games, including a display of friendship between South Korea's Lee Eun Ju and and North Korean gymnast Hong Un Jong, who took a selfie together as they prepared to compete in the qualification for the artistic women's gymnastics.
Additional reporting by Associated Press
Join our new commenting forum
Join thought-provoking conversations, follow other Independent readers and see their replies