Rio 2016 schedule day eight: 'Super Saturday' as Jessica Ennis-Hill, Mo Farah and Usain Bolt go for gold
Full schedule for 'Super Saturday' on day eight at the Rio Olympics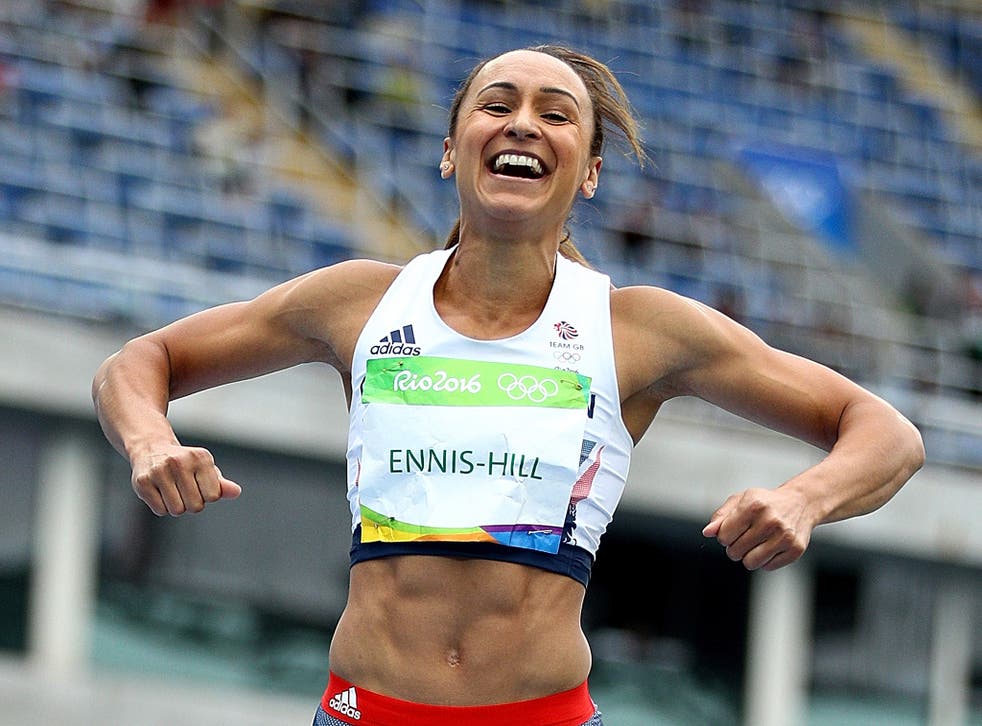 Day eight at the Rio Olympic Games will see a plethora of athletics action take centre stage with 21 gold medals on the line including the heptathlon and the 10,000m in what could prove to be another 'Super Saturday'.
The battle between Jessica Ennis-Hill and Katarina Johnson-Thompson will reach what is guaranteed to be a dramatic conclusion. Defending Olympic champion Ennis-Hill leads heading into day two after impressing in the 100m hurdles and the shot put, with Johnson-Thompson unable to build on her brilliant high jump leap of 1.98m as she slipped down to fourth following the shot put.
Mo Farah will run in the men's 10,000m final at 01:27 BST as he looks to win the first of what could be a second Olympic double gold medal haul, with the long-distance runner competing in the 5,000m later in the week.
Usain Bolt will also take to the track for the first time today as the 100m heats get underway. Bolt is looking to defend his Olympic gold medal for the second time after winning the blue ribbon event at both Beijing 2008 and London 2012, and the first round heats get underway from 16:00 BST.
With the women's heptathlon coming to a close at 02:50 BST, the day's events will wrap up in the form of Michael Phelps's final Olympic race. The American will swim in the 4x100 individual medley final, with Great Britain also tipped to win a medal as Adam Peaty returns a week after winning gold in the 100m breaststroke.
Full Olympic schedule for Saturday 13 August
07:30 Golf Men's Individual Stroke Play Round 3
08:00 Badminton Men's Singles Group Play Stage: Group H
08:00 Badminton Men's Singles Group Play Stage: Group J
08:00 Badminton Men's Singles Group Play Stage: Group L
08:50 Badminton Men's Singles Group Play Stage: Group I
08:50 Badminton Men's Singles Group Play Stage: Group K
08:50 Badminton Women's Singles Group Play Stage: Group I
09:00 Water Polo Women's Preliminary Round: Group B: China v Spain
09:00 Shooting 25m Rapid Fire Pistol Men's Qualification: Stage 2
09:00 Fencing Women's Sabre Team Table of 16
09:00 Fencing Women's Sabre Team Table of 16
09:00 Fencing Women's Sabre Team Table of 16
09:00 Fencing Women's Sabre Team Table of 16
09:20 Fencing Women's Sabre Team Table of 16
09:20 Fencing Women's Sabre Team Table of 16
09:20 Fencing Women's Sabre Team Table of 16
09:20 Fencing Women's Sabre Team Table of 16
09:30 Athletics Men's 100m Preliminary Round: Heat 1
09:30 Volleyball Men's Preliminary: Pool A: Iraq v Egypt
09:30 Shooting Skeet Men's Qualification: Day 2
09:30 Rowing Men's Single Sculls Final D
09:30 Handball Men's Preliminary Group B: Slovenia v Germany
09:35 Athletics Men's 100m Preliminary Round: Heat 2
09:40 Athletics Men's 100m Preliminary Round: Heat 3
09:40 Badminton Men's Doubles Group Play Stage: Group C
09:40 Athletics Women's Triple Jump Qualifying Round: Group A
09:40 Athletics Women's Triple Jump Qualifying Round: Group B
09:40 Badminton Women's Singles Group Play Stage: Group H
09:40 Rowing Women's Single Sculls Final D
09:40 Badminton Women's Singles Group Play Stage: Group G
09:45 Athletics Men's 100m Preliminary Round: Heat 4
09:50 Rowing Men's Single Sculls Final C
10:00 Cycling Track Women's Keirin First Round: Heat 1
10:00 Table Tennis Women's Team Quarter-Final 1
10:00 Table Tennis Women's Team Quarter-Final 2
10:00 Rowing Women's Single Sculls Final C
10:00 Hockey Women's Pool B: Argentina v India
10:05 Cycling Track Women's Keirin First Round: Heat 2
10:05 Athletics Women's 3000m Steeplechase Round 1: Heat 1
10:10 Cycling Track Women's Keirin First Round: Heat 3
10:10 Rowing Men's Single Sculls Final B
10:15 Cycling Track Women's Keirin First Round: Heat 4
10:15 Fencing Women's Sabre Team Quarter-Final 1
10:15 Fencing Women's Sabre Team Quarter-Final 2
10:15 Fencing Women's Sabre Team Quarter-Final 3
10:15 Fencing Women's Sabre Team Quarter-Final 4
10:19 Athletics Women's 3000m Steeplechase Round 1: Heat 2
10:20 Water Polo Women's Preliminary Round: Group A: Russia v Italy
10:20 Rowing Women's Single Sculls Final B
10:23 Cycling Track Men's Sprint 1/8 Finals: Heat 1
10:26 Cycling Track Men's Sprint 1/8 Finals: Heat 2
10:29 Cycling Track Men's Sprint 1/8 Finals: Heat 3
10:30 Badminton Men's Doubles Group Play Stage: Group A
10:30 Badminton Men's Doubles Group Play Stage: Group B
10:30 Badminton Men's Doubles Group Play Stage: Group D
10:32 Cycling Track Men's Sprint 1/8 Finals: Heat 4
10:32 Rowing Men's Single Sculls Final A
10:33 Athletics Women's 3000m Steeplechase Round 1: Heat 3
10:35 Cycling Track Men's Sprint 1/8 Finals: Heat 5
10:38 Cycling Track Men's Sprint 1/8 Finals: Heat 6
10:44 Cycling Track Women's Keirin First Round Repechages: Heat 1
10:44 Rowing Women's Single Sculls Final A
10:49 Cycling Track Women's Keirin First Round Repechages: Heat 2
10:50 Athletics Men's Discus Throw Final
10:54 Cycling Track Women's Keirin First Round Repechages: Heat 3
10:59 Cycling Track Women's Keirin First Round Repechages: Heat 4
11:00 Hockey Women's Pool A: Netherlands v Germany
11:00 Boxing Men's Fly (52kg) Preliminaries
11:00 Beach Volleyball Men's Round of 16
11:00 Athletics Women's 400m Round 1: Heat 1
11:04 Rowing Women's Eight Final A
11:07 Cycling Track Men's Sprint 1/8 Finals Repechages: Heat 1
11:07 Athletics Women's 400m Round 1: Heat 2
11:11 Cycling Track Men's Sprint 1/8 Finals Repechages: Heat 2
11:14 Athletics Women's 400m Round 1: Heat 3
11:15 Boxing Men's Fly (52kg) Preliminaries
11:17 Cycling Track Women's Team Pursuit First Round: Heat 1
11:20 Badminton Women's Doubles Group Play Stage: Group C
11:20 Badminton Women's Doubles Group Play Stage: Group A
11:20 Badminton Women's Doubles Group Play Stage: Group A
11:21 Athletics Women's 400m Round 1: Heat 4
11:22 Cycling Track Women's Team Pursuit First Round: Heat 2
11:24 Rowing Men's Eight Final A
11:28 Athletics Women's 400m Round 1: Heat 5
11:28 Cycling Track Women's Team Pursuit First Round: Heat 3
11:30 Handball Men's Preliminary Group A: Croatia v France
11:30 Boxing Men's Fly (52kg) Preliminaries
11:30 Fencing Women's Sabre Team Classification 5-8
11:30 Fencing Women's Sabre Team Classification 5-8
11:34 Cycling Track Women's Team Pursuit First Round: Heat 4
11:35 Athletics Women's 400m Round 1: Heat 6
11:35 Volleyball Men's Preliminary: Pool B: Argentina v Cuba
11:40 Water Polo Women's Preliminary Round: Group A: Australia v Brazil
11:42 Athletics Women's 400m Round 1: Heat 7
11:45 Boxing Men's Fly (52kg) Preliminaries
12:00 Boxing Men's Fly (52kg) Preliminaries
12:00 Athletics Men's 100m Round 1: Heat 1
12:00 Beach Volleyball Men's Round of 16
12:00 Tennis Women's Doubles Bronze Medal Match
12:00 Tennis Men's Singles Bronze Medal Match
12:06 Athletics Men's 100m Round 1: Heat 2
12:10 Badminton Women's Doubles Group Play Stage: Group B
12:10 Badminton Mixed Doubles Group Play Stage: Group D
12:10 Badminton Women's Doubles Group Play Stage: Group D
12:12 Athletics Men's 100m Round 1: Heat 3
12:15 Boxing Men's Welter (69kg) Quarter-Final 1
12:15 Basketball Women's Preliminary Round Group A: Australia v Belarus
12:18 Athletics Men's 100m Round 1: Heat 4
12:24 Athletics Men's 100m Round 1: Heat 5
12:30 Boxing Men's Welter (69kg) Quarter-Final 2
12:30 Athletics Men's 100m Round 1: Heat 6
12:30 Fencing Women's Sabre Team Semi-Final 1
12:30 Fencing Women's Sabre Team Semi-Final 2
12:30 Shooting 25m Rapid Fire Pistol Men's Finals
12:30 Hockey Women's Pool A: South Korea v Spain
12:36 Athletics Men's 100m Round 1: Heat 7
12:45 Boxing Men's Heavy (91kg) Semi-Final 1
13:00 Boxing Men's Super Heavy (+91kg) Preliminaries
13:00 Badminton Mixed Doubles Group Play Stage: Group C
13:00 Water Polo Women's Preliminary Round: Group B: Hungary v USA
13:00 Football Men's Quarter-Final
13:00 Badminton Mixed Doubles Group Play Stage: Group A
13:00 Badminton Mixed Doubles Group Play Stage: Group A
13:05 Sailing Mixed Multihull: Nacra 17: Race 07
13:05 Sailing Men's One Person Dinghy: Laser: Race 09
13:05 Sailing Men's Skiff: 49er: Race 04
13:05 Sailing Men's One Person Dinghy (Heavyweight): Finn: Race 07
13:05 Sailing Women's Skiff: 49er FX: Race 04
13:15 Boxing Men's Super Heavy (+91kg) Preliminaries
13:15 Sailing Women's One Person Dinghy: Laser Radial: Race 09
13:30 Boxing Men's Super Heavy (+91kg) Preliminaries
13:30 Hockey Women's Pool B: Great Britain v USA
13:45 Boxing Men's Super Heavy (+91kg) Preliminaries
13:45 Fencing Women's Sabre Team Placement 5-6
13:45 Fencing Women's Sabre Team Placement 7-8
13:50 Badminton Mixed Doubles Group Play Stage: Group B
14:03 Gymnastics Trampoline Men's Qualification
14:05 Sailing Mixed Multihull: Nacra 17: Race 08
14:05 Sailing Men's Skiff: 49er: Race 05
14:05 Sailing Women's Skiff: 49er FX: Race 05
14:15 Basketball Men's Preliminary Round Group B: Argentina v Brazil
14:30 Sailing Men's One Person Dinghy: Laser: Race 10
14:30 Sailing Men's One Person Dinghy (Heavyweight): Finn: Race 08
14:40 Handball Men's Preliminary Group A: Denmark v Qatar
14:40 Sailing Women's One Person Dinghy: Laser Radial: Race 10
14:40 Tennis Women's Singles Bronze Medal Match
15:00 Shooting Skeet Men's Semi-Finals
15:00 Volleyball Men's Preliminary: Pool A: Poland v Russia
15:00 Beach Volleyball Men's Round of 16
15:00 Table Tennis Men's Team Round 1
15:00 Table Tennis Men's Team Round 1
15:00 Table Tennis Men's Team Round 1
15:00 Table Tennis Men's Team Round 1
15:05 Sailing Mixed Multihull: Nacra 17: Race 09
15:05 Sailing Men's Skiff: 49er: Race 06
15:05 Sailing Women's Skiff: 49er FX: Race 06
15:30 Badminton Men's Singles Group Play Stage: Group M
15:30 Badminton Women's Singles Group Play Stage: Group K
15:30 Weightlifting Men's 94kg Group B
15:30 Badminton Women's Singles Group Play Stage: Group J
15:30 Basketball Women's Preliminary Round Group A: Turkey v Brazil
15:30 Shooting Skeet Men's Bronze Medal Match
15:42 Gymnastics Trampoline Men's Final
15:45 Shooting Skeet Men's Gold Medal Match
16:00 Diving Women's 3m Springboard Semi-Final
16:00 Tennis Mixed Doubles Bronze Medal Match
16:00 Beach Volleyball Men's Round of 16
16:00 Cycling Track Men's Sprint Quarter-Finals
16:00 Cycling Track Men's Sprint Quarter-Finals: Heat 1
16:00 Cycling Track Men's Sprint Quarter-Finals: Heat 2
16:00 Cycling Track Men's Sprint Quarter-Finals: Heat 3
16:00 Cycling Track Men's Sprint Quarter-Finals: Heat 4
16:00 Cycling Track Men's Sprint Quarter-Finals: Race 1
16:00 Football Men's Quarter-Final
16:18 Cycling Track Men's Sprint Race for 9th-12th Places
16:20 Badminton Men's Doubles Group Play Stage: Group A
16:20 Badminton Women's Doubles Group Play Stage: Group B
16:20 Badminton Men's Doubles Group Play Stage: Group B
16:22 Cycling Track Women's Keirin Second Round
16:22 Cycling Track Women's Keirin Second Round: Heat 1
16:28 Cycling Track Women's Keirin Second Round: Heat 2
16:34 Cycling Track Men's Sprint Quarter-Finals: Race 2
16:40 Handball Men's Preliminary Group B: Egypt v Brazil
16:53 Cycling Track Women's Team Pursuit Finals 7-8
17:00 Boxing Men's Fly (52kg) Preliminaries
17:00 Cycling Track Women's Team Pursuit Finals 5-6
17:00 Fencing Women's Sabre Team Bronze Medal Match
17:05 Volleyball Men's Preliminary: Pool B: USA v France
17:07 Cycling Track Women's Team Pursuit Finals: Bronze
17:10 Badminton Mixed Doubles Group Play Stage: Group C
17:10 Badminton Mixed Doubles Group Play Stage: Group B
17:10 Badminton Mixed Doubles Group Play Stage: Group D
17:14 Cycling Track Women's Team Pursuit Finals: Gold
17:15 Boxing Men's Fly (52kg) Preliminaries
17:20 Tennis Women's Singles Gold Medal Match
17:21 Cycling Track Men's Sprint Quarter-Finals: Race 3
17:27 Cycling Track Women's Keirin Finals
17:27 Cycling Track Women's Keirin Finals 7-12
17:30 Boxing Men's Fly (52kg) Preliminaries
17:33 Cycling Track Women's Keirin Finals 1-6
17:41 Cycling Track Men's Sprint Semi-Finals: Heat 1
17:41 Cycling Track Men's Sprint Semi-Finals: Heat 2
17:41 Cycling Track Men's Sprint Semi-Finals: Race 1
17:45 Boxing Men's Fly (52kg) Preliminaries
17:45 Basketball Women's Preliminary Round Group A: Japan v France
17:59 Cycling Track Men's Sprint Semi-Finals: Race 2
18:00 Boxing Men's Fly (52kg) Preliminaries
18:00 Hockey Women's Pool B: Australia v Japan
18:15 Boxing Men's Welter (69kg) Quarter-Final 3
18:15 Fencing Women's Sabre Team Gold Medal Match
18:17 Cycling Track Men's Sprint Race for 5th-8th Places
18:21 Cycling Track Men's Sprint Semi-Finals: Race 3
18:30 Boxing Men's Welter (69kg) Quarter-Final 4
18:45 Boxing Men's Heavy (91kg) Semi-Final 2
19:00 Boxing Men's Super Heavy (+91kg) Preliminaries
19:00 Basketball Men's Preliminary Round Group B: Spain v Lithuania
19:00 Weightlifting Men's 94kg Group A
19:00 Beach Volleyball Men's Round of 16
19:00 Football Men's Quarter-Final
19:15 Boxing Men's Super Heavy (+91kg) Preliminaries
19:30 Badminton Men's Singles Group Play Stage: Group N
19:30 Boxing Men's Super Heavy (+91kg) Preliminaries
19:30 Badminton Men's Singles Group Play Stage: Group P
19:30 Table Tennis Women's Team Quarter-Final 3
19:30 Table Tennis Women's Team Quarter-Final 4
19:45 Boxing Men's Super Heavy (+91kg) Preliminaries
19:50 Handball Men's Preliminary Group B: Sweden v Poland
20:00 Athletics Women's Heptathlon Javelin Throw: Group A
20:00 Beach Volleyball Men's Round of 16
20:20 Badminton Women's Singles Group Play Stage: Group P
20:20 Athletics Men's Pole Vault Qualifying Round: Group A
20:20 Athletics Men's Pole Vault Qualifying Round: Group B
20:20 Badminton Women's Singles Group Play Stage: Group L
20:20 Badminton Women's Singles Group Play Stage: Group N
20:30 Volleyball Men's Preliminary: Pool A: Canada v Mexico
20:30 Athletics Men's 400m Semi-Final 1
20:30 Hockey Women's Pool A: China v New Zealand
20:35 Athletics Men's 400m Semi-Final 2
20:40 Athletics Men's 400m Semi-Final 3
20:50 Athletics Men's Long Jump Final
21:00 Athletics Women's 100m Semi-Final 1
21:05 Athletics Women's 100m Semi-Final 2
21:10 Athletics Women's 100m Semi-Final 3
21:10 Badminton Men's Doubles Group Play Stage: Group D
21:10 Badminton Women's Singles Group Play Stage: Group M
21:15 Athletics Women's Heptathlon Javelin Throw: Group B
21:25 Athletics Men's 10,000m
21:50 Handball Men's Preliminary Group A: Argentina v Tunisia
22:00 Badminton Women's Doubles Group Play Stage: Group C
22:00 Badminton Men's Doubles Group Play Stage: Group C
22:00 Badminton Women's Doubles Group Play Stage: Group D
22:00 Football Men's Quarter-Final
22:03 Swimming Women's 50m Freestyle Final
22:05 Athletics Men's 800m Semi-Final 1
22:11 Swimming Men's 1500m Freestyle Final
22:12 Athletics Men's 800m Semi-Final 2
22:19 Athletics Men's 800m Semi-Final 3
22:30 Basketball Men's Preliminary Round Group B: Croatia v Nigeria
22:35 Athletics Women's 100m Final
22:35 Volleyball Men's Preliminary: Pool B: Brazil v Italy
22:49 Swimming Women's 4 x 100m Medley Relay Final
22:53 Athletics Women's Heptathlon 800m: Heat 1
22:59 Athletics Women's Heptathlon 800m: Heat 2
23:00 Beach Volleyball Men's Round of 16
23:04 Swimming Men's 4 x 100m Medley Relay Final
23:05 Athletics Women's Heptathlon 800m: Heat 3
23:59 Beach Volleyball Women's Round of 16
Join our new commenting forum
Join thought-provoking conversations, follow other Independent readers and see their replies