Rio 2016: Scrutiny on throwing disciplines is not helping, says Team GB hopeful Katarina Johnson-Thompson
KJT's throwing events, the shot putt and the javelin – her traditional weaknesses – let her down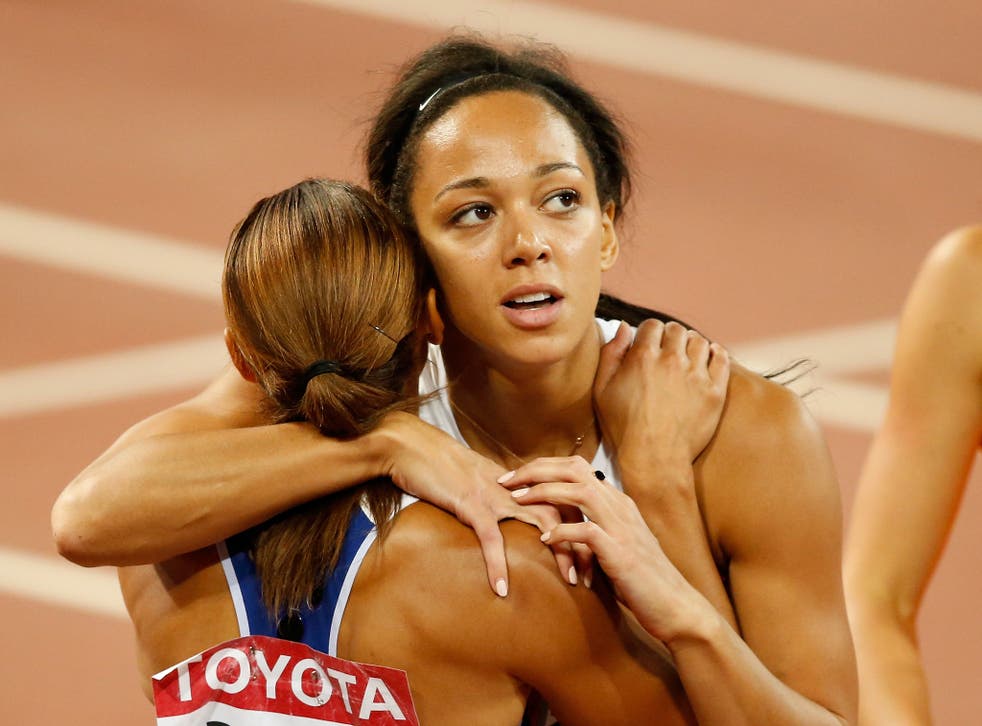 Katarina Johnson-Thompson admits the scrutiny on her throwing disciplines is not helping her after she came up well short of medal contention in the heptathlon at the Olympic Stadium here on Saturday night.
While her compatriot Jess Ennis-Hill was slugging it out at the top with Belgium's Nafissatou Thiam, the 23-year-old Liverpudlian finished down in sixth spot after disappointing final day in which she dipped from third to finish sixth.
All the pre-heptathlon talk had been about a battle of Britain for the top gong and while Ennis-Hill had to settle for silver the expected challenge from KJT didn't materialise.
KJT's throwing events, the shot putt and the javelin – her traditional weaknesses – let her down while Thiam hit five PBs over the weekend. The Brit admitted that is the level she needs to be hitting and that these two disciplines need sorting.
"Yeah, I'm going backwards a bit, aren't I?" an emotional Johnson-Thompson said to journalists after the event. "I train, like, most days for the shot putt. I try so hard at it. Maybe I know too much about it and am overthinking it. Um, I don't know.
"For some people, my throws stick out like a sore thumb for me - whereas some people don't get asked 'why didn't you long jump further?' or 'why didn't you high jump higher?' It's like, I'm trying my best. The heptathlon is made up of seven events and people have strengths and weaknesses. They're just my weaknesses. Everyone is just constantly talking to me about it. It doesn't help. I try and throw a far way and it just breaks down unfortunately.
Rio 2016 Olympics - in pictures

Show all 74
"I'll have to talk to my coach about it."
However, Johnson-Thompson said her overall efforts weren't good enough. "I think it was more than the throws this weekend to be honest with you. How many people were getting PBs apart from Thiam? It was always going to take 6,800 points to win. It did. It was 6,810." KJT finished with 6,523.
Johnson-Thompson said the scheduling of events had been ridiculous. The 110m hurdles took place early on Saturday morning followed by the high jump but the competitors then had to wait until late at night to complete the shot putt and 200m. On Sunday the long jump was at mid-morning followed by another lengthy delay until the competition concluded with the javelin and 800m at the end of the day.
"The timetable didn't help, for everyone – not just me," she said. "It was crazy - we all head four hours sleep last night and now we are finishing at what, midnight? It was freezing yesterday and then we had to strip down to this," she added pointing to her vest and shorts, "and then go and do a 200m.
"The events that I'm good at weren't working for me. I had to jump in the rain. It's just a mixture of things. I've got no excuses – I just didn't execute when I should have done."
She will not be giving up. "I still think I can do it," she said. "Training was going well - in particular in the 200m. I was a bit confused."
Had the pre-Rio chat of her versus Ennis-Hill weighed heavy on her? "No. I like being considered because that means people have faith in you."
Ennis-Hill urged her compatriot to stick at it. "It's tough for Kat," she said after winning her silver. "It's just such a tough event. I know she's feeling emotional about everything but I just said to her out there her throws are weak but she can improve. She has just got to make the changes, she's got to go away and work even harder at it. I've got every faith that she can score more and can be on the podium. But it's this event – it's hard and it does take time.
"Look at her high jump- it's brilliant. She could do that as an individual event if she wanted. Kat's just got to go away and think about everything. I've got faith in her, though. I think she's incredible."
Join our new commenting forum
Join thought-provoking conversations, follow other Independent readers and see their replies