Rio 2016: Team GB badminton pair Marcus Ellis and Chris Langridge aim to inspire in bronze play-off
'People think badminton is what your nan plays in the garden,' says defeated GB semi-finalist. 'We want to change that'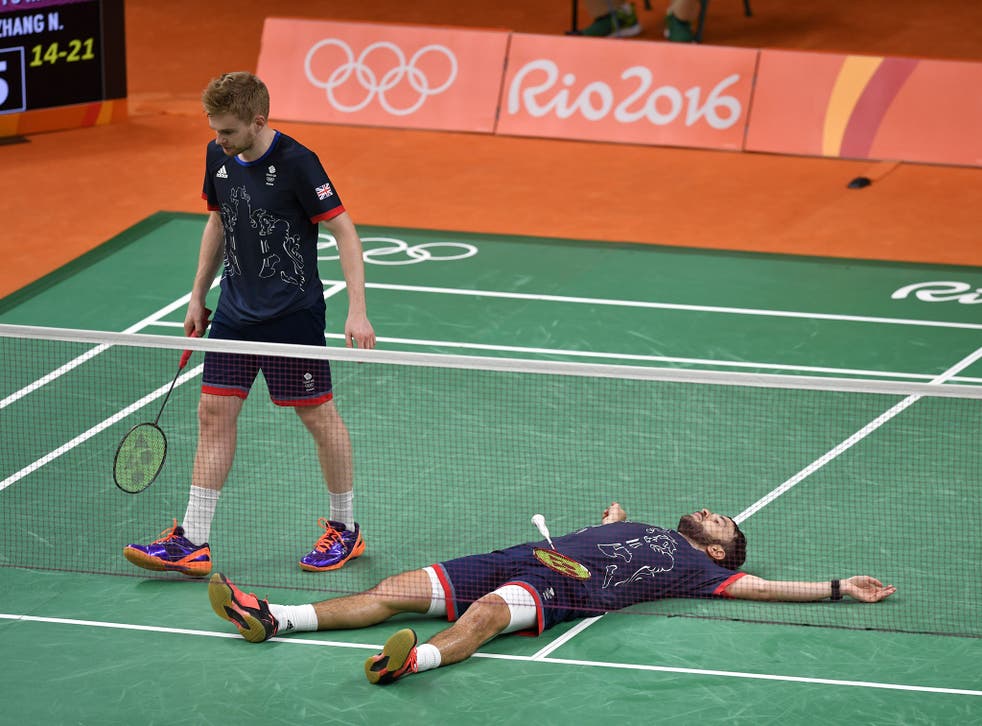 Marcus Ellis and Chris Langridge gave an impassioned defence of their sport after losing their semi-final against China's Fu Haifeng and Zhang Nan at Rio Central on Tuesday that means they will now play for bronze on Thursday.
The No 22 ranked duo in the world were unable to back up their tremendous win on Monday over Hiroyukie Endo and Kenichi Hayakawa of Japan and were beaten 21-14, 21-18 by the fourth seeds who both won gold at London 2012.
The pair will face China's Hong Wei and Chai Biao for bronze as they aim to become Britain's first badminton medallists since 2004.
"OK, we lost today but we still have another chance to get a medal," said Langridge. "For GB badminton and for us, that's massive. We want to get badminton out there for the general public. We want people to see what it is. The bronze medal match is going to be something special - I hope.
"It is a great sport and I want people to start playing even if you go down your local club – just have a go. So many people don't understand what badminton is. There is the old question: what's the fastest sport in the world? F1? No, it's badminton.
"The lad we played today Fu, he has the biggest hit in the world. It's over 400km per hour. That's serious. No wonder we were struggling to get it back. It's like a rocket coming at you. Until people actually watch it you can't appreciate it.
"People are like: 'yeah, my nan did that a couple of years ago'. Well I'm glad your nan played but its slightly different to what we do. Everyone thinks we play it in the garden. No, we don't. It's an indoor sport, it's a serious sport. It's not Mickey Mouse. We get jibes about it because people don't realise. It takes every aspect of sport, if you name them it's like tick, tick, tick.
"In Indonesia they have a massive a population and it's their No 1 sport. They are mad about badminton like the kids in England are mad about football. The passion is phenomenal. We know that's not going to happen in England but we just want more people to get involved and hopefully the sport will grow. Then in 12 years hopefully there are two lads winning where we lost today."
Ellis added: "I don't know if it has an image problem. Some people just don't understand how serious a sport it is at the top. When people see it they change their minds. It's a great spectator sport and a great to play."
Rio 2016 Olympics - in pictures

Show all 74
So are they professional? "I don't mean to be rude but the level we are playing at, we have to be professional," Langridge said. "Without sounding arrogant, because I'm not, we are excellent at what we do. Would you ask Wayne Rooney if he was professional? Well, we are too – we are just not high profile, we don't earn £500k per week. We give everything for less money but with more hunger. We've given up a trillion things to play this sport: moved away from family, friends, train at weekends, we are devoted to badminton.
"Yes we are pro, yes we are serious, yes we are athletes and yes we are dedicated."
Langridge admitted they need to get badminton back on the sporting map. GB's last well-known pair were Nathan Robertson and Gail Emms who won silver in mixed doubles in Athens in 2004.
"If you don't get success in the sport it doesn't get press," Langridge said. "You guys wouldn't be here if we weren't in the semi. You have to do well to get publicity and we have done well at different times but it's so hard on a regular basis because of how many people play in the UK. Our squad compared to the Asian squads is under a fifth of what they've got."
Ellis and Langridge were never really in their match on Tuesday, the smashing and placement of the Chinese duo's shots was superb as GB were pulled to all parts of the court and made to many errors of their own. "We are frustrated," Langridge said. "We gave everything today. It's hard when your opponents are better."
"Now we are just looking forward to the bronze match," Ellis added. "It's exciting. We are motivated to do well."
Join our new commenting forum
Join thought-provoking conversations, follow other Independent readers and see their replies