Olympic life resumes at 40 for Greg Searle as men's eight aim high
Barcelona gold medallist has no doubts about the wisdom of returning for a crack at London
Olympic life resumes at 40 for Greg Searle as men's eight aim high

Show all 2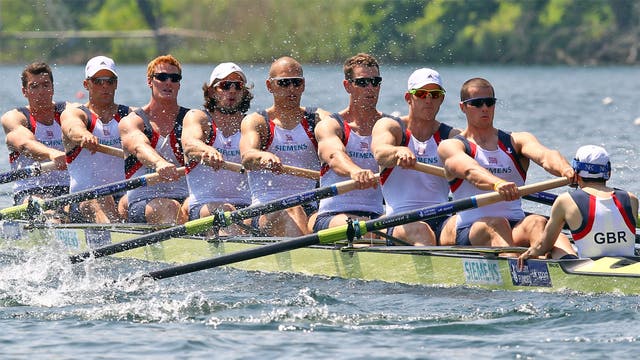 Anyone would think he learned how to row on a Phoenician trireme. In Olympic terms, however, there is no getting away from the fact that Greg Searle is old enough either to reproach or inspire millions of middle-aged men, as they observe this carnival of athleticism with a wistful sense of their own decay.
At 40, Searle himself must look back across half his life to the gold medal he won in the first flush of his physical prime. He was just 20 when he won the coxed pair at Barcelona with his brother, Jonny. Now, after sitting out two Olympics in retirement, he finds himself elder statesman of a British men's eight that also includes Constantine Louloudis – an Oxford student, himself only 20, the very incarnation of the gulf Searle is trying to bridge.
In rowing of all sports, Searle knows all the experience in the world cannot redress any shortfall in capacity. He imagined that he had made a final Olympic appearance at Sydney in 2000, announcing his retirement a year later. In 2009, however, he took his restless cravings back to the national coach. "You weren't too young to win a gold medal when you were 20," Jürgen Grobler told him. "So you're not too old to win one when you're 40."
Sure enough, this spectre from the Redgrave-Pinsent era stresses that there was only one way his dreams could ever gain substance. "I'm here purely based on merit, purely based on performance," he said yesterday. "If I didn't perform, he wouldn't select me. Within our sport I think everyone understands that's the way it is."
Which does not mean that the romance of the moment will be lost on him. "The reality that I am going to make it has begun to sink in," he said. "That I am going to be out there rowing on the lake at Eton Dorney with the stands full of 30,000 people. I expect to have a lump in my throat and tears in my eyes – and then I'll know that I'm really there to compete."
Searle is known in the boat as "grandad" and relies on his own children, aged eight and 11, to elucidate his team-mates' taste in music. But he well remembers the dauntless innocence of his own youth, after bursting on to the scene with consecutive golds in the men's coxless four at the 1989 and 1990 World Junior Championships. "The first time I came at it, I was young, totally enthusiastic and totally bullet-proof," he said. "I'd never lost a race before and just expected I would show up at the Olympics and win another one because it was just another race.
"I recognise the difference of doing this as a 20-year-old and doing it as a 40-year-old. If I compared my lifestyle to my peers when I was 20, I was missing out on a lot of fun stuff. But as a 40-year-old I have a pretty good lifestyle. When I drop my kids off at the school gate, most of the other dads have to put a tie on and go off to work in the city. I don't have to do that. I've got a fantastic lifestyle and really recognise this as a very special opportunity."
But there have been sacrifices of a different kind, as well – missing out on family time, family duties even. He has refused cricket in the garden with his son, for fear of breaking a finger; even declined to take the bins out, to mind his back. He has embraced a teetotal, decaffeinated lifestyle. All this because of a few Honda dealers, in a hotel conference room, clients in his new career as a business coach. It was the day London's 2012 bid came up trumps, and the car salesmen asked Searle how he hoped to experience his home Olympics: as a trainer, maybe; working with sponsors, perhaps; or as a mere spectator? As soon as he saw the rowing schedule, nearly an exact replica of the one at Barcelona, he knew that none of those options was tolerable.
"The massive advantage is that I love it," he said. "Every day I show up at training and no matter what's on the programme I take it on, get stuck in, and enjoy it. I've loved every day of it from when I sat down with Jürgen and he asked me if I wanted to row or if I wanted to coach.
"I think we're in the right place. We've done really good the last six weeks, and through the season we've been learning how to put together a race. We need to put ourselves in the last 500 [metres] where we're in a position to win the race. I know the competition is going to be tough. There's a small number of places at the Olympic Games, and they're all going to be good. But I know we're going to be very good as well."
Join our new commenting forum
Join thought-provoking conversations, follow other Independent readers and see their replies