Ben Ainslie slips into bronze medal position but Iain Percy and Andrew Simpson impress in Weymouth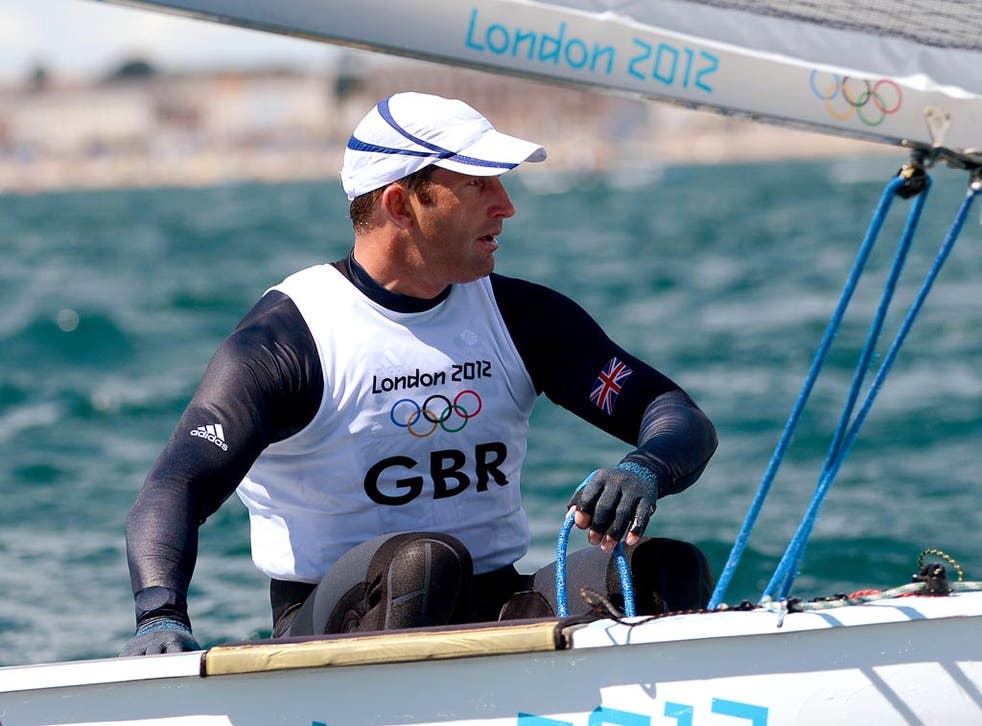 Britain's gold medal prospects were working hard in testing conditions on Weymouth Bay as Ben Ainslie slipped to third in the Finn singlehander but Iain Percy and Andrew Simpson climbed from fifth on the first day to first on the second.
Ainslie believes that any one of 12 in the 24-strong fleet could win Olympic gold and in their heart of hearts about 20 of the 24 believe Ainslie will eventually win but with four of the 10 races to find the top 10 completed and with some tough conditions forecast for Tuesday and Wednesday.
But it was Denmark's Jonas Högh-Christensen who was again raising the stakes, scoring a second and a seventh to Ainslie's sixth and a 12 as France's man-mountain Jonathan Lobert slipped into second. The Dane has 11 points from four faces, Lobert 19 and Ainslie shares 22 with Croatia's Ivan Kljakovic Gaspic.
"I didn't sail very well at all, so I'm not happy with that," said Ainslie afterwards, showing an undercurrent of anger which will surely turn into renewed aggression for races five and six. "I didn't get it right today so I'll certainly raise my game for the rest of the week," he promised.
Percy did not say anything – "I'm off to pee in a bottle" he said – but the cheerful Percy was back. He likes heavier conditions, the forecast is for heavier conditions, and he feels he has the tools to do the job. 
Not such a good start for the 49er pair of Stevie Morrison and Ben Rhodes, scoring an unfortunately consistent two 12ths on the day. But the irrepressible Morrison was characteristically upbeat. "It's about looking forward," he said. "We've got 16 races, so it's a game of averages. There is always the potential to change things so there is no need to panic. If you start crying and throwing toys out of the cot you might as well give up on the first day of the regatta.
"There was some fantastic sailing out there and it was great to be able to hear the crowd. The noise on the Nothe was fantastic, though I thought the crowd might have booed us rather than cheering."
He recognised that some of the decision making had not been good but did not want to accept that, by bringing the game inshore to the crowd, the game had been made more random.
The Australians feel they almost have a gold medal banker in Nathan Outteridge and Iain Jensen, lying third after recovering to eighth after going back to restart the first race and winning the second. Outteridge, who has been sailing inshore for Korea in front of the crowds at the America's Cup World Series, said that there were so many premature starters in that first race he was expecting a general recall and a second attempt.
He added: "If we're going to do more races on the Nothe course the results will be up and down. The Nothe is quite stressful at time and I wouldn't want to do every day's racing out there."
If Morrison was chipper, Ben Rhodes looked agitated and was whisked away by Britain's Olympic sailing manager Stephen Park, who then did the same thing with Paul Goodison, the reigning gold medallist in the singlehanded Laser but lying 17th.
An opening score of 10 and 23, including having to take penalty turns, was not the most morale-boosting especially as the runaway favourite and current world champion Tom Slingsby went into the clubhouse leading with a second and a first.
"This is a bit different than four years ago. I'm pretty happy. I now really have to concentrate and keep the low scores coming," said the Australian. He expects Goodison, now coached by his own former coach Arthur Brett, to bounce back and said he was not allowed to shave again until after the regatta. "It's not that I'm trying to grow a beard, I just get lazy," he explained.
Join our new commenting forum
Join thought-provoking conversations, follow other Independent readers and see their replies