Sisters of evolution: how a handball team was born
From nothing to the 2012 Olympics, Robin Scott-Elliot charts the amazing rise of Britain's side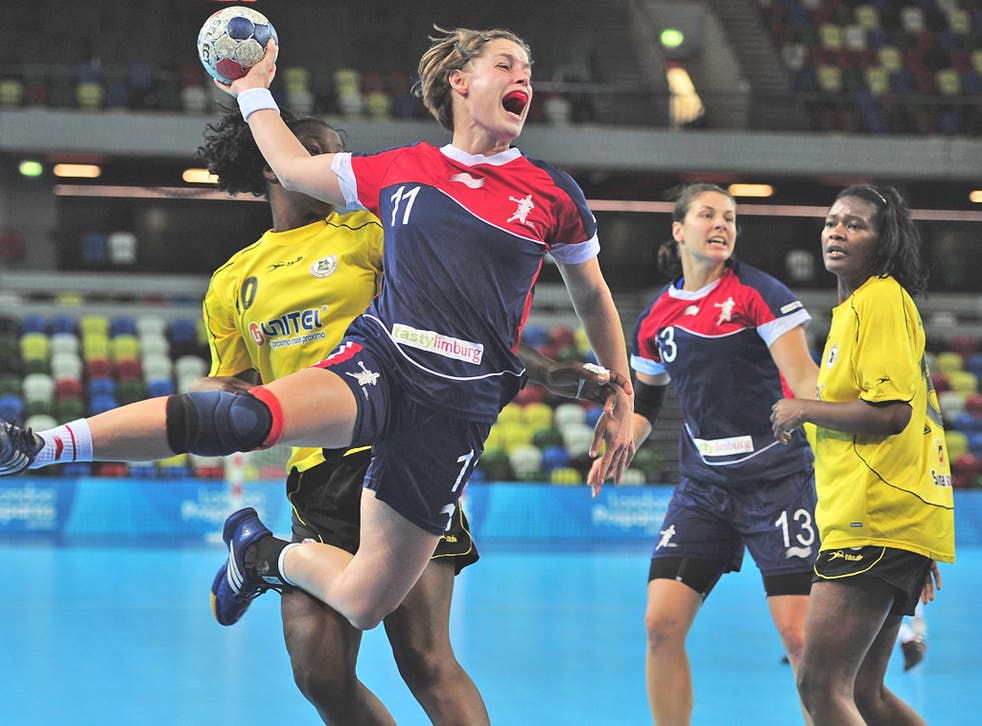 This is a story of cash crises, job losses and the familiar struggle to makes ends meet, but what bars it from becoming a morose inclusion in the zeitgeist is that those involved could not be happier with their lot.
Yesterday afternoon when a former winner of Scandinavian Big Brother flung home a penalty to seal victory for Britain's fledgling handball side over opponents preparing for the world championship, it cued abundant celebrations for her and her team-mates. It was one up for the optimists.
"Today makes it all seem worthwhile," said Kathryn Fudge, scorer of four goals against Angola in a warm-up event for the 2012 Olympics designed to test team and venue, and barer of a name that will not take much remembering for next year. Fudge, a tall left-back from Bury, scored her first inside the opening minute and only a post denied her a four-minute hat-trick.
If an audience consisting for the large part of noisy schoolchildren did not need persuading that an afternoon off was something to shout about, a ferocious performance by a British team in a sport that is fast and physical – players departed the arena sporting bruises and black eyes – suggested that a wider audience will be easily won over come 2012.
In Sydney, handball became the cult hit of the 2000 Games, attracting large audiences and in Beijing three years ago it was one of the best attended events. "The Copper Box", as the 6,500-arena has been branded – its outside is clad in copper – is not one of the Olympic Park's more striking venues but, intimate and noisy, it will challenge any for atmosphere. Those with tickets – it is sold out – for a sport that registers with few Britons, are sitting on an improbable winner if yesterday's contest, a 22-20 victory for Britain over Africa's best side is anything to go by.
That Britain will have a team involved is perhaps even more improbable. As hosts they are entitled to a place but when London was awarded the Olympics in 2005 there was no such thing as a British handball team.
An early attempt, in 2007, to raise the 16 women needed to make up the squad gleaned a total of three players. Through talent searches – Fudge is one of three to have come through a UK Sport campaign fronted by Sir Steve Redgrave – and a Jack Charlton-esque ancestorial trawl around Europe's leagues, they now have a playing group that has made remarkable progress. As yesterday's result – part of the six-team London Handball Cup – demonstrated, they are fast closing the gap. "We have progressed so much," said Britt Goodwin.
It was Goodwin who scored the last-minute penalty. She is one of the team's most experienced players and, having grown up in Norway ,one of those who has a true grounding in the sport.
Her father, Steve, was a footballer for Norwich and Southend before moving to Norway, where the family settled. In 2005, the year London won the Games, Goodwin won the first Sweden/Norway Big Brother and a prize of £100,000 that has helped fund her journey back to her father's home.
It has not been a smooth ride. When she first joined the squad there were moments of genuine despair. "The lowest of the low," was how she recently described the standard of the early days. "We have been working so hard and to finally be here we can see the light at the end of the tunnel," she said yesterday. "We've had a lot of ups and downs and we're very proud to be here."
In the crowd, Jan Jukes was proudly wearing a British handball T-shirt. "No 1 fan" it said on the sleeve. Her daughter Louise was a junior England hockey player when she caught Redgrave's appeal on the BBC News channel. Soon she was leaving her job, her boyfriend and her family to move to Denmark to try and make it at a sport she had never heard of. "I was happy for her to chase her dream," said Jan.
It has not come easily. The T-shirt was designed by her daughter who also sorted the printing and manufacture and she and the rest of her team-mates sell them to try and raise much-needed funds.
The women's squad are now based at Crystal Palace and share flats and houses around the area. They train twice a day, six times a week ,and regularity has led to dramatic improvement.
At full-time, having come from three goals down midway through the second half, the British players leapt and hugged each other and danced around the court.
"If you look back four, five years you would never have imagined that at all," said Fudge. "There were a few of us that choked up during the anthems... but it's the Olympic dream, isn't it?"
Know the sport: Handball
Britain will be entering handball teams in the Olympics for the first time, but the men's sport has been a fixture since Munich in 1972 and women were included four years later in Montreal. France (men) and Norway (women) are the current champions. The sport's heartland is Scandinavia and eastern Europe, although China is a rising force.
The seven-a-side matches, on a 40m x 20m court, are played with what looks like a shrunken football – big hands are an advantage. Players dribble and pass while shots reach 100kmh. Games comprise two 30-minute halves and usually see 40 to 50 goals. "It's very physical," said Louise Jukes, one of the British squad. "That's what I love about it, a bit rough and tumble yet still elegant and skilful."
Join our new commenting forum
Join thought-provoking conversations, follow other Independent readers and see their replies