Epsom Derby 2015: 'When you see the Downs full up there is nothing else like it'
John Gosden trains the first two in the betting for the Derby today, seeking to add to his previous win with Benny The Dip. Kevin Garside meets a man in his element at Epsom with a passion for a race that remains the centrepiece of the year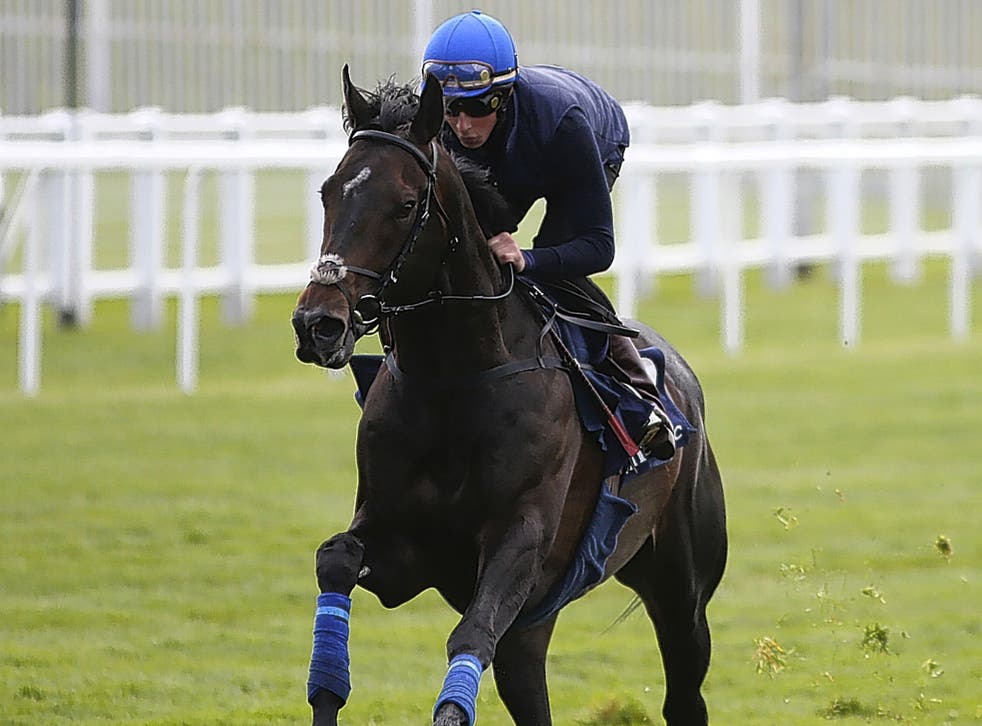 To come upon Epsom Downs from the south requires either local knowledge or a first-rate satellite navigation system; even then there is distrust of technology, so concealed is the ancient heath upon which horses have raced since the late 18th century.
A weave through the Surrey hinterland from the M25 feeds you through a series of undulating broads that appear to lead nowhere in particular, still less the home of the oldest and arguably the most prestigious Flat race of them all, the Derby. On this brisk morning, confidence ebbs as the terrain climbs steeply along Langley Vale Road, not one arrow indicating I might be in the right neighbourhood. And then, through a gap in the trees, two riders appear on horseback, high and to the right, silhouetted against the brightening sky.
It was the equine equivalent of a four-leaf clover, or a double rainbow, a random episode easily dismissed, yet to the superstitious an unmistakable sign calling us forward. Let's settle on serendipity, two stallions as still as Nelson's Column pointing the way while paying statuesque tribute to all those magnificent beasts that have rounded Tattenham Corner and galloped on into history.
On this morning 11 days before the big race a few racing souls had gathered to witness exercise on the Downs by some of the Derby hopefuls. It might have been 1780 for all the landscape has changed. Horse racing is as much a first-light business as it is about afternoons in front of punters. In the quiet hours immediately after dawn horse and rider appear at one with nature before the distant hum of humankind begins to intrude.
Golden Horn and Jack Hobbs, stablemates at John Gosden's Newmarket yard and foremost in the betting, sauntered untroubled in a clockwise direction towards the far side of the circuit, their flanks lost in the distant foliage as they made their way to the start. "He was asleep this morning," Gosden says of Golden Horn. "His temperament is a big plus. You don't relax, you don't stay."
And staying is what it is all about for racing's blue riband, a mile and a half, much of it downhill, arching left and then a lung-busting run to the line on ground slipping away to the right. Unbeaten Golden Horn stole that status from Jack Hobbs by a narrow margin in the Dante Stakes at York three weeks ago. What that will mean over Epsom's unique cambers and elevation changes is anybody's guess.
Gosden can't say which of his horses might prevail. He maintains the mantra of the season thus far, that this Derby is wide open. "The great thing about the Derby is you don't know who is going to be able to handle the track," he says. "Who's going to have the tactical speed, the acceleration, the ability to see that mile and a half out. It is one of the great puzzles that is answered afterwards. If you have a Nijinsky or a Mill Reef it is simple to work out, but who knows this year?"
Gosden, who has won this race only once, 18 years ago with Benny The Dip, likes each of his horses equally. "They live close together, they go out with each other every day. I have great affection for both. They are very similar characters. They have good minds on them and are very affectionate, laid-back horses. It is not like one of them is a brat, or a spoilt, overpaid striker in football. They ran one-two at York in what we regard as our best trial but they are still very inexperienced. They are like a pair of 17-year-old kids, really."
Golden Horn, ridden by William Buick at York, is the mount of Frankie Dettori, who in turn was on the back of Jack Hobbs. Dettori's only Derby success came eight years ago on Authorized. No disrespect to Buick, a horseman of rare pedigree himself, but for Gosden there could be no better man holding the reins than Dettori. "Pound for pound he is the greatest jockey I have put on a horse, hugely talented and hugely experienced," the trainer says. "Obviously, he is in the latter days of his career but still a very fine rider, and has carried a lot of racing on his back as its best known face. Lester [Piggott] was always very reticent. Frankie is very open and a big attribute of British racing. We are lucky to have him."
The shift from its traditional Wednesday slot to Saturday two decades ago was designed to carve for the Derby its own space in the sporting calendar, to stand out from the crowd in a way the race did in its heyday. The festival atmosphere remains. At least, it does for Gosden.
"When you are there on the day and you see the Downs full up there is nothing else like it," he declares. "Don't get me wrong, Royal Ascot is great but there is real passion at the Derby. It's still a little bit the lifeblood of the nation. Shut Parliament and 100,000 people come to Epsom Downs, that sort of thing. The Derby always embraced all walks of life from the card sharks to the monarchy. People just came because it was tradition. Now events have to work for it a little more. But it is the big race of the year for three-year-olds, and still the centrepiece of the year."
When Gosden shuts his eyes and dreams the dream he is transported back to a May day in 1968 when a surly genius called Piggott sat high in the saddle and brought Sir Ivor through the field. "The acceleration over the last two furlongs was pretty impressive," Gosden says. "Connaught looked like he had the race and then suddenly Piggott went on one of those amazing finishes of his, where he just cut the field down."
What Gosden would give were Golden Horn or Jack Hobbs to take him back to the future today, this time with eyes wide open.
The Investec Derby is live on Channel 4 at 4.30pm and is part of the QIPCO British Champions Series: www.britishchampionsseries.com
Join our new commenting forum
Join thought-provoking conversations, follow other Independent readers and see their replies