Frankie Dettori's Gold standard puts youth in its place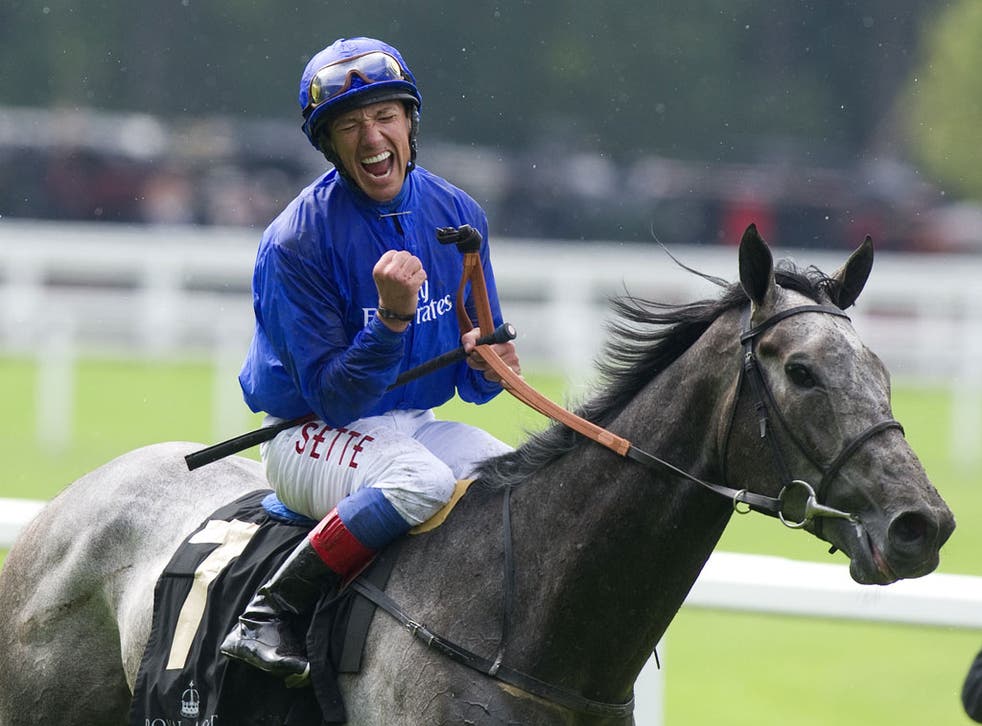 It was mere convention that obliged Frankie Dettori to refer to his young rival, in the stewards' inquiry, as "Mr Barzalona". But the situation between them will have made it impossible, however unfairly, for the television audience not to vest such formality with some subliminal frisson of sarcasm. Here he was, arguably the most accomplished rider on the planet, obliged to enact this ritualised version of a very public battle to preserve his status and self-respect.
In the circumstances, the Royal Ascot stewards would have required hearts of flint to reverse the placings in a Gold Cup that yesterday gladdened even those most bedraggled by the rains of Ladies' Day.
As it happens, justice could be served without need of clemency. Dettori's mount, Colour Vision, had collided with Opinion Poll in the closing stages, causing a momentary imbalance in Mickael Barzalona. But the grey's rally would almost certainly have gained the day regardless, if not quite by half a length. For he owed his momentum not only to his own, deeper reserves of stamina, but also to the inner fury of his rider.
Over the past couple of decades, Dettori has been so well rewarded by Sheikh Mohammed that he has only one feasible response to his treatment since Barzalona joined the Godolphin team this year. And that is to tell himself: "Don't get mad, get even."
There was no way on earth, then, that he was going to allow this impudent French youth – barely half his age – to retain the narrow lead he had seized inside the final furlong. "Me and Mickael are great friends," Dettori insisted afterwards. "But you're by yourself when you're out there, and you want to win for yourself."
For Sheikh Mohammed, of course, this was a win-win situation. Here were two of his jockeys, riding two of his horses, in turn extending a parallel rivalry between their trainers. Colour Vision is with Saeed bin Suroor, who has forfeited his own seniority at Godolphin since his former assistant, Mahmood al Zarooni, was given his own stable, which includes Opinion Poll. This was Bin Suroor's first Group One in Britain since September 2010. "You have to be patient," he shrugged. "This is a very tough game."
It has been made quite plain to Dettori, meanwhile, that Barzalona is not merely being groomed as his eventual successor. Regardless of the discrepancy in their relative experience – and, for now, arguably in their craft as well – Barzalona has already been granted parity in the allocation of several key mounts. On this occasion, however, the sheikh had given Dettori the choice. And he might well argue that the new arrangement, however injurious to the Italian's dignity, must be counted worthwhile if it achieves dividends like this ride.
As Simon Crisford, the Godolphin manager, acknowledged: "Frankie wasn't going to be beaten – especially when he saw Barzalona coming upsides. Whether it gave him extra strength, I don't know, but it was a tremendous finish."
But all this intrigue must be suspended to congratulate all three of the sheikh's retained riders on their performance here. Silvestre de Sousa, also added to the Godolphin roster this year, was on Gulf Of Naples in the silks of the sheikh's son. He set such a slow pace that Jamie Spencer had to seek cover when the odds-on favourite, Fame And Glory, refused to settle.
Dettori was meanwhile tracking the leader, and it was clear a long way out which would be best placed once the sprint began. Sure enough, when the time came for Spencer to break out, he found himself trapped by Opinion Poll. He was freed to launch his challenge only once Barzalona had followed Dettori's strike for home, and by that stage Fame And Glory seemed thoroughly disenchanted with it all. He dropped away to seventh, prompting a succinct assessment from his trainer. "It was an interesting race," Aidan O'Brien said.
"A bit of a farce" was how his compatriot, John Oxx, described things. His Saddler's Rock did well to go down by just another neck, in third, having also failed to settle. At least the Irish had a most impressive winner of the Ribblesdale Stakes in Princess Highway, who will now lead the home defence in the Irish Oaks. Even she, however, could not supplant the day's only possible toast: "Mr Dettori".
Join our new commenting forum
Join thought-provoking conversations, follow other Independent readers and see their replies