Gallant mare makes a man of Big Buck's
Nicholls' star sees off an audacious rival to make it four World Hurdle wins in a row – and 16 from 16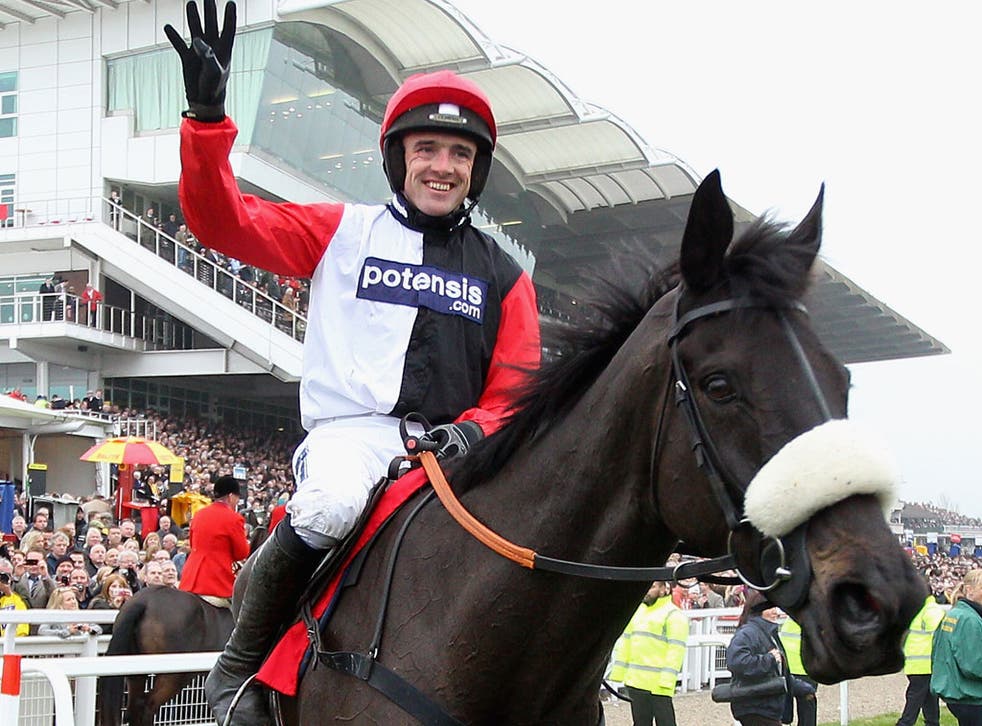 By the time the champion was in the parade ring, it felt as though the mist hiding the great escarpment of Cleeve Hill had come to represent the unseen miasma that menaced the ascent to a new summit of his own. You only had to see Dan Skelton's face, as he stood beside Ruby Walsh, waiting to hoist him on to Big Buck's. Paul Nicholls' assistant wore a ghostly, unblinking look, like some vulnerable creature knowing a predator was close.
The champion stable is not used to this kind of thing. Nicholls will often saddle a favourite at the Festival with hands cooled by the feel of silver after the previous race. Yet here was a horse on the brink of history, from a yard clinging to the edge. Yes, Nicholls had been credited with a first Champion Hurdle on the opening day of the meeting, but Rock On Ruby is housed at his satellite stable across Somerset. In the meantime he had endured a series of reverses, and things were getting no better. Cristal Bonus had run a shocker in the first, and Poquelin was then withdrawn at the start of the Ryanair Chase.
But then you looked at Walsh, and sensed all was in hand. A tremor of black humour seemed to flit across his own pale features as he mounted, and rode Big Buck's out to meet his fate. At the start he saw his sister. "I'm under pressure here," he admitted. Katie, riding Mourad, absolved him. "If you're not firing, you're not firing," she shrugged.
A few minutes later, he was saluting the exultant stands after Big Buck's became the first to win the Ladbrokes World Hurdle a fourth time – and, in the process, the only jumper to match Sir Ken's sequence of 16 consecutive wins, between 1951 and 1953. Walsh had been unfettered by doubt, flinging Big Buck's at the third last and kicking for home from the next.
Turning in, several rivals had been going as well or better. As a rule, nobody would be too perturbed by that. The whole secret to Big Buck's has been the way he conserves his energies, only raising his game when obliged by some impudent new pretender. This time, he potentially faced a more insidious threat. With so many in his stable apparently not themselves, it was almost as though a share in the record could only be claimed by charting its hidden dimensions – the hazards that have intruded upon the careers of every other jumper in Turf history, from the obstacles themselves to lameness or illness.
As his pursuers faltered one by one – Oscar Whisky, going strongly at the top of the hill, would fade into fifth – Big Buck's seemed to be marking out an epoch with each stride. But there remained one last peril. Here, still under heavy restraint, was Voler La Vedette. And her jockey's pluck and imagination would now prove on the same momentous scale as the challenge he was about to embrace. Andrew Lynch coolly concealed his mare from Walsh until the final hurdle, when abruptly pulling her across the track to the stands rail. It was a brilliant manoeuvre. He knew that Big Buck's, once eye-balled, would never blink first. As they began the climb to the post, the record palpably lay in the balance. But Walsh knew all he had to do was bear right, show Big Buck's the threat, and the pack leader would do the rest. He won by just under two lengths, and the place went wild.
Nicholls did not dissemble. "He saved us," he said. "We needed that. They have been totally out of form, apart from the Champion Hurdle. It's been a bit of a disaster. Stupid little things have gone wrong, and the cards just haven't fallen right for us. As I've been telling everyone, we have had coughing, but it hasn't really affected the older horses. But for me this means more than anything. This was our No 1 target, the one thing I wanted this week."
Having said which, he could at least be spared the intolerable cardiac stress that might otherwise have compounded his insomnia before he saddles his cherished veteran, Kauto Star, for the big one today. "It's different with him," he protested. "Just to be running is a fairy tale. I'm not expecting him to win."
Big Buck's will now proceed to Aintree in an attempt to take the record outright. "He's never flat out," Walsh said. "I don't know how much is there because I've never got to the bottom of him." Colm Murphy was meanwhile "proud but gutted" after his mare's superb run for second place, seven lengths clear of Smad Place in third. "In truth he was always holding her, almost toying with her," the trainer admitted. "She's just unlucky to have run into a legend."
So it was that the Irish again had to settle for a supporting role. They were indebted for only their third winner of the week to Willie Mullins, who had also supplied the previous two, when Sir Des Champs added to his success over hurdles here last year with a flamboyant display in the Jewson Novices' Chase.
He had been diverted to this race when First Lieutenant instead represented his owner, Michael O'Leary, in the RSA Chase. "I said I didn't mind which race he ran in this time," Mullins said. "As long as we come back next year for the Gold Cup. He's right up there, one of the best I've had. Make no mistake, this is a racehorse." It was a day when the reach of that compliment was measured as rarely before.
Tip table: Our experts
Each day during the Festival, our panel of experts predict their 1-2-3 for the day's big race - at the end of the week we will have a tipping champion. They earn three points for predicting the winner, and a point for each horse coming second or third. A correct 1-2-3 earns 10 points. Four of our tipsters correctly predicted Big Buck's would win yesterday's World Hurdle.
1. Big Buck's
2. Voler La Vedette
3. Smad Place
Winners; 2nd/3rd; Pts
Hyperion 2; 4; 15
James Corrigan 2; 2; 8
Chris McGrath 1; 5; 8
James Lawton 1; 4; 7
John Cobb 1; 3; 6
Sue Montgomery 1; 3; 6
Join our new commenting forum
Join thought-provoking conversations, follow other Independent readers and see their replies