Power surges to Irish Guineas glory
Trainer Aidan O'Brien maintains his stranglehold on this year's Classics and the best may be yet to come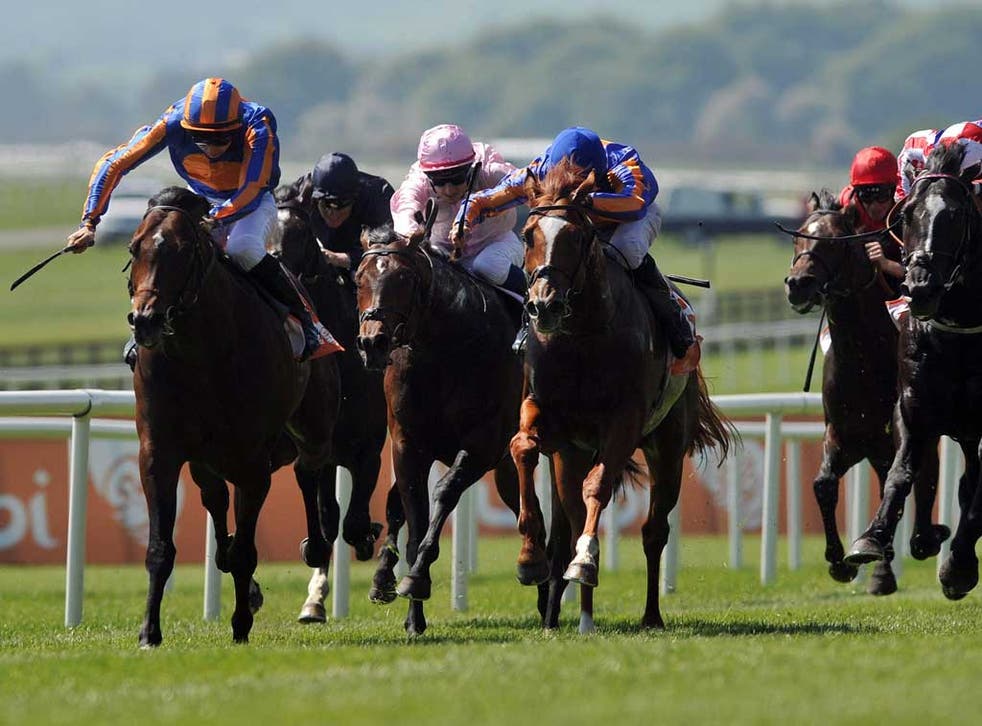 What you see is not always what you get, but perhaps at Newmarket earlier this month it should have been. In the parade ring before the 2,000 Guineas, the Aidan O'Brien-trained Power had outshone his rivals, including stablemate and subsequent winner Camelot, in terms of condition and apparent well-being only to be thoroughly eclipsed by all bar one in the race. Three weeks on, in the Irish version of the Classic, the son of Oasis Dream put the record straight with a performance which this time matched his looks.
Power, ridden by O'Brien's son Joseph, produced a fine burst of speed that took him to a decisive length victory from 33-1 shot Foxtrot Romeo. What made the difference between his two Guineas efforts was the underfoot conditions; rain-softened on the Rowley Mile, sundried yesterday at the Curragh.
While all credit must go to O'Brien Jnr, who turned 19 four days ago, for his cool appraisal of the fractions set up front by another of the Ballydoyle team, Daddy Long Legs, there must be some, too, for Ryan Moore, who rode Power at Newmarket and did not waste too much of his mount's energy once it was clear he could not properly operate in the mud.
"We put his Newmarket run down to the soft ground," said O'Brien Snr, "and the fact that it was his first run of the season, and we were prepared to forgive him on both counts. Ryan told us he'd felt like a good horse through the first half of the race and he showed today what he really is. He does have a lot of class."
A year ago O'Brien Jnr had made his Classic breakthrough with a fine piece of frontrunning on Roderic O'Connor. This time he appeared late on the scene, pouncing to lead inside the final furlong. "They went a decent gallop up front," he said, "and I was able to creep away down the rail with plenty of cover. I wanted to take my time as my lad has plenty of speed and he quickened well." Power's next target is Royal Ascot's St James's Palace Stakes.
Power was the trainer's eighth success in his local 2,000 Guineas and, with Reply and Daddy Long Legs finishing third and fourth, only the excellent run by the Bryan Smart-trained runner-up prevented a clean sweep.
It was O'Brien's third Guineas of the season, after Camelot and Homecoming Queen at Newmarket. This afternoon, that filly will start favourite to follow up her Rowley Mile solo tour de force in the Irish 1,000 Guineas, and give her trainer his fifth double in the mile Curragh showpieces, a sequence started by Classic Park and Desert King just 15 years ago.
In 2008 O'Brien became only the second trainer, after Jack Rogers in 1935, to win all five of his country's Classics in the same year, courtesy of Henrythenavigator, Halfway To Heaven, Frozen Fire, Moonstone and Septimus. That is a feat that has never been achieved in the British originals in a far greater timespan – the youngest of the races, the 1,000 Guineas, was first run in 1814 in England and 1922 in Ireland.
The master of Ballydoyle is now offered at 12-1 by Irish bookmaker Paddy Power to win all 10 this season. The next legs of the English "Aidan slam" are on Friday and Saturday at Epsom, the Oaks and the Derby. O'Brien has the favourites for both, the filly Maybe and Camelot.
Some more remarkable statistics, and with them some script brewing. Camelot, the Andrew Balding-trained Derby second favourite Bonfire, and Power were all auctioned as yearlings, and all prepared for their dates under the hammer at the same Berkshire nursery, Highclere Stud, recently used as the setting for the hit period TV programme Downton Abbey. And the paddock in which the two Epsom candidates spent their down time as babies is named after a Derby winner, the 1930 hero Blenheim.
The form of Camelot's 2,000 Guineas took a knock yesterday with the Rowley Mile third and fourth Hermival and Trumpet Major both flopping, and there was a reminder, with the eleventh-hour withdrawal of ante-post market leader Parish Hall with an infected leg, of the fragility of the thoroughbred.
But if Power is a yardstick, Camelot should improve for both his run at Newmarket and the better ground he will encounter at Epsom and O'Brien reported yesterday that all was well with the putative superstar. "He has been absolutely fine since the Guineas," he said, "and he's still exciting us a lot."
Join our new commenting forum
Join thought-provoking conversations, follow other Independent readers and see their replies