Sprinter Sacre and Flemenstar look cut above in new generation duels
In Compliance can prove fit for purpose as Aintree stages first race over modified fences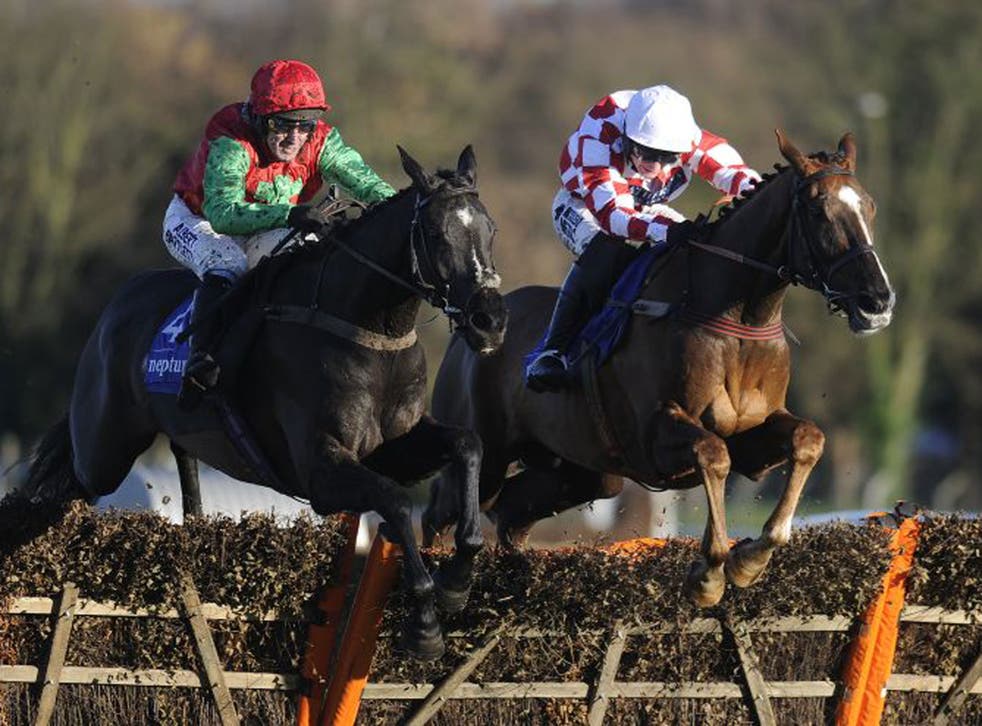 The dread that stalks the jump racing community, as it sends horses over the Grand National fences for the first time since another horrible misadventure in April, has nothing to do with a sense of unconscionable risk. Rather it reflects the frightening experience of losing control of a sensitive and challenging debate, for the second year running, to laymen who can reliably describe every grey area in shrillest black and white.
Those supervising the world's most famous steeplechase course have sought to deal as temperately as possible with the morbid dilemmas raised by the deaths of two more runners in the National. Granted that the race owes its character to a degree of chaos, not to mention peril, the individual circumstances of each accident were later shown to have been fairly freakish. Once again, then, change has been made only in cautious increments. But nobody is complacent, notably after the present sponsors decided to abandon the National after next year.
To the many who still adore the sport, even after wrestling with its most harrowing tests, the calendar could not be better aligned to amplify the best of steeplechasing. It is rare enough for two young horses as promising as Flemenstar and Sir Des Champs to square up, as they do in the John Durkan Chase at Punchestown tomorrow. Both arrive with the potential to become Ireland's outstanding candidate for the Betfred Cheltenham Gold Cup. Yet a showdown between two other ex-novices, at Sandown today, is causing barely less interest.
Sprinter Sacre was so captivating in his first season over fences that it would have seemed ridiculous to contemplate opposing him on his reappearance in Sportingbet Tingle Creek Chase. Yet many now seem prepared to do so, remembering how Sanctuaire crowned his transformation from disappointing hurdler to freewheeling chaser with a 17-length win over this course and distance in April.
One theory is that the subsequent achievements of Cue Card and Al Ferof – gasping for air when second and fourth respectively in the Arkle Chase, but now among the favourites for the William Hill King George VI Chase – show that Sprinter Sacre was outpacing horses that needed longer distances. But that seems a remarkably perverse approach to form that has gained far more substance than seemed feasible at the time, so superior was the winner.
It is hard to recall a more dynamic novice in recent years and Sanctuaire will surely need some incidental disparity, perhaps in fitness or ability to handle the conditions, to obtain any greater distinction than giving Sprinter Sacre (3.05) a longer lead than anyone managed last season.
The two stables that increasingly dominate British jump racing likewise provide a hot favourite and his most obvious danger in the Markel Insurance Henry VIII Novice Chase. Captain Conan (1.55) got everything right in his first steeplechase, which is more than can be said of Hinterland, and can duly set up a double for Messrs Henderson and Geraghty.
Only the boldest, mind you, will risk short odds about a novice over the railway fences, especially if they saw Fingal Bay at Exeter yesterday. Apparently in a different league from his two rivals, Fingal Bay jumped badly left in front and, artfully declined a lead by Paddy Brennan aboard the winner Chartreux, eventually veered through the plastic wings of the third last. Fortunately, both Richard Johnson and his wayward mount walked away unscathed.
Things went rather more smoothly for Bold Sir Brian, who continued his rise with a runaway success in a graduation chase at Sandown. The long journey from Kinross certainly proved worthwhile for his trainer, Lucinda Russell, who must be complimented on her prudent placing of a horse still learning his trade. Though he looked a little naïve on occasion, these fences increasingly focused his attention and in the end he came bounding clear up the hill. Russell will remain in no rush with Bold Sir Brian, and is looking for the next rung on the ladder at Wetherby on Boxing Day.
Those eager to see more diversity at jumping's top table will also be wishing the Co Meath stable of Peter Casey and his family all the best tomorrow. With a race already under his belt, Flemenstar (2.00) can bring an end to his big rival's unbeaten record over fences – without necessarily doing to the same to his Gold Cup prospects. Flemenstar has been so exuberant at this trip, and shorter, that he must really see out the race strongly if he is to head that way himself.
It is in its abiding capacity for romance, of course, that the National has hitherto managed to redeem even its darkest days. Ballabriggs, who lit up the last months of Ginger McCain's life by winning the 2011 running for his son, Donald, is back under top weight in the Betfred Becher Handicap. He did not jump quite so well in his National defence last spring, however, and preference is for another veteran. In Compliance (2.10) showed nothing in his comeback spin, just 13 days ago, but has always been inspired by these fences and seemed simply not to last the extreme distance when fifth in the National.
Little Josh (3.20) is well treated, in the other race over the National fences, but this is ultimately a day to remember that the same must be said of every thoroughbred.
Turf Account
Chris McGrath's nap
War Poet (2.20 Wetherby)
Next Best
Norwegian Reward (2.50 Lingfield)
Join our new commenting forum
Join thought-provoking conversations, follow other Independent readers and see their replies