Harlequins 22 Exeter Chiefs 6 match report: David Ward looks right at home as he makes sure Quins stay on course
The hosts, who had moved the match across from the Stoop, led 19-3 at the break but were unable to add a crucial fourth try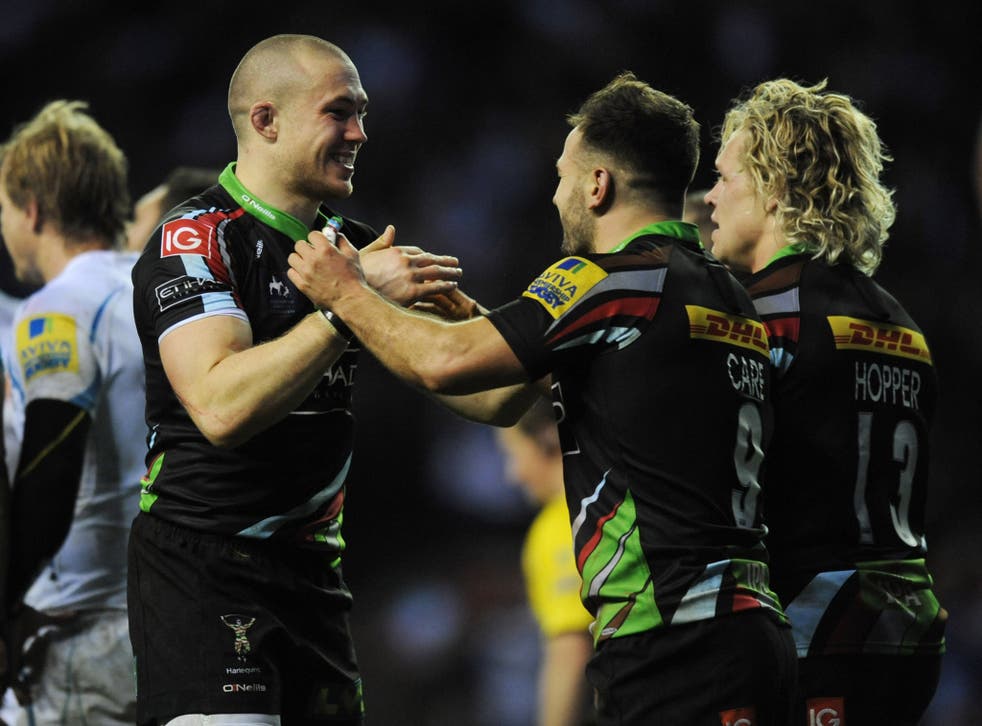 The Harlequins resurgence continued at Twickenham yesterday yet a lingering sense of dissatisfaction will remain. A wonderful first half, full of corruscating rugby – from both sides – was followed by a more pedestrian second period in which the hosts failed to force home their advantage and take the bonus point which at one stage seemed there for the asking.
The sense of occasion did not fail; more than 74,000 followers packed out headquarters for Big Game Six, if not to the rafters, and few would complain they did not get their money's worth. On the other hand, Exeter Chiefs will feel they did not do themselves justice on as big a stage as any of them have ever played.
They could not prevent Harlequins dominating the breakdown. Their afternoon could be summed up in the first three minutes of the match during which the whistle did not blow once: Exeter made their way 40 metres upfield from the kick-off, only to lose possession, Danny Care kicked them back to where they had started and Harlequins worked a yawning overlap for Nick Evans to score the first try.
"We played some magnificent rugby but the last quarter became a bit disjointed," Conor O'Shea, the Harlequins director of rugby, said. "But after the start we had to the season, the truck load of injuries we have had and still have, we're still top four and we will get stronger."
The latent strength of the London club lies in a player such as David Ward, whose wanderings have brought him to the right place. He started the season as third-choice hooker behind Joe Gray and Rob Buchanan but when those two return from injury, they will be hard pressed to displace Ward, whose man of the match award was utterly deserved.
The Harlequins scrum had the upper hand for 70 minutes but it was in the loose that Ward excelled. He plays like a back-row forward, his carrying gave his forwards a target and his work at the breakdown could not be bettered; the fact that he played a vital role in all three tries speaks volumes.
"Harlequins knocked us out of our stride and we didn't do anything to turn that situation around," Rob Baxter, Exeter's head coach, said. Baxter looks likely to be without Brett Sturgess going into the new year, the replacement prop needing lengthy attention to a damaged knee as the game ended, and he knows his players have to rediscover their confidence if they are to stay in touch with the top four.
After Evans had given Harlequins the best possible start, the Harlequins offence was relentless. That an old stager (at 35) such as Nick Easter is such a key ingredient of their running and passing game says a lot about the No 8's desire, even if it is unlikely to carry him back into England contention. Graham Rowntree, the England forwards coach, watched yesterday's game and his eye will have been taken by Ward and Luke Wallace as much as anyone.
Those two, along with Easter, made the running down the left which led to the second try. The forwards surged towards the Exeter 22, then the backs took up the running and Matt Hooper's long pass gave Charlie Walker the chance to sidestep Tom Johnson and stretch away to the corner. It was a bad moment for Exeter, since they lost Jack Nowell to the sin bin for a dangerous tackle on Hopper just after he passed to Walker.
The young wing may have felt hard done by, since he tried to let Hopper down and Baxter failed to see the difference between that tackle and an earlier one by Hopper himself on Jason Shoemark which earned only a penalty. Arguably, Harlequins should have enjoyed a greater advantage, since Mike Brown tried to finish how own break with a dummer to Walker but was tackled short with his wing clear.
But Brown scored in Nowell's absence on the stroke of half-time after Ward robbed Ben White of possession. Danny Care sprinted away from Gareth Steenson and Brown was on hand to finish. If only the second period had been quite as silky smooth but the only X Factor thereafter was that provided by the finalists of the TV talent show.
Line-ups:
Harlequins: M Brown; C Walker, M Hopper, T Casson (B Botica, 79), S Smith (O Lindsay-Hague, 74); N Evans, D Care (K Dickson, 56); J Marler (M Lambert, 64), D Ward, W Collier (P Doran-Jones, 64), C Matthews (N Kennedy, 61), G Robson, L Wallace (T Guest, 74), C Robshaw (capt), N Easter.
Exeter Chiefs: L Arscott; J Nowell (sin bin 32-42), I Whitten, J Shoemark, T James (F Vainikolo, 54); G Steenson (H Slade, 61), H Thomas (W Chudley, 33); B Moon (B Sturgess, 61), J Yeandle (C Whitehead, 52), H Tui (A Brown, 61), D Mumm (capt), D Welch (J Hanks, 54), T Johnson, B White, D Ewers (K Horstmann, 74).
Referee: J P Doyle (London).
Join our new commenting forum
Join thought-provoking conversations, follow other Independent readers and see their replies