LV= Cup: Nothing artificial about Saraces as Alex Goode proves his fitness for England
Saracens 19 Cardiff Blues 11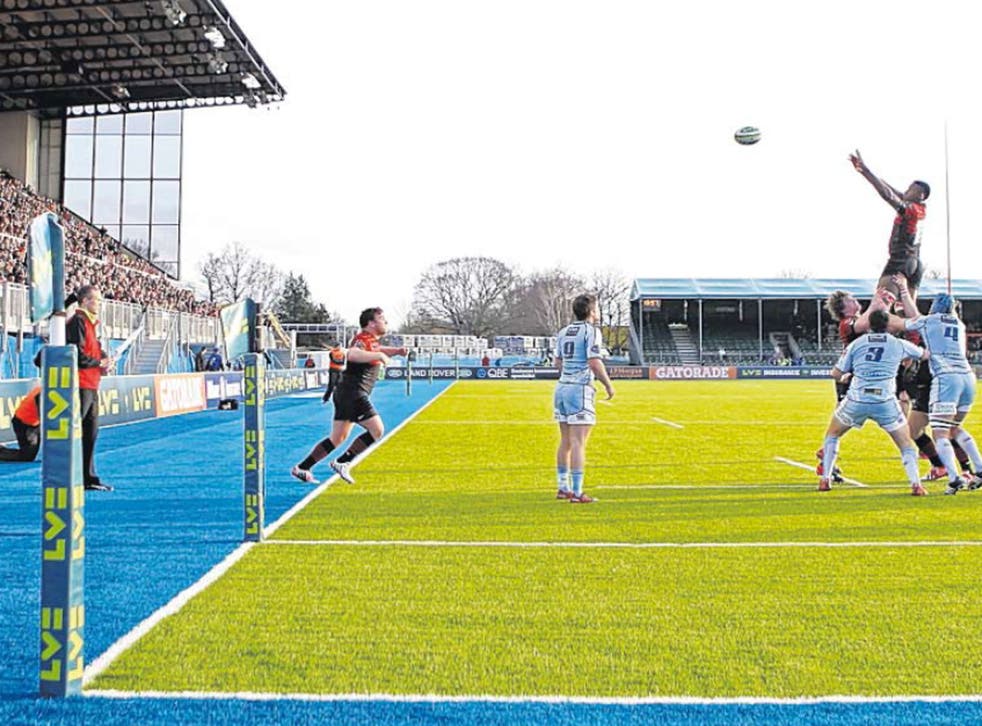 It does not yet feel like home, but when a champion club has spent years slumming it in the rugby equivalent of a newspaper-lined cardboard box – apologies to those who hold Vicarage Road dear, but the Watford venue really is a tramp's refuge – players, coaches and administrators alike can be forgiven for seeing creature comforts around every corner. Saracens are genuinely looking forward to setting down roots at Allianz Park, their new place in Hendon, although the artificial pitch makes talk of roots something of an irrelevance.
Alan Titchmarsh might not like the idea of the union game embracing this kind of technology – for the record, the playing surface at what was until recently known as the Barnet Copthall Stadium is constructed of 65mm yarn, with added sand and a rubber infill – but people of his size were left behind by the 15-man code many moons ago. Saracens believe their futuristic pitch is the new now and while yesterday's events in the Anglo-Welsh Cup were distinctly low key, there was enough quick ball from scrum and breakdown to suggest they might be right.
"It's different from the Arms Park, that's for sure," said Phil Davies, the Cardiff Blues coach who, in his first season back in Wales after a Premiership stint with Worcester, has had to reacquaint himself with the reality of heavy conditions on the banks of the River Taff. For Ceri Sweeney, the visiting outside-half, the differences were tangible. "I won't have to clean my boots after playing here – or wash my kit for that matter," he said.
Those inclined to a conservative view wonder if an artificial surface might pose a risk to life and limb, but neither contingent seemed overly concerned in the immediate aftermath of yesterday's encounter. The game took its toll on the casualty front: the Italian Test prop Carlos Nieto broke down early; the young Sarries lock Eoin Sheriff had to be helped from the field towards the end of the game; the lightweight Blues back Tom Williams failed to go the distance after smashing his right shoulder.
However, the home coach Alex Sanderson said that as far as he was aware, each injury was of the "common or garden" variety, wholly in line with the bumps and bangs suffered on old-fashioned grass.
The encouraging news from England's perspective was that Alex Goode played 55 minutes without obvious difficulty, thereby confirming his full recovery from a bout of shoulder trouble. At one point early in the second half, the full-back was heavily tackled – and heavily dumped – by the Blues centre Dafydd Hewitt. He landed on his troublesome shoulder and for a moment, it looked as though he might stay down. Happily, it proved a false alarm.
"I was a little apprehensive at first," said Goode, who started slowly but grew increasingly influential as the first half unfolded before working the wing Joe Maddock into space with a high-calibre pass after the interval. "However, I've trained well, tested my shoulder to the max and put myself on the radar for the Six Nations."
On this evidence, the red-rose coach Stuart Lancaster need not fear running his favourite No 15 against Scotland at Twickenham this weekend.
With both sides stripped bare of senior players – Saracens had lost Chris Ashton, David Strettle, Brad Barritt, Owen Farrell, Richard Wigglesworth, Kelly Brown and Will Fraser to representative duty; the Blues travelled equally light, with Alex Cuthbert, Jamie Roberts, Lloyd Williams and Sam Warburton among those in Wales mode – this was a valuable opportunity for the wannabe brigade. Heaven knows, the likes of Jamie George, the much talked-about Sarries hooker, have precious few showcases these days.
Much was expected of the home side's teenage flanker Maro Itoje, who was making his senior debut: when a judge as good as Richard Hill, the World Cup-winning England flanker and acknowledged sage of the back-row fraternity, says the lad can play, we had better believe him.
And indeed, Itoje showed some decent touches, even if he never quite put himself in a position to engage the afterburner and outpace the Blues defence. But if anyone caught the eye, it was Robin Copeland, the visitors' No 8.
Time and again, he took on Saracens' mean-machine defence and forced it into a malfunction. His first-half try, registered with the scores level at three points apiece, was well-earned, coming after a startling brushing-aside of the England second-row forward Mouritz Botha, who is not exactly renowned for missing tackles, and a second rampage that gave the Blues a lineout platform deep in enemy territory. When the visitors secured the ball anew, he was on hand to stretch over for the score.
Truth to tell, most of the enterprising rugby came from the Welshmen, who, despite finishing second in the arm-wrestle, prospered from Lewis Jones's sparkiness at scrum-half. Unfortunately, their discipline was not up to much. They lost three players to the cooler – at one point, they were down to 13 men – and allowed outside-half Nils Mordt to keep Saracens ahead of the game from the kicking tee.
Mordt, who was captain for the day, was in fine fettle all round, and it was his break, aided and abetted by the centre Duncan Taylor, that led to James Short's wrap-up try a minute from time. The celebrations were less than wild, but they signalled the start of something good for the much-travelled former champions.
Saracens: Try Short; Conversion Mordt; Penalties Mordt (4). Cardiff Blues: Try Copeland; Penalties Sweeney, Davies. Saracens A Goode (J Wilson 55); J Short, D Taylor, A Powell, J Maddock (S Stanley 65); N Mordt (capt), B Spencer (A Price 79); N Auterac, J George (J Smit 55), C Nieto (P Du Plessis 23), E Sheriff (D Fearn 75), M Botha (A Hargreaves 59), M Itoje (J Melck 59), N Fenton-Wells, T Jubb. Cardiff Blues J Tovey; O Williams (T Williams 68, C Hill 74), G Evans (capt), D Hewitt, H Robinson; C Sweeney (G Davies 58), L Jones (A Walker 71); S Hobbs (N Trevett 50), K Dacey (R Williams 68), B Bourrust (T Filise 58), M Paterson, M Cook, L Hamilton, R Watts-Jones (T Young 58), R Copeland
Referee R Thomas (Wales).
Join our new commenting forum
Join thought-provoking conversations, follow other Independent readers and see their replies