Sale vs Worcester cancelled after Sharks return positive coronavirus test results
Final match of the Premiership season has been called off on the morning of the game after Sale returned more positive Covid-19 test results following last week's outbreak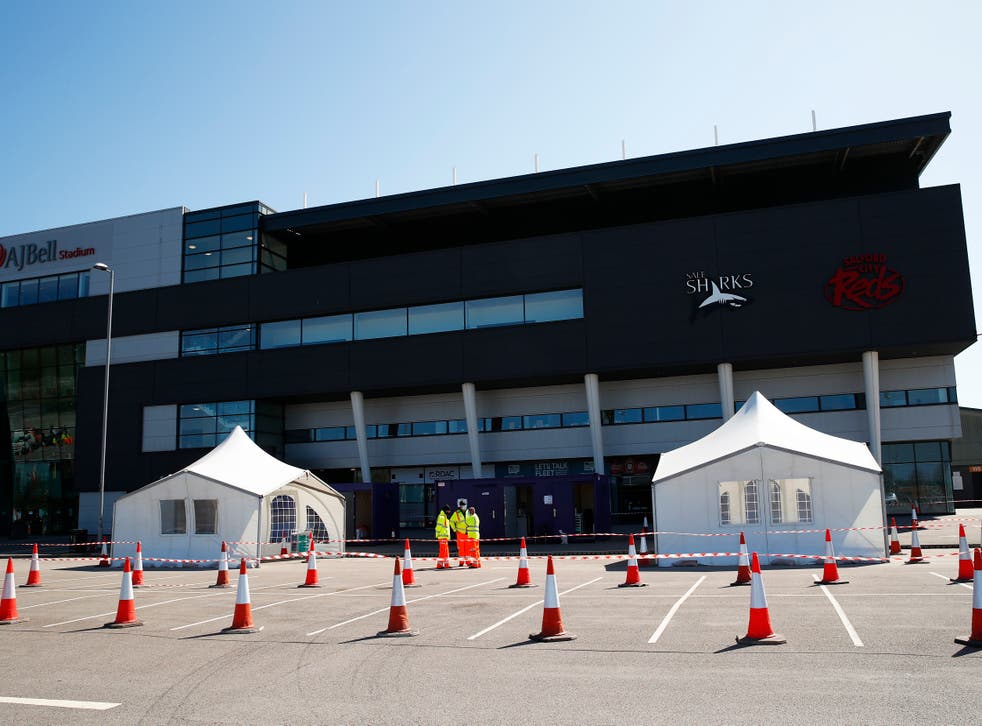 Sale Sharks have forfeited their final Premiership match against Worcester Warriors to end any hope of reaching the semi-finals after their latest round of coronavirus testing returned eight more positive results.
Yet in a fitting end to what has been a farcical episode for the sport, confusion reigned over how many players tested positive as the club and Premiership Rugby disagreed on the number, with Sale insisting that five players and two staff members had contracted Covid-19, with the league claiming it was six players and two staff. Sale claimed that one test, which Premiership Rugby say was positive, returned as an unconfirmed or damaged sample, but soon amended their statement by removing any reference to the number of positive samples.
Regardless, the result is a 20-0 bonus-point victory awarded to Worcester, which leaves Sale fifth in the Premiership table and Worcester in ninth, securing Bath's place in the top-four play-offs. But questions will continue in light of Sale producing 27 positive tests in the space of a week, compared to a total of 68 positives across the previous 12 weeks of testing.
The Rugby Football Union has launched an investigation into the handling of the matter, and expressed its concern with how so much uncertainty had been allowed to develop, which following the Saracens salary-cap scandal earlier this season has undoubtedly tarnished the reputation of the game.
An RFU statement read: "The RFU is undertaking a full and thorough investigation and is working closely with Public Health England. A summary of findings will be published in due course and we will consider if there are any learnings for all clubs.
"The RFU has concerns about how this situation has developed and will be making recommendations to PRL and the PGB to avoid future uncertainty for clubs and players as well as protecting the reputation of the game."
A Sale Sharks statement read: "This is devastating for Sale Sharks, the players and staff with Covid-19 denying the club the chance to challenge for the Premiership title at the final hurdle. Sale Sharks and all involved with the club are determined to come back stronger than ever in time for next season."
Sale promised to forfeit the match and take a 20-0 defeat if they registered any further cases after 19 positive test results were returned last week, which initially resulted in the game being postponed until Wednesday night.
The scenario quickly drew into a farce for Premiership Rugby, with Northampton's final game against Gloucester cancelled after the Saints were unable to field a front row due to their players having to enter self-isolation, having played Sale last Tuesday. Northampton have since had three players test positive for coronavirus, including England players Lewis Ludlam and Piers Francis - the latter being forced to withdraw from Eddie Jones's training squad on Tuesday.
Yet while Saints were forced to forfeit the match, Sale were able to postpone their fixture as they insisted they could field a full side in Sunday's match, with the game called off only due to health concerns among Worcester and Public Health England.
The Manchester-based club strongly denied allegations that players were out in the city drinking together following their Premiership Rugby Cup final victory on 21 September, but promised to forfeit the match should Tuesday's round of coronavirus testing produce any further positives - a scenario that has now played out.
Sale added: "The owners are very proud of, and grateful to, the players and staff for the effort that has been demonstrated throughout the protracted season and particularly over this past week.
"Sale Sharks would like to thank all its supporters for wishing the club's players and staff a speedy recovery during these difficult circumstances. They would like to reassure those well-wishers that no-one who has been infected has any serious health concerns at present. The club will continue to ensure that everybody is closely monitored and supported over the coming weeks.
"Although everyone at Sale Sharks is disappointed to see our campaign end in this manner, the club wholly understand that the welfare of players, staff and officials is the most important factor. Throughout the last six months, we have followed the official guidelines and protocols given to us by the RFU and Premiership Rugby, with rigorous testing regimes and safety measures in place to protect everyone connected to the game. Sale Sharks is confident the audit carried out by the RFU over the past few days will confirm this absolutely."
Premiership Rugby chief executive Darren Childs said: "We stated there was no room in the calendar for matches to be postponed but last weekend the health of everyone involved took precedent to ensure the Sale Sharks squad could be tested again, following the initial positive tests.
"Those concerns were proved today when we saw an additional eight positive tests. People fight hard for points in Gallagher Premiership Rugby, and for a place in the semi-final but everyone agrees this has to take second place to people's health and well-being."
As a result, the current top four will play out this weekend's semi-finals, with table-toppers Exeter Chiefs taking on fourth-placed Bath at Sandy Park and second-placed Wasps hosting third-placed Bristol Bears at the Ricoh Arena.
Join our new commenting forum
Join thought-provoking conversations, follow other Independent readers and see their replies