Saracens vs Worcester match report: Sarries turn on style to give Ernst Joubert perfect send-off
Saracens 48 Worcester 18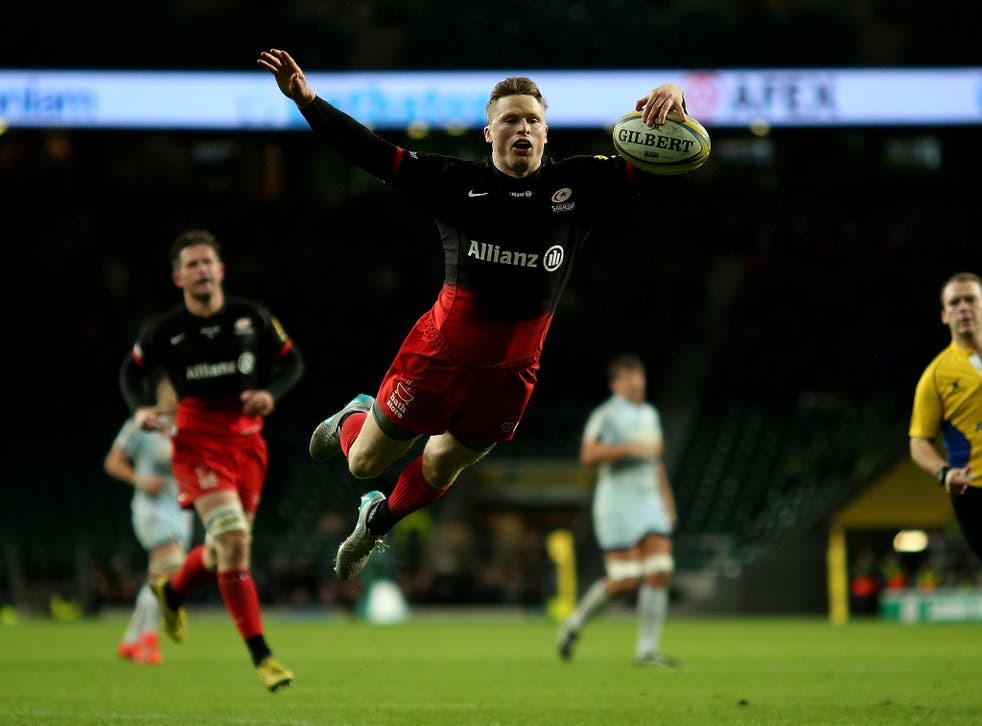 When Worcester were climbing from the depths of the English league system 20 years ago, this is where they wanted to be. Yet they will look back on their first XV-a-side visit to Twickenham with less than affection, coming up against a Saracens side in cruise control.
So solid has been Saracens' form this season that they remain unbeaten and they felt able to rest such England luminaries as the Vunipola brothers, Richard Wigglesworth and Owen Farrell. Moreover, they lost Alistair Hargreaves, their captain, to a head injury with less than two minutes played and shrugged it off as a mere inconvenience.
If one South African departed prematurely, another, Ernst Joubert, completed the full match in his last appearance for Saracens before returning next month to Cape Town. The No 8 has made a significant contribution to the North London club since arriving six years ago, his soft hands, support lines and ability to read the game helping them to the top of the domestic game's greasy pole.
He has scored tries in Twickenham finals too, though here he left that duty to others. If Chris Ashton, the former England wing who may yet be seen again in internationals now that there is a new management, led the way with a brace, Ben Spencer also enjoyed himself. The scrum-half may be number three in the pecking order but he laid on Ashton's first with a break and precise diagonal, then ran in support of Chris Wyles for a try of his own.
Worcester were only 14 points adrift at the interval but the writing was already on the wall. In the first quarter they had plenty of territory but nothing to show for it, their lineout struggled and their defence was pulled asunder by a Saracens side that, throughout the match, invariably made it count whenever they got in the red zone.
Jackson Wray, a late addition when Will Fraser pulled out after a knock in training, was driven over from a line-out but the bonus-point try, the best of the lot, was made by Schalk Brits. The hooker attacked a kick from 65 metres out, beat three men and linked with Charlie Hodgson, who sent Ashton over. Hodgson's conversion took him to 2,500 league points in a career that will end next May.
Brits himself scored from a lineout and Ben Ransom profited from quick hands for the sixth. There was time for Worcester to show some spirit with two late tries.
Saracens: B Ransom; C Ashton, M Bosch (O Farrell, 70), B Barritt (N Tompkins, 64), C Wyles; C Hodgson, B Spencer (N de Kock, 53); R Gill (R Barrington, 53), S Brits (J Saunders, 64), J Figallo, G Kruis, A Hargreaves (capt, M Itoje, 2), J Wray (S Vunisa, 56), K Brown, E Joubert.
Worcester: C Pennell; B Heem, W Olivier, R Mills, C Vuna (B Howard, 61); T Heathcote, J Arr (C Mulchrone, 67); N Leleimalefaga (V Rapava Ruskin, 53), N Annett (J Bregvadze, 53), N Schonert (J Rees, 47), D O'Callaghan (T Cavubati, 57), D Barry, P Dowson (sin-bin, 61-71), S Betty (M Cox, 57), GJ van Velze (capt).
Referee: I Tempest (Liverpool).
Join our new commenting forum
Join thought-provoking conversations, follow other Independent readers and see their replies