Wasps 15 Harlequins 16 match report: Andy Goode's agonising late miss sums up Wasps' day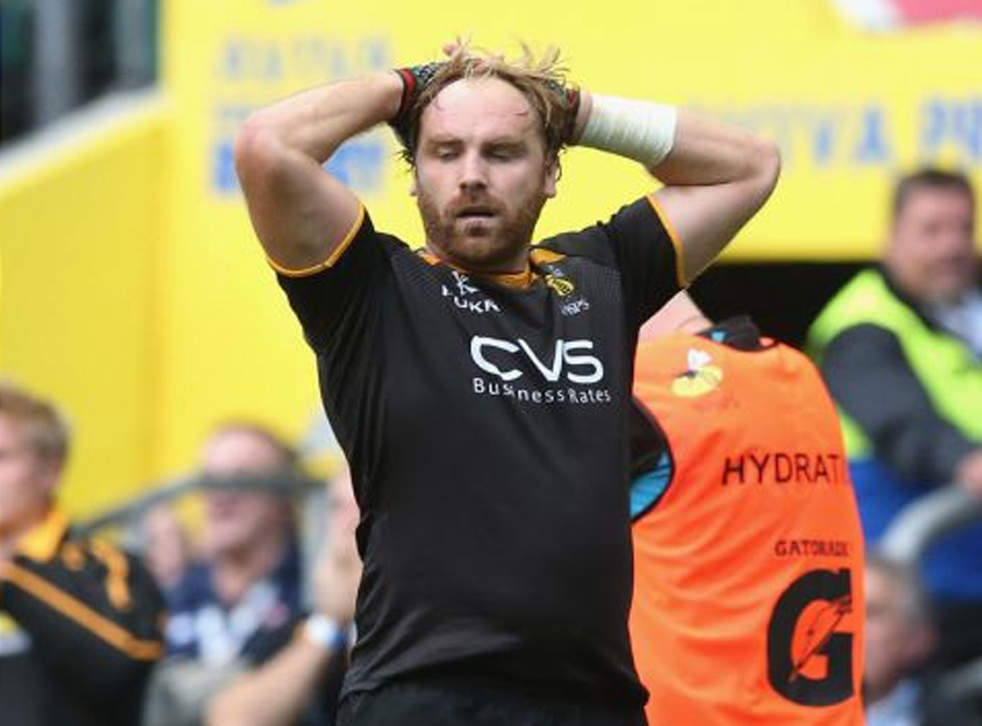 This was not what the lawmakers or more than 60,000 spectators wanted. The start and the finish, yes, plenty of excitement there but the intervening period demonstrated that the new scrummage criteria have yet to bed in and the sumptuous entertainment these two clubs laid on in the 2012 double header was completely absent.
If Andy Goode held his head in his hands as the final whistle blew, who could blame him? The veteran fly-half had a touchline conversion with which to deny Harlequins but his kick hit the post and bounced away. Had Goode been successful, though, it would have been the steal, if not of the century, then of the season.
Wasps had virtually no possession during the second half and were painstakingly reeled in when Nick Evans found his kicking boots and Karl Dickson exploited a yawning gap to score his side's only try. But whereas last year Harlequins staged a stunning comeback (four tries against five by Wasps) to win by two points, here they laboured despite an evident advantage at the set piece.
But the problem of constantly reset scrums reared its ugly head again. In the earlier match of the double header, the problems had been mostly those of timing and the slow cadence set by the match official. In round two, the problems seemed more those of the quality of the Harlequin front row and no amount of intervention by the referee can change the area where one side is stronger than the other.
Whenever Wasps found themselves with territory (which, after the break, was infrequent) they could not rely on winning possession, either at the scrum or on their own throw at the line-out. They left Twickenham thinking "what if...?" If they had not turned over ball, if they had not lost their discipline in the third quarter, if Tom Varndell had scored the try that seemed his for the taking before George Lowe appeared from nowhere to scythe him down.
Had Varndell or the unmarked Joe Simpson inside him scored then, Wasps would have turned round at least 12 points in front and, in such a tight match, that could have been sufficient. It would have been fitting reward too for a half which Wasps started brightly, reclaiming the kick-off before Sam Jones, their energetic young captain, sent Joe Launchbury over the line with only 50 seconds on the clock.
Their defence, re-organised by Brad Davis over the summer, gave Harlequins no room in which to discover their normal fluid game and only Danny Care created problems. Given how influential Care was from scrum-half, the irony that his replacement scored the Harlequins try will have escaped him but even Care could do nothing when quick hands launched Varndell towards the left-hand corner from some 60 metres just before the interval.
The wing put his head back but Lowe, tracking back, caught his ankles 15 metres from the line and Simpson, backing up faithfully, never received the pass. When Evans found his range (after two first-half misses) and knocked over two penalties, Quins were back in the hunt but they lacked rhythm, their handling was inaccurate and they could find no way through.
When they forced a five-metre scrum, Dickson's little knock-on conceded the position but Wasps could not find a way out of their own 22. In the end, the stern examination told: left and right went Harlequins before Dickson, with the hint of a dummy, found the gap. Needing seven points for a win, Wasps spurned two easy penalty attempts in favour of a kick to the corner and, finally, Tom Palmer made his way over in the corner. Many Harlequins would have backed Goode to make the winning conversion but the width of the upright denied him.
Wasps A Masi; C Wade, B Jacobs, C Hayter (T Bell, 79), T Varndell; A Goode, J Simpson (C Davies, 64); M Mullan (S McIntyre, 69), T Lindsay (N Cochrane, 72), J Cooper-Woolley (W Taylor, 57), J Launchbury (J Cannon, 60-64), T Palmer, S Jones (capt), G Thompson (A Johnson, 55), E Jackson.
Harlequins M Brown; P Sackey, G Lowe, J Turner-Hall, U Monye; N Evans (B Botica, 79), D Care (K Dickson, 60); J Marler (M Lambert, 52), J Gray (R Buchanan, 52), W Collier (P Doran-Jones, 52), G Merrick (T Guest, 60), G Robson, L Wallace (M Fa'asavalu, 55), C Robshaw (capt), N Easter.
Referee T Wigglesworth (Yorkshire).
Wasps
Tries: Launchbury, Palmer
Con: Goode
Pen: Goode
Harlequins
Try: Dickson
Con: Evans
Pens: Evans (3)
Join our new commenting forum
Join thought-provoking conversations, follow other Independent readers and see their replies