Wasps vs Castres match report: Wasps sign off in style in final fling at charmless Adams Park
Wasps 44 Castres 17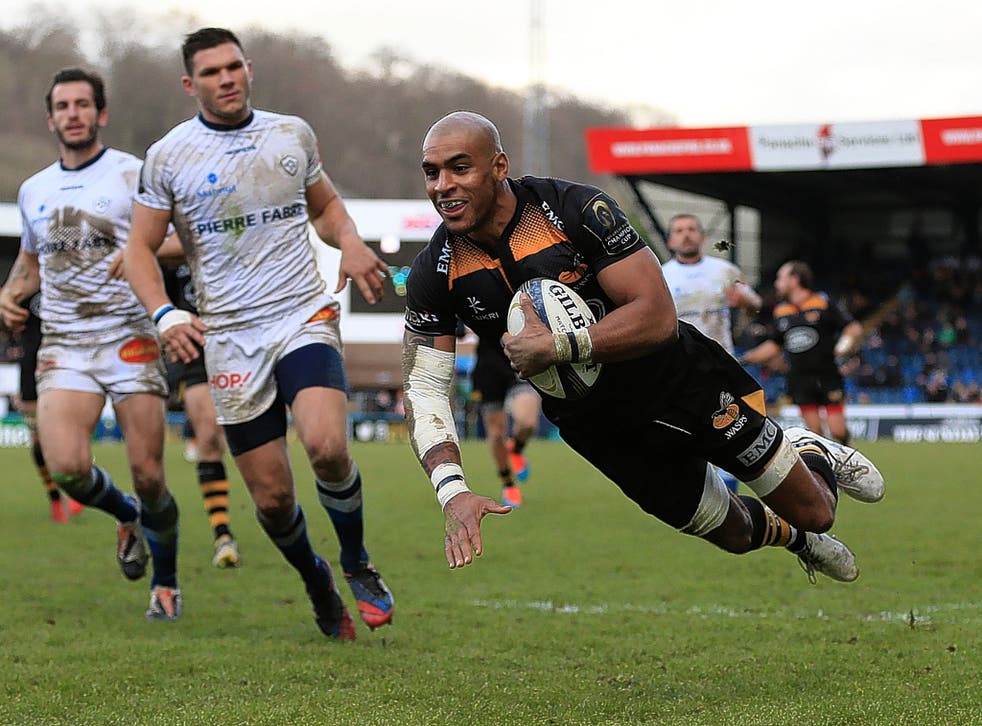 Most of the old Heineken Cup's multiple winners relied on the intimidating grandeur of their home cathedrals: would Leicester have won back-to-back titles but for the strength they drew from Welford Road, or Munster achieved what they did without the Thomond Park factor? Wasps were the exception. Adams Park, no more than a tin-roofed chapel by comparison – a chapel that generated all the atmosphere of a long-forgotten sarcophagus – was not a key component in the triumphs of the mid-Noughties.
So, as a miserable crowd of just over 6,000 wended their way to the far end of a nondescript industrial estate in High Wycombe to watch the Londoners' final game in the home counties before their much-publicised move north to Coventry, it was impossible not to think that the two-time champions will be well out of the place. It was also reasonable to wonder how the heck they managed to be so extraordinarily successful over the first eight years of their 12-year tenancy at a stadium wholly unsuited to their purposes.
Happily, there are clear signs that once they get their feet under the table at their new place – the Ricoh Arena, which they own lock, stock and barrel – a return to the glory days of the past may not be too far in the future. They played some brilliant stuff yesterday, albeit against a Castres side in freefall, and in securing a second successive bonus point victory, they turned Pool Two of the new European Champions Cup into a three-horse race rather than one of the two-horse variety.
Not that the tidings were uniformly glad. David Young, the Wasps rugby director, seemed just a little glum about the prospects of Joe Launchbury, the England lock, recovering from his neck injury this side of the new year holiday. Indeed, he was not at all certain that Launchbury stood a snowball's chance in hell of being available for the opening Six Nations match with Wales in Cardiff at the start of February.
"Joe's rehabilitation isn't coming along as quickly as we would like," Young confessed, "and he's seeing a consultant next week to look at where we go from here. Whether it takes him another two or three weeks or another two or three months, the important thing is to get him 100 per cent right."
Launchbury missed England's autumn series in its entirety and has not played a game in anger since the painful defeat by Harlequins in this tournament at the back end of October. Even if he completes his rehab in reasonably quick time – and the player himself was hopeful yesterday of a return next month – he will have lost too much ground to stake a serious claim for a red-rose role at the Millennium Stadium.
Still, it cannot be argued that Wasps are missing him just at the moment. Bradley Davies and Kearnan Myall put in a very decent boilerhouse shift in this game – Myall's contribution to the first of Tom Varndell's excellent tries was nothing short of inspirational by second-row standards – and with the outstanding back-row combination of Ashley Johnson, James Haskell and Nathan Hughes continuing onwards and upwards, the pack finally has something about it after a lengthy spell of powder-puff fragility.
Indeed, the opening score of the game fell to the tight-head prop Jake Cooper-Woolley, who also made his presence felt in manhandling Castres' most powerful individual, the South African No 8 Jannie Bornman, on several occasions. This was far from an significant development. Cooper-Woolley's efforts last season, his first at Premiership level, marked him out as an unvarnished gem: an X-factor performer around the field, if a trifle suspect at the set-piece and a notch off the pace in conditioning terms. Yesterday, he shaded his scrum contest with Saimone Taumoepeau – a New Zealand international, no less – and looked significantly more mobile than at any point in his career to date.
Wasps, fully aware of the importance of a bonus-point victory, had it wrapped up as early as the 38th minute. Two of their first-half tries resulted from clever passing under pressure: Haskell's delivery to Hughes was perfectly timed, as was Rob Miller's freeing of Myall, who then did everything right in opening things up for Varndell. The fact that Ben Jacobs' subsequent score was distinctly fortunate, arising as it did from a poorly controlled Castres scrum, merely proved that fortune favours the bold.
European Champions Cup in pictures

Show all 55
Even though Castres, restricted to a close-range finish from the hooker Marc-Antoine Rallier in the opening period, were significantly livelier after the interval – the outside-half Daniel Kirkpatrick looked a decent player in the second 40, as did the replacement forward William Whetton, and they were rewarded with two more tries through the centre Max Evans and the prop Florian Houerie – the home side managed another three of their own. Two of them were converted by the much talked-about youngster Alex Lozowski, who clearly kicks like a dream.
"It was a good way to end our stay at Adams Park but while we'd talked about the occasion through the week and were fully aware of the need to leave on a high note, the really pleasing thing was putting together back-to-back performances of real quality – something we've been struggling to do for too long," Young said.
"Hopefully, this standard of rugby will help us keep a lot of our existing supporters. How many will follow us to the Ricoh? I know I have a full car-load going up for next week's Premiership game with London Irish!"
Whatever the size of Young's family vehicle, Wasps will have to work like Trojans to build a new audience for themselves in a crowded Midlands union scene dominated by the likes of Leicester and Northampton. But if the key to putting bums on seats is the standard of the product on the pitch, they are very definitely thinking along the right lines with their current brand of high-tempo, highly skilled, all-court rugby. The next few months will be fascinating.
Join our new commenting forum
Join thought-provoking conversations, follow other Independent readers and see their replies