Concussion: Does rugby union need to learn from the NFL?
The sport's response to concussion has yet to appease medical experts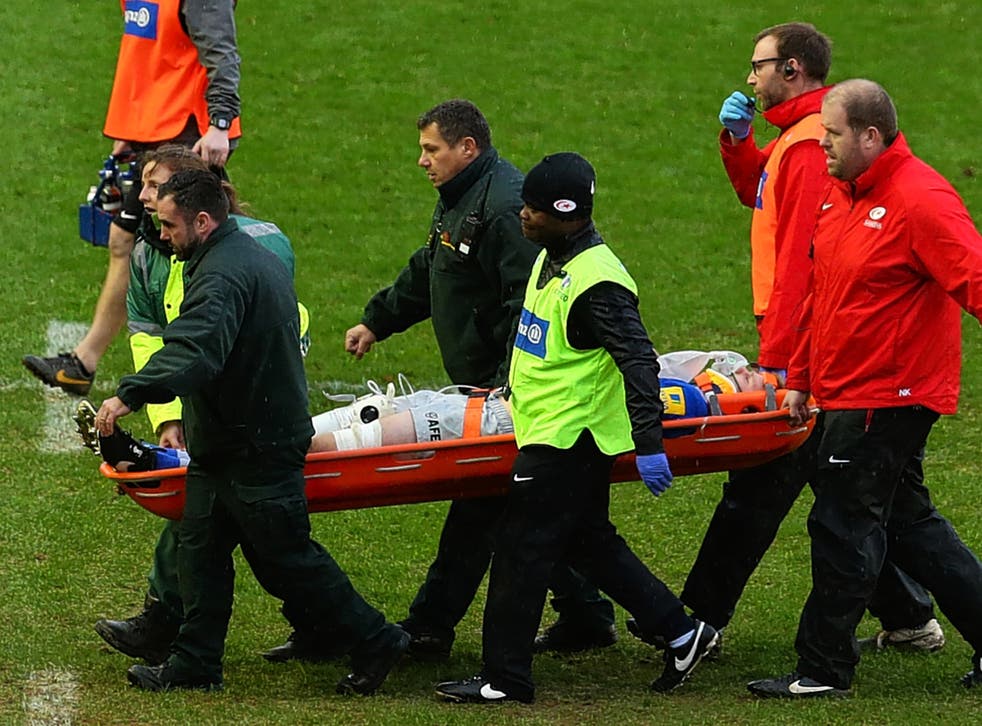 Injuries occur in rugby union, as a contact sport, and the collisions between players are getting greater with increasing fitness and muscle development. The sport has introduced video monitoring during matches, and medical teams at pitchside, although naturally at amateur level this cover is reduced. Ultimately, though, those taking part know they do so at a risk, and there has been no indication in rugby of an NFL-style lawsuit based on corporate negligence.
Concussion is rugby's most common injury but the fundamental difference is that professional American football is or was a game played with deliberate head-on-head contact whereas in rugby, bangs to the head are almost always accidental, from a stray knee or elbow or landing on the ground. Players are taught to keep the head out of the way when they make a tackle. Indeed, NFL teams are now said to be introducing rugby techniques to their tackle coaching.
Nevertheless, it is undeniable that rugby took time to wake up to the dangers. Players kept concussive episodes to themselves – colloquially, they "manned up" and played on – and there were very recent examples, such as Australia's George Smith in 2013, of players returning to the field after being knocked unconscious.
The months of rest taken last year by high-profile international players George North and Mike Brown after they had been knocked out appeared to show lessons had been learnt. Still there is debate over whether the 10-minute Head Injury Assessment (HIA) during matches should be done away with, and players showing any signs of concussion simply removed from the field.
And there are two worrying elements to the discussion regenerated by the movie Concussion.
First is the medical theory that CTE may be caused by the accumulation of minor head knocks and reverberations, not just the obvious knockout blows. Former Scotland player John Beattie, now a broadcaster, made a BBC Panorama documentary in September entitled "Rugby and the Brain – Tackling the Truth" and included film of an ordinary, legal tackle in rugby, slowed down, that showed the head shaking around. Yet the theme wasn't explored much further, probably for a lack of proof at this stage. Saracens' players are wearing GPS-technology patches behind the ears to gather data on collisions, but their results have yet to be revealed.
The second disturbing aspect is the lack of reliable data as to whether past players are already carrying brain injury. Dr Willie Stewart, the Scottish neuropathologist most associated with studies of rugby concussion, is exercised over a little-publicised, recent study in France that sampled 239 retired rugby players (RRPs) and 138 other retired sportsmen who had played at a high level from 1985 to 1990. Some 20 years after the end of their careers, the RRPs presented higher rates of depression and cognitive impairment.
The global governing body World Rugby state that "player welfare, especially concussion" is "the number-one priority" when considering changes to the laws of the game. But none of the planned law trials in various competitions this year include anything specifically aimed at reducing concussion.
Having two referees on the field will be tested in New Zealand's national provincial championship, which can include top All Blacks. That and some tweaks to the scrum and ruck could in theory enhance player welfare. Mostly, the law trials are aimed at making the game tidier, more open and easier to referee.
But concussion is the so-called "invisible injury" – no brain scans or blood tests can confirm it, so diagnosis is based on subjective criteria. Dr Stewart is part of a team who believe they may have found an objective test. Their study has identified a protein, SNTF, that is produced when there is damage in the fine nerve-cell projections called axons that carry messages around the brain.
"The application would come after the match," says Dr Stewart. "The blood test would either confirm concussion or rule it out. So players 'passing' the HIA and getting back into a game would have a further check to reassure they are indeed free of brain injury, rather than sticking with subjective, and so unavoidably flawed, protocols."
Join our new commenting forum
Join thought-provoking conversations, follow other Independent readers and see their replies