Heineken Cup: Saracens' Jacques Burger aims to 'squeeze' Ulster until they buckle
Fiery flanker reveals how Sarries' extravagant team-bonding trips will help them give their all at Ravenhill in the Heineken Cup on Saturday – and how it just might pay off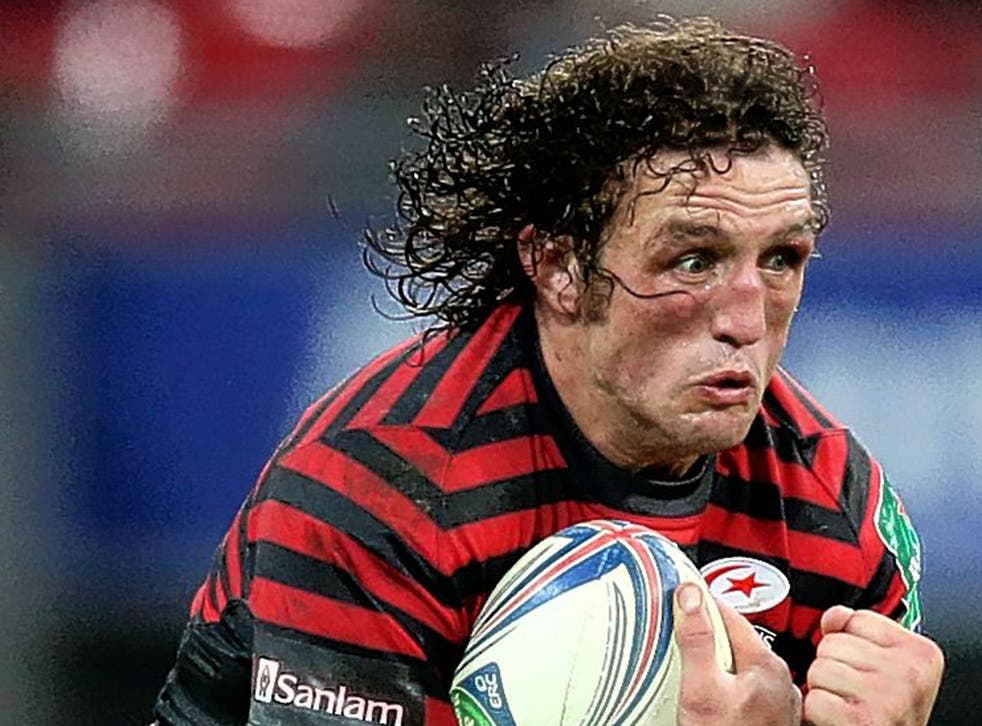 Jacques Burger flicks the familiar curly hair from his forehead and laughs at the inevitable question when he mentions how the Saracens squad took in a top ice hockey match during last week's team-bonding trip to New York. "The boys were really keen to see a fight – obviously! – to see a couple of guys get smashed," says the Namibian flanker with the frying-pan-flattened face. "But actually there were no big hits. It wasn't a really physical game."
Burger knows he will get the battle he relishes on Saturday evening, first hand, when Saracens visit Ulster for their Heineken Cup quarter-final. It may well make New York Rangers versus the Phoenix Coyotes at Madison Square Garden look tame by comparison.
"The hockey was good to watch. We had a nice box and they brought us fried things the whole time, and pizzas and beers," says Burger, still smiling about the latest Saracens mid-season getaway (Miami, the Munich beer festival and Hong Kong have been among the previous jaunts). They also visited the 9/11 monument, the Rockefeller Center and Central Park.
"It's as important as training, forming bonds with the players around you," he adds. "Saracens hammer away on this and the coaches have got on board with it. And I'm glad they do because I like those trips. We get heat for it: people think we are arrogant. I think they'd like to do fun stuff like that. For me, it's another memory for when you finish rugby – when I sit back on the farm one day at home in Namibia and there's nothing but trees and animals, I'll think about the busy New York times."
For now, the itinerary says Belfast and the famously atmospheric Ravenhill stadium, revamped by the red-hand province just in time for this red-letter quarter-final, with capacity lifted by 50 per cent to 18,000.
Saracens, the Aviva Premiership leaders, beat Ulster 27-16 at the same stage last season, but that was at Twickenham. Saturday's home team are third in the Pro 12, and were pool winners in Europe. They have confidence and quality throughout, with Burger's back-row counterparts alone including the high-calibre Steve Ferris, Chris Henry, Roger Wilson, Nick Williams and Robbie Diack.
And then there's the Springbok scrum-half of all the talents, Ruan Pienaar, assuming he recovers from the shoulder problem that has kept him inactive for a fortnight. "It's a very good team – on paper, a massive team," says Burger. "But they don't play on names:they are really hard-working. They're similar to us in a lot of ways. They don't go away.There's always a chance of them coming back at you.
"Ruan is incredible. Everything he does comes so easily to him. He makes good decisions, kicks the ball a mile and has a great box-kick. He's a big asset.
"Then again, we'll analyse him and make sure we put the heat on him. We'll make sure he's under pressure like no other team has put on him – every time, every breakdown, until he makes a mistake. He might not make a mistake, but there might be one or two and we can score from those opportunities.
"A lot of people don't see the way we squeeze teams. I'm not saying Ulster will buckle under it but that's what we'll be trying. We must give it to them for the full 80 minutes. 'Smally' is not going to get the love he had when he was there."
"Smally" is Mark McCall, the Saracens director of rugby who was born in Bangor and played as a centre for Ulster in 1998-99, their European Cup-winning season, though he was injured for the final.
McCall coached the province subsequently, but these days he is synonymous with Saracens. The whole club sees the 2009-10 season when McCall joined as first-team coach to work under Brendan Venter as the genesis of their current philosophy: the fun and the physicality.
In that time they have played three Heineken Cup knockout matches – the others were a losing quarter-final against Clermont Auvergne at Watford in 2012 and last season's semi-final defeat by Toulon at Twickenham – and Burger has missed all three with injury. In his four years and two months as a Saracens, he has played 48 times in the Premiership and only 10 in the Heineken Cup, mainly due to a major operation on his right knee in 2012.
"I've not really played much Heineken Cup rugby," Burger says, regretfully. "And even for the squad as a whole it feels like a relatively new tournament. We've got better as time has gone on and we've learnt, from bad positions and good positions.
"For me, to be sitting here now is amazing. Two years ago I didn't know if I was going to get back to where I used to be. It was such a massive surgery, a lot of people don't come back from it. At the start of the season I was getting through games but struggling at the start of the week. Now the knee seems to have adapted."
Burger has a daily early-morning slot with the physiotherapist and endures two sessions a week in cryotherapy. The deep-freeze treatment has paid off in molten-hot performances of late, toe-to-toe with François Louw of Bath and Harlequins' Mo Fa'asavalu. A mixture of the lethal and the borderline legal; the lot of the openside flanker.
"What I do is such a simple job really," says Burger. "Turning up every week, being as physical as you can be, and having a massive workrate. Every player has their strong point; I think mine is I turn up at weekends and I like getting involved in the physical battles, and I think this is going to be one of the most physical games of the whole year.
"I can't change. I don't make 50-metre breaks, that's not my job. I'm 30 years old, going towards the end of my career. It's worked until now so why change it? I love it."
Join our new commenting forum
Join thought-provoking conversations, follow other Independent readers and see their replies