Eddie Jones' patched-up side offers a glimpse into England's future
Despite England's remarkable injury crisis, Jones believes it is something he will have to get used to in what felt like an ominous warning to English rugby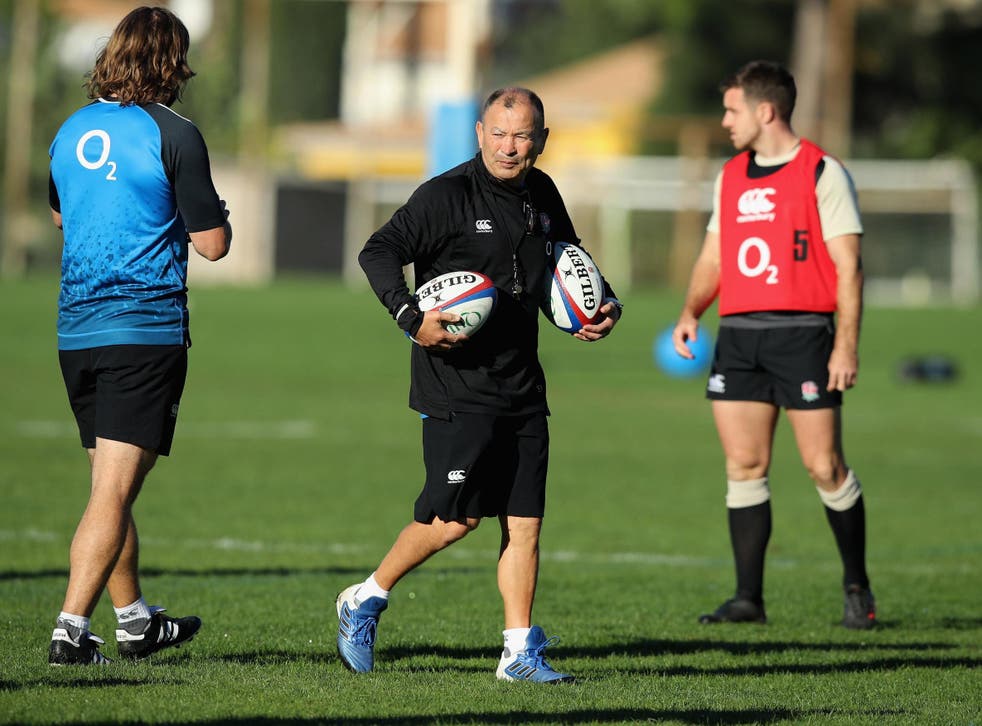 Eddie Jones believes his patched-up England squad is a sign of what's to come over the next year after having to delve deep into the reserves to form his side that will take on South Africa on Saturday.
While the Springboks named a side that has just two caps more than the one Jones announced on Thursday, it's in the pack where the biggest difference will be felt as an underpowered England eight hold 128 appearances fewer than their opponents.
That's due to Jones being unable to call on seven England regulars, with Mako and Billy Vunipola, Joe Launchbury, Courtney Lawes and Chris Robshaw injured, Joe Marler retired and Nathan Hughes suspended.
England's autumn international squad

Show all 36
But despite their remarkable injury crisis, Jones believes it is something he will have to get used to in what felt like an ominous warning to English rugby.
"I wouldn't say it is the most difficult (selection) but it's the deepest we've had to dig," the head coach said of the injury crisis.
"I don't think there is such a thing as a fully fit squad anymore. It would be lovely if there was. The only time we will have any chance of getting our best team together, I 100 per cent know now, is when we get together on 8 July for the World Cup. That will be the only time we get everyone right.
"Otherwise we are just going to be picking players out from here, there and everywhere to try to get through the next period of time. That's the reality of rugby – particularly up here."
It is the first time that Jones has publicly opened up on the state of the game in England, having kept his thoughts private last week on the new season structure that, it's claimed, will attempt to solve the worrying rate of injuries suffered by professional rugby players.
With only Lawes expected to feature in the Quilter Internationals this month from that septuplet, Jones' injury issues will not get any better against New Zealand, Japan and Australia, but he can ill-afford to look beyond the Springboks if they are to cause an upset this weekend.
He added: "We're missing 400 caps. You don't just replace 400 caps overnight. It's probably the most inexperienced pack England have had for a long time, but it's a great chance to show the potential depth of our squad.
"We've got a chance to do something special here with a young team. We've had a really good preparation and the team has gelled well. The players have worked hard off the field to get organised. The coaching staff have been excellent so we've had a terrific preparation."
Despite returning to the home comforts of Twickenham, England are very much up against it in their quest to repeat their third Test triumph from the summer tour of South Africa. For the third straight match, Jones has changed his fly-half, choosing to move Owen Farrell to the No 10 shirt for only the third time during his tenure in charge, and a new-look centre partnership of Ben Te'o and Henry Slade is formed, despite the former playing just 28 minutes of rugby this season for Worcester.
But the 58-year-old does not believe Te'o's selection is a gamble, despite Manu Tuilagi – who is on the bench – playing considerably more rugby this season.
"We pick everyone to play 80 minutes but because it's a 23-man squad we don't need everyone to play 80," Jones explained. "It depends what sort of game it is. If it's end-to-end, with high ball-in-play time, he [Te'o] might struggle, but if it's slower game, without so much ball-in-play time, with a lot of Head Injury Assessments and TMO reviews, then he might be able to play 100 minutes – 80, then 20 at the end!
"All I want [Tuilagi] to do is be brilliant at the basics. I don't think we should over-hype his entry back in the England side. It's been a long time and he's played a couple of good games for Leicester. He's in pretty good physical nick, so let's just take it that he'll make a difference when he comes on.
"He might come on in the first half – then he'll make an even bigger impact! Who knows?"
When the two squads were announced on Thursday, the eyes were immediately drawn to the difference in the two packs. Jones has elected to start with Mark Wilson at No 8 and Alec Hepburn at loosehead prop, who hold four and two caps respectively. But the alternative was not much better, given that their replacements, Zach Mercer and Ben Moon, are both uncapped.
The Springboks on the other hand named a pack that sees the emphatic return of hooker Malcolm Marx and lock Eben Etzebeth, two of the best in the world in their position and who both missed the summer series between these two sides.
Jones hopes that the one thing that can make up for the gulf in forward experience is clarity of what he wants them to do. "Just be brilliant at the basics. Do all the simple things well. Scrum in good positions, work with their fellow front rowers, make good, low tackles, carry well.
"Making sure they go into the game with a clear head for what their role is and how the team want to play and I think we've managed to do that. Then they just have to get on with it. The more senior players around them, the ones we've got left, have to try to help them."
Saturday's encounter comes as the first of 13 matches that England have until the start of the Rugby World Cup, and after a testing 2018 that has seen them win three of their eight tests, the injury crisis could well spare Jones of any uncomfortable questions this autumn leading to the worst possible answer.
But if England are beaten up this weekend, he will know exactly how far England's reserves actually go, and it will not make for pleasant reading.
Join our new commenting forum
Join thought-provoking conversations, follow other Independent readers and see their replies