England vs France match report: England fall six points short as Ireland win the 2015 Six Nations on the most thrilling finales
England 55 France 35: England score seven tries and France five in one of the most exciting games ever seen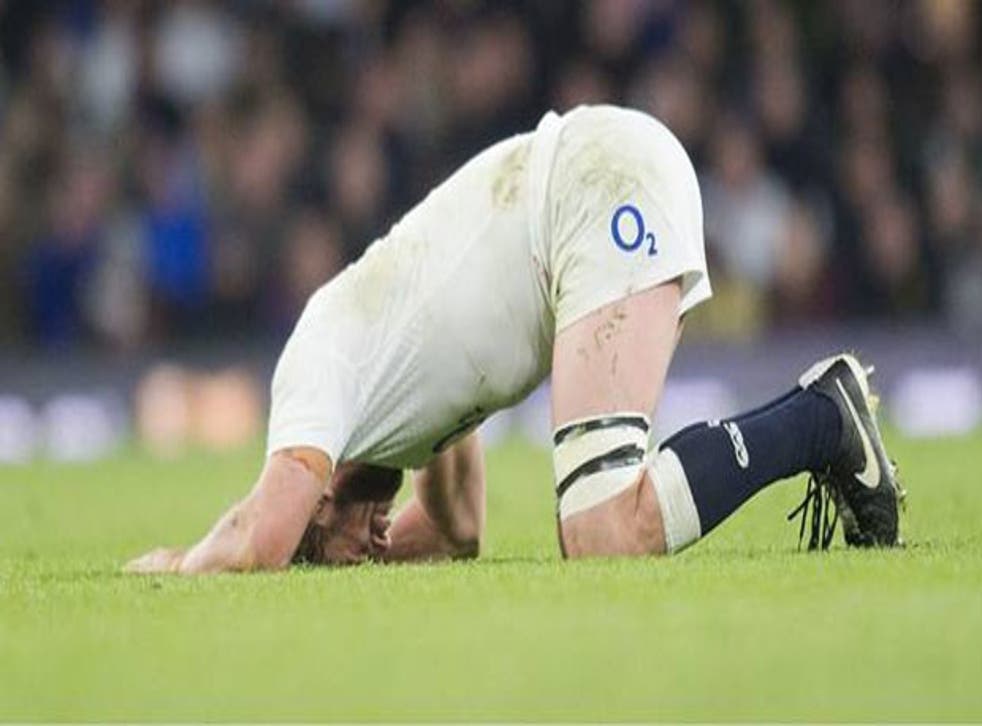 On a day of unremitting, edge-of-the-seat entertainment England battered France with seven tries yet fell six points short of the winning margin they needed to overhaul Ireland at the top of the Six Nations Championship table. And so the Irish, who had won heavily in Scotland earlier in the afternoon, retained the title they had won last year and received the trophy wearing suits and smiles at a near deserted Murrayfield.
Here at Twickenham, where England will return in September and October to mount their challenge for the eighth World Cup, the crowd were drained but also elated. They had followed every twist and try of the back-to-back fixtures in this concluding round of the Six Nations, from Wales putting 61 points on Italy in Rome at lunchtime, through Ireland's mid-afternoon rout of the Scots to a uniquely frenzied denouement at a floodlit stadium.
It may have been the old Championship's greatest day – it was certainly the highest-scoring. Settling the title on points difference scattered all conservative thoughts to the four winds. More of this in the World Cup, please, you might say - except that tournament will be decided by knockout matches where one point will do, and not the margin of 26 England needed as they chased only a second Six Nations title since 2003.
By falling so agonisingly short they finished instead among the nearly men again – second placed for the sixth time in eight years – but showed buckets of bottle and rich promise in the attack orchestrated by the emerging leviathan of a fly-half, George Ford.
Six Nations 2015 in pictures

Show all 61
While regretting the clear-cut loss in Ireland on the Championship's middle weekend and the botched try chances against Scotland last weekend or the three tries conceded to Italy, both at Twickenham, which might have made the points difference so different, England could not immediately cry tears at the late misjudgements that allowed the watching Irish their joy.
"It was exhausting," said Chris Robshaw, the England captain, whose four tilts at the title as skipper since 2012 have all finished as runners-up. "Both sets of players endeavoured to play a game of rugby and it was a great spectacle. We are devastated that we once again have fallen short but not many teams put 50 points on France and that is credit in itself.
"Over the last couple of years we have beaten a lot of teams from around the world here at Twickenham and it's a good thing when a big tournament comes in the summer that we will be here."
Robshaw admitted there was not enough pace in the last-ditch maul on the French goalline that ended with England penalised and empty-handed. Someone went over the top and that was that. A couple of minutes before, the substitute Danny Cipriani had tried to keep a move alive and instead ran into touch.
"I am absolutely devastated," said Ben Youngs, the England scrum-half who scored two tries. "We really gave it a crack. Congratulations to Ireland." His head coach, Stuart Lancaster, admitted to being "gutted" but praised his team's character. Asked if the best team had won the Championship, he replied simply and placidly: "You've got to say they did – because they did."
The win England needed was on, then off, then on again until, with five minutes left, they were ahead by 48-35 and had a scrum near France's posts. A brilliant move by Ford, who vied with the centre Jonathan Joseph as England's breakthrough man of the tournament, and Billy Twelvetrees gave the left wing Jack Nowell his second try of the match, converted nervelessly by Ford when England most needed it.
But England had lost two crucial line-outs not long before and they faltered again now. After Cipriani's run, a knock-on gave England another chance and a penalty when France took the scrum down but the line-out won by the redoubtable Robshaw ended in the penalty pile-up. Even then, France decided briefly to run the ball – goodness knows why, but there again their own positive attitude, even while they were sliding to a finish in the bottom half of the Six Nations table for the fourth year running, had contributed so much, including five tries of their own.
England had a great start, a try in 97 seconds. Billy Vunipola hassled Sébastien Tillous-Borde at a scrum and Joseph, Mike Brown and Ford – who goal-kicked brilliantly and accrued 25 points – roared clear on the right, with Ford slipping a scoring pass inside to Youngs and converting for 7-0.
By half-time it was 27-15, including a second try for Youngs in the 35th minute to reward length-of-the-field belligerence by England from a quickly taken line-out. There were wild passes, moves of beauty and incompetence, and an angry scuffle after Courtney Lawes' clattering but marginally legitimate tackle on Jules Plisson. The first French cry of "touché" had come with Tillous-Borde running 55 metres for a try; they had a second with Noa Nakaitaci's millimetre-tight run-in, and led 15-7 with Plisson's conversion. At other times they helped England with five goal-kicks missed between Plisson and, later, Rory Kockott.
There had been a nice popped pass by James Haskell for Anthony Watson to score at the corner in the 30th minute; later Haskell was sin-binned for a trip, in the sense-sizzling second half. Maxime Mermoz and, most improbably, the prop Vincent Debaty – on the end of a beautiful run by Nakaitaci – scored interspersed with Ford, Nowell and the staggeringly energetic Vunipola.
If any of the scores felt crucial it was France's line-out catch and drive try for the replacement hooker Benjamin Kayser on 65 minutes. It left England, more than ever, against the clock. And the clock – and the Irish – won.
Line-ups:
England: M Brown; A Watson (D Cipriani 63), J Joseph, L Burrell (B Twelvetrees 72), J Nowell; G Ford, B Youngs (R Wigglesworth 72); J Marler (M Vunipola 63), D Hartley (T Youngs 53), D Cole (K Brookes 63), G Parling (N Easter 68), C Lawes, J Haskell (T Wood 68), C Robshaw (capt), B Vunipola.
France: S Spedding; Y Huget, G Fickou, M Mermoz (M Bastareaud 72), N Nakaitaci; J Plisson (R Tales 72), S Tillous-Borde (R Kockott 49); V Debaty (U Atonio 61), G Guirado (B Kayser 48), N Mas (R Slimani 48), A Flanquart, Y Maestri, T Dusautoir (capt), B le Roux, L Goujon (D Chouly 63).
Referee: N Owens (Wales)
Join our new commenting forum
Join thought-provoking conversations, follow other Independent readers and see their replies