Keven Mealamu: New Zealand's hooker is hard as nails - but with an arty side
The second most-capped All Black of all time tells Alexander Bisley how illustrating children's books helps keep him grounded before big games, like the forthcoming defence of the World Cup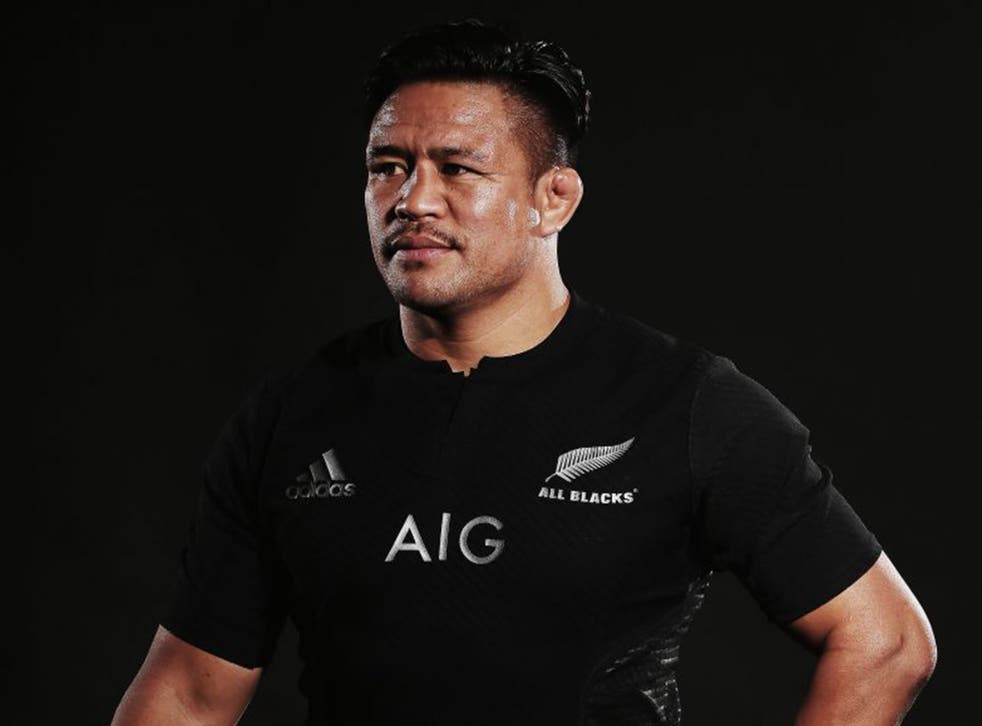 Keven Mealamu, one of the hardest men to wear the All Blacks jersey, is also an artist. He has illustrated seven books to raise money for Auckland's Starship Children's Hospital over the last seven years.
The second most capped All Black after Richie McCaw, Mealamu says art is a way for him to find balance during the intense lead-up to big rugby games. "It really is a de-stresser. Some people like to go to the gym and release stress that way. I think art's another good way of releasing that sort of pressure, so I love it."
Looking towards life after rugby, the former apprentice signwriter would "very much love art to be a part of it". Art has been a significant part of his life, from his artist mother's side of the family, before he ever picked up a rugby ball. "It helps me with rugby, it gives me good balance. Good way to get the mind away... outside the rugby realms."
This year the 36-year-old Samoan New Zealander set a Super Rugby record for appearances, overtaking Wallaby lock Nathan Sharpe's 162 matches. "No player better qualified to take the Super Rugby record," Sharpe – three years retired – tweeted. "I can still feel your shoulders in my ribs, mate."

Like Colin "Pinetree" Meads, whose New Zealand record for most first-class games he surpassed last year, Mealamu's ear looks like it's been backed over by a steamroller.
For his 163rd of 175 games in the blue jersey, Mealamu ran out at Auckland's North Harbour Stadium surrounded by family, friends, and – unexpectedly on the sideline – a group of formative team-mates, from when he started playing professional rugby 17 years ago, including former Northampton and Bristol flanker Andrew Blowers. "It was quite emotional," he smiles.
In 2004, Mealamu did not flinch when Wallaby Brendan Cannon landed a nasty right hook square on his jaw. "It was devastating, devastating in the sense it did absolutely nothing to Keven Mealamu," Cannon recalled after Mealamu became the All Blacks' third Test centurion in 2012. "He's a cage fighter on the footy field, he's the hardest guy I ever played against, but off the field he's an absolute gentleman. We've always had a fantastic on-field rivalry and an even better friendship off the field. He represents what the All Blacks are about."
The 123-Test All Black agrees being mates post- battle is one of the cool things about rugby. "I think that's never changed. That's been there a long time before us. I still enjoy seeing Brendan around the tracks but he's on the other side of the field now, which is the commentary. It's good catching up with him and Nathan."

During the 2008 British Grand Slam tour, coach Sir Graham Henry reportedly said Mealamu was the All Black most likely to win a cage fight: "He wouldn't give up unless he was dead and has the mental and physical capacity to take and give relentless punishment."
Mealamu was one of the leaders of Henry's All Blacks team that won the 2011 Rugby World Cup. Superb in both defence and attack, Mealamu has invigorated the hooker's position. He has the running athleticism of a dynamic loose forward, illustrated by his 12 Test tries. He has outstanding body position and upper-body strength, unrelenting legs and uncanny offloads.
Henry says Mealamu epitomises everything great about the All Blacks. "I've been involved with Kevvy for a long, long time – back in 2003 with the Blues, and the All Blacks for eight years – so I know the man extremely well. He's a very humble person and he never gets ahead of himself, always thinks he can self-improve."
All Blacks who transgress – drinking inappropriately, say – dread being sent to Mealamu to confess and repent. Henry has been inspired by him. "He's got a marvellous relationship with his wife and kids and the extended family and people in general, because he's got an incredible amount of respect. Because he spends the time with people, spends the time with young rugby players that are coming through the Blues and the All Blacks... He's a marvellous example-setter, not only in the way he plays the game but in his character. He's a special man."
Jonah Lomu never scored against the Springboks, and Julian Savea has not yet done so, but Mealamu has scored two, including that terrific 2003 World Cup quarter-final Melbourne victory try, when he made Victor Matfield and Danie Rossouw look like hopeless schoolboys.
During the 2005 Lions tour of New Zealand, Mealamu and Tana Umaga copped a lot of abuse after their spear tackle left Brian O'Driscoll with a dislocated shoulder. Mealamu is conciliatory. "Man, I just wish that had never happened at all. He's such a great player and I respect the man as well. There's been plenty of water under the bridge and I think people moved along – but not everyone!"
Mealamu laughs resignedly. "The sort of things that still go on to this day; it's amazing what I still get, tweets and stuff. People still harking back to that and it's like, what is it now – 2015? It's 10 years ago!"
In tough times, the father of two draws strength from his art, his Catholic faith, and his family. This year, the Blues only won three Super Rugby games. "The people that feel it the most will be our families, you know? Because they hear all their friends, people on the street: 'Oh that's Keven's dad' or, 'that's Keven's wife.' And they start getting into them. So we feel for them and we want to make sure we can do the job so they don't have to cop that sort of stuff." Mealamu laughs again, with good-humoured optimism.
"Laugh Often" is one of the seven values inscribed on the wall of the South Auckland gym Mealamu set up to give his community an affordable option for improving their health.
Mealamu made his All Blacks debut against Wales in Cardiff in 2002; he took the field there again in November, 12 years on. "You can really feel the passion in the way they sing." Mealamu raises his muscular arms. "When they say raise the roof, they raise the roof to sing, you know!"
He is looking forward to playing again in Cardiff and London later in the year. "I always enjoy the atmosphere at Twickenham. It's a huge stadium and you can feel the vibes from the crowd. You hear 'Swing Low, Sweet Chariot'. A lot of big matches have been played there."
Mealamu employs music to get himself in the zone before Tests there. "It used to be quite a lot of hip-hop. Now it's more of a build-up, a lot more RnB and soul leading into it. As you get closer to Twickenham, the music gets a bit quicker. The drive takes about an hour from our hotel."
On the bus, Mealamu enjoys talking to McCaw, an enduring inspiration: "That mental toughness. I've never seen a man play through what he plays through. The hits he goes through and injuries he plays with that people don't know about. You wouldn't be able to tell when you see him running out there, he always looks like Richie when he's in the black jersey, you know? And being a good man; a good Kiwi bloke... Skip's a skip."
Umaga and Jerry Collins, Mealamu and many other Samoan Kiwis have made a dazzling contribution to New Zealand rugby. Mealamu is terribly sad about the death of Collins and his partner Alana Madill in a car accident in France. "He was a special man, as we've heard in the stories today," Mealamu told media after Collins' moving funeral in Porirua. "On the field, his presence was amazing. You could see players in other teams when they caught the ball looking around to see where Jerry was."
The Haka versus the Siva Tau (Samoa's haka) in Apia next month, will be special, Mealamu says. The All Blacks first ever Test in Samoa will follow. "There's been a lot of Samoan heritage in the black jersey. I think it's a really nice way to not just show respect.To be able to play a Test match in Samoa as an All Black – I could have never imagined that coming around."
Mealamu agrees Samoa's international players have not been getting a fair deal from the Samoan Rugby Union for a long time, which is why All Blacks have taken to social media to express solidarity. "We're all right behind the players and we just want to make sure they get a fair say and a fair go," Mealamu says.
His commitment to fairness sees him break off the interview to sign some Blues jerseys for a children's charity. "They look too nice to play in," he smiles. At Easter he branched out into ceramic sculpture, as a fundraiser for Starship Hospital. "For the Big Egg Hunt, which really stretched my artistic skills!" he laughs.
The rose tattoo on Mealamu's right wrist captures his biggest inspiration. "That's my family: my wife and kids. It was my wife's birthday and I asked her what she wanted to get and she wanted to get a couple's tattoo. So she's got similar." He looks at his arm. "Red roses is for that passion that I have for them," he beams.
Mealamu will bring that passion between British white chalk lines in September and October as the All Blacks defend the World Cup. Before that they play Manu Samoa in Apia on 8 July.
For more on Keven Mealamu's latest art project, go to www.youngauthorschallenge.co.nz
Join our new commenting forum
Join thought-provoking conversations, follow other Independent readers and see their replies