Six Nations: Martin Johnson doubts Dylan Hartley ability to captain England
Martin Johnson raised Dylan Hartley's poor disciplinary record  when discussing England captaincy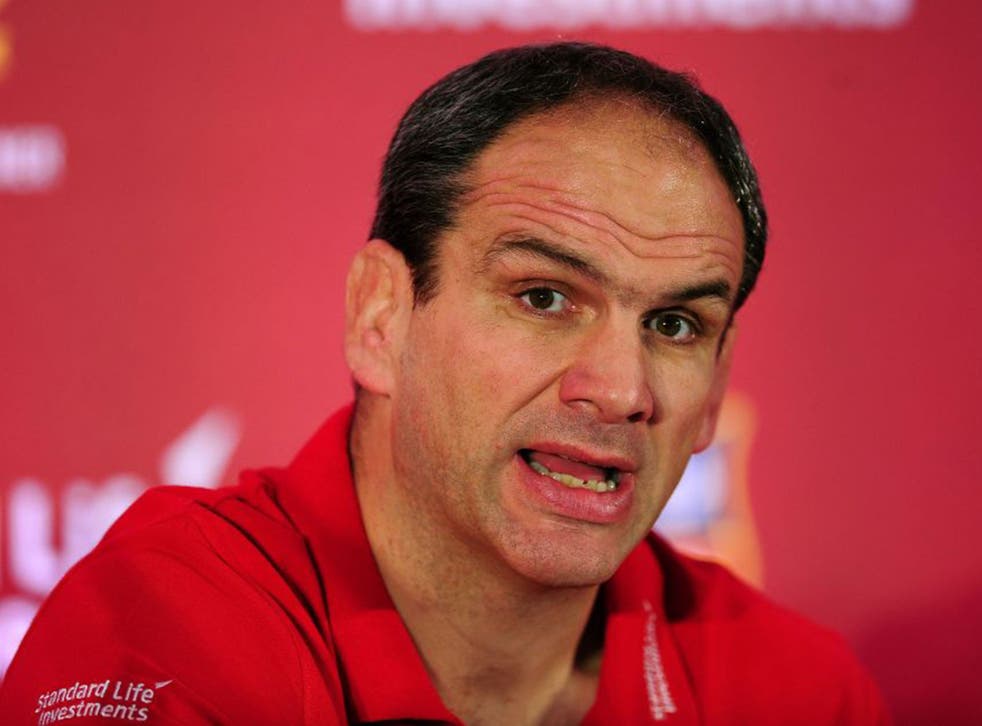 Martin Johnson, a "been there and done it" kind of chap who knows what it is to win both a Lions series and a World Cup while finishing honours even with the All Blacks over the long stretch of a top-flight career, does not have the slightest problem with England appointing a head coach from Australia. "A coach is a coach: as a player you just crack on with it," said the beetle-browed hero of yesteryear. "And England definitely need to crack on with it."
If anything vexes Johnson about red-rose affairs as they currently stand, 24 hours ahead of Eddie Jones naming his first Six Nations squad, it is the widespread assumption that Dylan Hartley, the gifted but troublesome New Zealand-born hooker, might be appointed captain. It may have been a dyed-in-the-wool Leicester man's deep-rooted suspicion of all things Northampton… or it may have been something more.
"What's his record?" Johnson asked rhetorically, referring to Hartley's lengthy disciplinary rap sheet. "It doesn't matter what I think, but there probably is an issue. I went to the sin bin a few times during my time – more than a few times – but I don't think I ever cost my side a game. If you have 50 caps, as Dylan has, you should be a contender. But as a hooker, you probably have enough on your plate."
That remark about "costing a game" was patently a reference to the 2013 Premiership final between the great East Midlands rivals, when Hartley was sent off for calling the referee Wayne Barnes a "cheat", with full Anglo-Saxon accompaniment – a transgression that cost him a place on that year's successful Lions tour of Australia. In his capacity as an ambassador of the 2017 trek around All Black country, which will be financially supported by new backers Standard Life, Johnson was very much alive to the consequences of getting things badly wrong at the worst possible moments.
On the subject of Jones, the former England manager was in "suck it and see" mode. "He'll have his own way with the squad," he said. "I never played under him, so I don't know how responsive he is to his players, but we have to remember that no coach can be all things to all men. I worked with some of the best: John Hart, Ian McGeechan, Jim Telfer, Clive Woodward. None of them were everything to everyone.
"I think we'll see quite a different England side in the Six Nations. What place are they in right now? Who knows? There isn't really a team at the moment and won't be until Eddie picks one. The continuity has gone and for some of the players who weren't being picked by the last coaching team, that's a healthy thing."
Rugby World Cup team of the tournament

Show all 15
Even healthier, in his view, is the return of Manu Tuilagi to big-time rugby after over a year of injury hassle. Asked whether Jones might be jumping the gun by including the human bowling ball in an elite squad after a single appearance off the Leicester bench, Johnson pondered before replying: "I suppose you could include him but not play him immediately. Manu is a difference-maker. I didn't realise he'd been out for so long, but he's still a big, strong unit. That won't change. And maybe the England back line needs some physicality."
If England have a coach from the Antipodes, the Lions are likely to follow suit: after all, each of the other home nations is operating under a New Zealander. Warren Gatland, of Wales, is the clear favourite, not least because he guided the Lions to a series victory over the Wallabies in 2013 and has occasionally expressed an interest in having another shot, but no decision will be made until after this summer's tour activity.
Gatland has taken a rather dark view of a 10-match itinerary that includes two Tests at the All Blacks' impregnable fortress of Eden Park in Auckland, as well as games against all five Super Rugby franchises and a pig-awkward meeting with the Maori in their Rotorua heartland. But according to Johnson, New Zealand would represent the ultimate challenge whatever the venues.
"I don't think there's any secret to beating the All Blacks," said the man who won four and drew one of his nine games against them. "I don't remember Eden Park as being that intimidating in its nature: it's just that New Zealand don't lose often, wherever they play. To win, you just have to be bloody good because they're never not good, even when their side is not quite a vintage one.
"If the 2017 Lions win, they'll match the 1971 side, who are beyond legendary. Those guys are mythical, God-like. To match them, British and Irish rugby will have to be better than it is now."
Leicester, meanwhile, yesterday announced the signing of South Africa World Cup winger JP Pietersen on a three-year contract, starting next season. The 29-year-old was a member of the Springboks squad that won the 2007 World Cup and played in the 2011 and 2015 tournaments.
Pietersen, currently playing in Japan, has scored 22 tries in 66 internationals and the Tigers' director of rugby, Richard Cockerill, said: "We have been looking to add world-class quality throughout the squad and JP is certainly in that class."
Join our new commenting forum
Join thought-provoking conversations, follow other Independent readers and see their replies