RWC 2015: Our rugby writers' predictions - Who will win, top try and points scorer, player of the tournament and what to look forward to
From Dan Carter's left boot to Springboks and Samoans on the South Coast and the weight of an expectant nation on Stuart Lancaster's shoulders, here's what we expect to happen over the next six weeks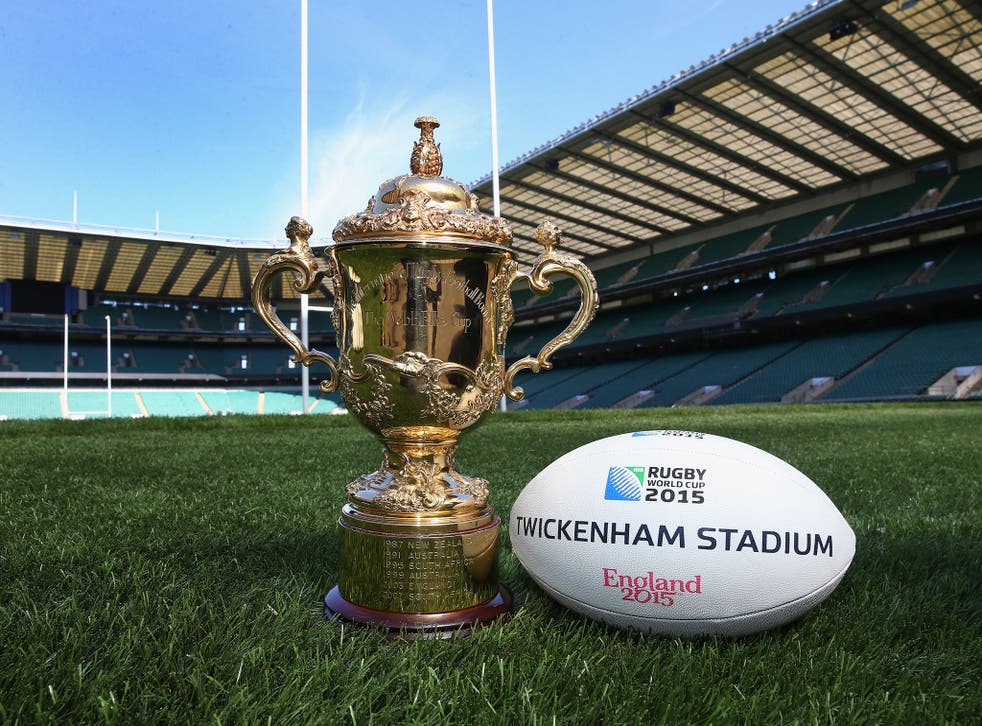 The 2015 Rugby World Cup begins on Friday as host nation England take on Fiji at Twickenham to kick-off six weeks of action-packed rugby union across the country as well as in Cardiff.
With all four home nations harbouring high expectations of winning the tournament, Australia and South Africa desperate to show they are not an also-ran when it comes to reigning world champions New Zealand and the likes of France, Argentina and the Pacific Islands certainly in the mix, it's set-up to be one of the most unpredictable tournaments in recent memory.
So we've rounded up our rugby union writers that will bring you full coverage throughout the World Cup to get their predictions and expectations for the next six weeks. Enjoy.
Which team will be the surprise package of the World Cup?
Chris Hewett (rugby union correspondent): You can make an argument for France, unloved and unrated after a dismal run of Six Nations form, or Scotland, who have spent recent years beating Italy and no one else. But in all seriousness, Tonga have the best chance of punching above their ranking weight. When they face Argentina in Leicester in early October, they could be one decent performance away from a first quarter-final.
Ian Herbert (chief sports writer): Australia seem to have been forgotten amid the perennial talk of New Zealand but their win over the All Blacks last month underlined the exceptional power and pace they possess with their counter-attacking game. I expect them to emerge as winners of the Group of Death.
Hugh Godwin (rugby union correspondent): The intel coming through from those who have played or refereed them recently is that Japan have improved vastly in the last five years, with a good balance of indigenous talent, and quality ex-pats. The Cherry Blossoms beat a mostly second-string Wales 23-8 in Tokyo in Lions year, 2013 – a match current Welsh fly-half Dan Biggar played in, when his counterpart kicker Ayumu Goromaru accumulated 13 points. Japan's Eddie Jones told me last spring he would play his first team against South Africa, with the aim of building confidence, and if things go well, many of the same players would meet Scotland, despite the four-day turnaround. We'll see…but with 10 days' rest, Japan could knock over Samoa followed by another week to get ready for the USA. The poor things were made to watch highlights of their previous efforts at their World Cup 'Welcome Ceremony' and having never made it out of the first-round pool, they didn't request a replay.
Kevin Garside (sports writer): The power distribution among the top teams does not allow for many surprises in Union. It is more a question of which of the fringe nations can make the quarters, and that will come down to Samoa or Japan in pool B.
Matt Majendie (sports writer): France - Not since the 1991 World Cup have they failed to reach the semi-finals or better. They may seem to be in disarray having only finished fourth in the Six Nations but have a propensity of turning it on at the right time in the tournament.
Tom Peck (sports news correspondent): France. All but ignored over the last few weeks, half written off, but France have made the semi-finals of the as the last four World Cups and the final last time round. The "Gallic Flair" has gone, so we are told. But the game has changed. They are powerful, experienced and well organised. Don't be surprised to see them in the semi-finals again. And from there, who knows?
Jack de Menezes (sports writer): I'd love to see Fiji get in the mix. All the talk of the "Pool of Death" has focused around the three leading nations, but you should write off the Pacific Islanders at your peril. Never before have they had so long to prepare for a tournament, and they've pulled off an upset or two in their time – just ask the 2007 Wales side. But if Pool A goes as planned, look to Pool B for the Samoa and, dare I say it, Japan to threaten Scotland's quarter-final hopes.
Which player will be the top try scorer?
CH: Julian Savea, the All Black wing, has been picking on England since 2012, but the draw means he will have to find himself some fresh victims. If he's in optimum shape, the man from Wellington has the physical power and finishing instinct to top the try charts.
IH: Nehe Milner-Skudder of New Zealand. He has only two caps but we've already seen some of his immense pace and some player to watch. The All Blacks' gentle group, with Tonga the weakest of the Pacific Islanders, as well as Georgia and Namibia – could help him on his way.
HG: Chris Ashton (remember him?) and Vincent Clerc shared this honour last time in New Zealand; but mainly it has been New Zealander wings dominating over the years. With the draw the All Blacks have this time, Julian Savea or Nehe Milner-Skudder could rack up a handful of tries in the pool stage to set the standard. The main reason to go for the powerful Savea over his smaller, nippier team-mate is that Milner-Skudder has less experience of British conditions. PS I'd like to see the Scottish try machine Tim Visser on the charts; he has been a magnificently reliable threat for years.
KG: Julian Savea, a clinical finisher on the end of the most efficient try-creating machine in the game. Savea is not only powerful and quick, he sniffs opportunity at 100 paces and is lethal in full flight, as his 150 career points demonstrate.
MM: Nehe Milner-Skudder - This may be something of a punt having only just forced his way into the starting line-up and having played two Tests but he should have no shortage of chances on the wing for the All Blacks.
TP: As for tries, there's a whole range of candidates. It's hard to see England getting anywhere without a few tries from Jonathan Joseph, so why not him?
JDM: Nehe Milner-Skudder stands a strong chance of taking the spoils as the All Blacks will want to protect Julian Savea in one or two matches given the threat he will pose in the latter stages, but I'm going to go with the incredibly talented Ben Smith. Adept at playing near enough anywhere outside fly-half, he could bag a bucket-load of tries coming into the line as the extra man if the Tonga, Namibia and Georgia don't pick him up.
Which player will be the top points scorer?
CH: Leigh Halfpenny, the world's best goal-kicker, would have scored as heavily as most, even if Wales failed to make it out of the "pool of death". Now he is restricted to a watching brief, place a small bet on whichever New Zealander performs the marksmanship duties in the "soft" games against Georgia and Namibia. Colin Slade, perhaps?
IH: Jonathan Sexton. Ireland have a poor World Cup record, never going beyond the quarters, but I have feeling that this could be Sexton's tournament, with their game built around his kicking.
HG: I wouldn't be surprised if the All Blacks' other fly-half Beauden Barrett is short odds, as he may fill his boots (almost literally) as a kicker in a couple of pool matches and always likely to appear in the second half of matches even if Carter starts. If England go well, George Ford possesses a try threat to add to the points he can expect to garner with the boot. But dear old Dan Carter should come out on top if the All Blacks progress to the final and he stays fit.
KG: Dan Carter, as long as he stays fit. At 33 and playing his final World Cup the body is catching up with him, but he remains first choice in a team that will give the most prolific boot in history plenty of work.
MM: Dan Carter - If Ireland are firing and haven't peaked too soon then Jonathan Sexton could give Carter a run for his money but the All Blacks No.10 should rack up the points handsomely in the pool stages alone.
TP: It's an obvious answer, but it's obvious for a reason. Dan Carter. For a very long time, New Zealand were the team that peaked between the World Cups. Those days appear to be gone. The finest Number 10 of all time, kicking in the tournament's best team. Someone, feasibly, could outscore him. He might get injured. But they'd have to be a terrific upset.
JDM: As much as you want to pick someone outside of the obvious candidate that might just make you look like the oracle come the 31 October, New Zealand's Pool C opposition means you can't look beyond Dan Carter. The All Blacks will be determined to reach the last eight by proving a point – or many when it comes to Carter's trusty left boot.
Who is your tip to be player of the tournament?
CH: Probably a toss-up between Israel Folau, the Wallaby full-back, a second Australian in the flanker Michael Hooper and Eben Etzebeth, the phenomenal Springbok lock. Folau and Etzebeth would walk blindfold into a World XV; Hooper would give Richie McCaw a proper run for his money. A little less obviously, the French wing Yoann Huget looks one hell of an act right now.
IH: Israel Folau (Australia). Incredible attacking talent – that much was clear from the last Lions tour and we have not seen anything yet.
HG: It would be wonderful to see Juan Martin Hernandez of Argentina banish all memories of his years of injury hassle and produce the full range of his gifts as possibly the most all-round talented fly-half on the planet. A more likely choice is Israel Folau, who has that gilded ability to shine even when his team are going backwards. The full-back may occupy a different position to Jonah Lomu but in many ways Folau is the Lomu of his day: nigh on unstoppable.
KG: Jonathan Joseph, the balletic presence at the heart of England's creative endeavours. He has transformed England's back line with his eel-like advances. Has the ability to stop time when he takes possession. Central to England's prospects.
MM: Israel Folau - Australia's two-time player of the year is a three-code star having played rugby league and Aussie rules, and is the central X-factor to an exciting Wallabies back line.
TP: Dan Carter again. To be your nation's favourite son, but to miss the crucial moments of victory in a home World Cup, as happened to Carter four years ago, can hardly be more bittersweet. It leaves him with both a title to defend, and a point to prove. That's a dangerous combination. Not that he needs any such thing to be the tournament's best player. He just is.
JDM: There doesn't seem to be too many people eyeing up the fairytale farewell for Richie McCaw. The openside flanker has been the most consistent player of his generation, and who would reject the sentimental – and very achievable – proposition of awarding him the best player of the tournament before letting him ride off into the sunset.
Who is under the most pressure heading into the tournament?
CH: That's easy. Stuart Lancaster, the England coach. Pressure is the price you pay for being the homeland boss, and Lancaster has cranked up the heat on himself with some controversial selection calls. Think Danny Cipriani, Luther Burrell, Billy Twelvetrees, Kyle Eastmond, Steffon Armitage, Maro Itoje and, it goes without saying, Sam Burgess.
IH: England, of course, with the huge level of expectation – and therefore by definition George Ford, on whom national hopes are based.
HG: England's captain, Chris Robshaw. During interviews with former England captains Will Carling and Lawrence Dallaglio in recent days, it was intriguing to hear both men identify a lack of strong leaders in support of Robshaw as a problem. The Harlequins flanker cuts a phlegmatic figure on the pitch most of the time, and tackles opponents all day long, but there have been a number of occasions (for club and country) when he has looked a little perplexed in those knife-edge moments of decision-making. Posts or line-out? Scrum or tap and go? The well-liked 'Robbo' must stay cool to unscramble those mental conundrums.
KG: England and by definition coach, Stuart Lancaster. Though Lancaster has transformed the England landscape post 2011, expectation is high. Failure to secure the Six Nations in March drew heavy criticism from above. As the best resourced coach in world rugby there can be no excuses. The Sam Burgess gamble better pay off.
MM: Stuart Lancaster - It has to be as the coach to the hosts and also having seemingly gone against his usual meticulous approach by taking a massive punt on selecting Sam Burgess at centre, a decision that may make or break how he's perceived at the end of the tournament.
TP: England. By miles. A home World Cup, a team with so little experience of having played together, and a challenge just to get out of the pool that should by rights have been keeping them awake at night since the second it was drawn. To have to get past a brilliant Wales side and the resurgent Australians just to make it to the knockout stages of your own tournament? That's terrifying stuff. But inexperience in sport - and England are inexperienced - often manifests itself in the form of fearlessness. It will have to.
JDM: To go against the grain of my colleagues, I'm going to avoid England because of the fact that they are hosts. At every World Cup the home nation has achieved what has been expected, and more often than not even better. Bar 1999, the worst a host nation has ever done is reach the semi-finals, while South Africa and New Zealand twice have managed to win on home soil. With the Twickenham (and Etihad) crowd behind them, why can't England reach the last four? Heck, why can't they win the whole thing. There will be a tonne of pressure on the defending champions in a bid to give their departing half-dozen a fitting send off, and we all know what the pressure from the New Zealand public does at World Cup time.
What are you most looking forward to?
CH: More in hope than expectation, an uprising from the underclass: one of the South Seas island contingent, perhaps, or even poor old Italy, who are due a World Cup knock-out tie. Realistically speaking, the greatest joy will be the sight of the Wallaby midfielder Matt Giteau or the French centre Wesley Fofana proving that you don't need to be the size of a house to play some rugby.
IH: The Pacific Islanders. The new 'Pacific Warriors' film has been a tantalising reminder of what they have offered in this competition. Their colour is required to prevent this tournament drifting into predictability.
HG: England's matches against Wales and Australia should be spellbinding, deafening Twickenham occasions. And any signs that the host nation (plus Cardiff!) is embracing rugby beyond the simple parameters of spectators turning up to watch matches would be glorious. I'm going to Brighton on the first weekend – Springboks and Samoans, and Japanese and Americans in the Sussex sun, what more could you want?!
KG: Getting out and about to parts of the country where Union is not strong. Looking forward to covering matches in Leeds and Milton Keynes, and hoping the tournament produces the kind of mad, festival atmosphere conjured by the Olympics in 2012.
MM: Seeing how exactly Pool A pans out with Australia, England and Wales all in that particular pool of death and a potential climax in the game between the Wallabies and Wales on 10 October depending on the permutations of the pool by that point.
TP: Good grief. Where do you start? The whole thing. The All Blacks are slightly out in front, but what makes this the most mouth-watering Rugby World Cup ever is that England, Ireland, Australia, South Africa, Wales and arguably France all have every justification to believe they can and should be beating each other. Expect a whole load of brilliant matches.
JDM: Having been at the clash between the two sides last autumn, the Pool A meeting between England and Australia could be one of the greats. The Wallabies are a considerably better side than 10 months ago, and they appeared to bring out the best in England's attack. Expect a points fest, though it may not be the happy ending the Twickenham faithful are looking for.
Who will win the 2015 Rugby World Cup?
CH: If France reach the last four, they could also end up as the last ones standing. More likely, Australia. The Wallabies love Britain so much, they have never failed to win a World Cup staged in these islands.
IH: Australia
HG: You can construct all sorts of desperate cases for why New Zealand might not win it. Maybe Argentina will rough them up in the very first match, this Sunday, and all bets will be off. But this World Cup more than any other is set to be an endurance test. Who has the squad to cope? England, possibly, with their decent forwards cosseted by home comforts. Australia? South Africa? The winners of the France/Ireland pool? The eventual champions' team may look substantially different in the final to the one they started the tournament with. So it has to be New Zealand, on the basis that they have more good players than anyone else.
KG: The head says New Zealand, but as we have seen so many times, the heart can blow a hole in any calculation once we reach the knockout stage, and the All Blacks are a team coming to the end of a cycle. The winners will be the team that makes fewest mistakes and takes its chances. Easy peasy.
MM: New Zealand - It's unoriginal but it's also hard to look past the All Blacks, who have lost just twice in the 47 Test matches they have played since Richie McCaw lifted aloft the trophy four years ago.
TP: New Zealand. On their day, no one can beat them. And the days when they didn't have their day appear to be over.
JDM: A month ago it was England, but the closer the tournament gets, the less convinced I am. However, I don't believe the All Black will win it either – they're due another choke right, and a potential quarter-final against France in Cardiff will bring back some haunting memories – so who else. Ireland have never had a better chance to win, though they arrive off the back of two warm-up defeats that were more concerning than the scoreline suggests. Step forward Australia. Their 1991 and 1999 successes put them in good stead to triumph once again in the Northern Hemisphere, they've hit their stride at the right time and have managed to find a way to play Michael Hooper and David Pocock on the same side. Scary. Oh, and they beat the All Blacks last month.
Follow the 2015 Rugby World Cup in full with The Independent.
Join our new commenting forum
Join thought-provoking conversations, follow other Independent readers and see their replies