RWC 2015: Lewis Moody tells Chris Robshaw to earn his place or forfeit the England captaincy
Former England captain Moody believes the skipper must be the first the name on the teamsheet, and as he tells Jack de Menezes, Robshaw must prove his place as a starting flanker before continuing to lead the national side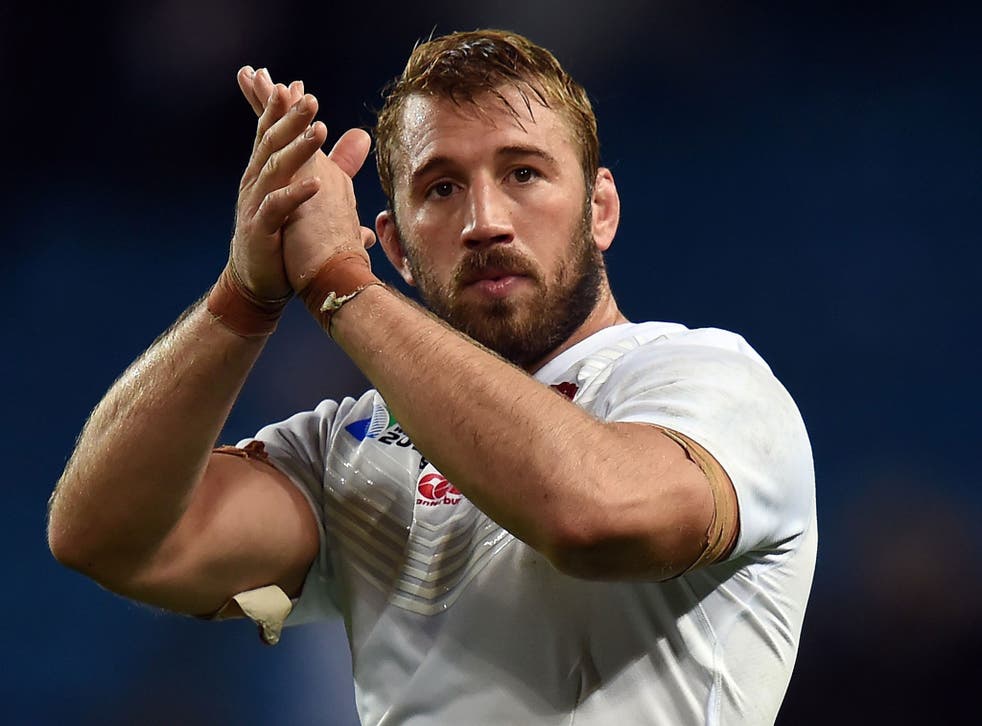 Chris Robshaw should not continue as England captain if he can't justify his selection in the starting line-up. It's a stern warning from his predecessor, Lewis Moody, that if he cannot remain the first name on the team sheet then the captaincy should go elsewhere when the Rugby Football Union complete their review of the country's dismal showing at the Rugby World Cup.
While the tournament continues in the form of the knockout stages, the fallout from England's pool stage elimination is focusing around the future of two men, Robshaw and the head coach Stuart Lancaster.
Moody believes that Lancaster should be retained, although whether that means a change in his role is yet to be determined. But the former England skipper, who oversaw the national team under Martin Johnson's tenure until the 2011 World Cup, was rather less supportive of Robshaw. While he did not write off the Harlequins back-row and praised his performances since taking on the role four years ago, he stopped short of backing him to continue leading the side when the Six Nations gets underway next February.
Asked if the 30-year-old is perhaps the wrong age to lead England up until the 2019 Rugby World Cup, Moody told The Independent: "I don't think his age will come into it. England just need to look at the best person for the job. They need to find a person that's going to guarantee their place in the team and that's the most important thing for me.
"As a captain you look at Martin Johnson when he was England captain. He was the first name on the team sheet. He delivered day in day out, week in week out, every time he took the field. I wouldn't say that Martin was the most outspoken leader when he was first appointed but he grew into the role
"That's what happens when anyone is appointed captain so if there's a change in the leader of that England side they'll need to be allowed to grow into the role as well, and if they start to develop those skills that you need to have with the more matches you play you get better at being a leader."
England 60 Uruguay 3 player ratings

Show all 15
In terms of Lancaster's future, Moody looked back to two World Cup-winning head coaches in Sir Clive Woodward and Graham Henry, and in particular their failures before going on to lift the Webb Ellis Cup. Woodward was, like Lancaster, lambasted for England's 1999 World Cup exit which came not long after the infamous Tour of Hell the year before, while Henry experienced a shock exit with New Zealand in 2007 before ending the All Blacks' 24-year wait for a second World Cup four years later.
"It's been massively disappointing," admits Moody. "I think a home nation not being in the World Cup knockout stages is a huge disappointment. The problem for England is that there was maybe an unrealistic level of expectation put on their shoulders. Just because it's in England doesn't mean it's a World Cup that you're going to win.
"As a fan that I now am it's very disappointing but I do hope that the RFU see sense and retain Stuart Lancaster because it's incredibly important that we learn the lessons when you do make mistakes. I think they made a mistake letting Martin Johnson leave four years ago. If you look historically at World Cup sides that do well – Clive Woodward, Graham Henry – it's all on the back of disappointment in previous tournaments or previous competitions so I hope they retain him and there will certainly be changes made, but I hope Stuart is retained in whatever position that may be."
Lancaster's relationship with his coaching staff – predominantly backs coach Andy Farrell and forwards coach Graham Rowntree – has come under intense scrutiny since England suffered the 33-13 defeat by Australia to confirm their early exit towards the end of September. It's been suggested that while Lancaster could continue in a slightly different role, the future of his coaches looks far bleaker, and the emergence of a RFU advertisement for an International Performance Coach with "experience and expertise in coaching all aspects of Back/three-quarter play" looks damning for Farrell.
It's something that Moody feels should happen, as his support for Lancaster fails to stretch to his coaching team.
"I certainly think he could look at a managerial role coming in," Moody says of Lancaster's future. "I think for Stuart Lancaster there's the chance like Clive Woodward. If you look at coaches during the careers they have, Clive started out most definitely a head coach full of ideas – first a backs coach then a head coach – but when he really delivered with England he was in a managerial position overseeing and making sure everything was in place, putting in the right coaches in the right positions and around them people like Andy Robinson and Brian Ashton and others to pull the strings.
"It'll be interesting to see where Stuart fits. I see Stuart now as more of a manager anyway than a head coach and having been down at training it certainly seems like it's Andy Farrell and Graham Rowntree that do the majority of the coaching and then it's Stuart that has the bigger vision and oversees everything else."
Whether the RFU are as forgiving as Moody would like, we sit and wait to see with bated breath. But one thing that is almost certain is that we will not see Sam Burgess in an England shirt bearing the No 12 again. The rugby league convert has already expressed his desire to return to Bath and continue his education as a blindside flanker, and Moody still believes that the 26-year-old can improve with time and go on to reach the highest echelons of the game that he was rather unfairly expected to reach this month.
"The most important thing for Sam is that he's given one position and they stick to it and allow him to develop, because you can't just flick around between positions and expect a lot," Moody stresses. "I was glad that he came out and said 'look I want to play back-row going forward and that's it' because that's key for me. He now knows where he wants to be, he sees where he wants to play his rugby at Bath and with [Kyle] Eastmond and [Jonathan] Joseph in the centre, and Matt Banahan and Ollie Devoto, he's not going to get a look in.
"No one can criticise Sam directly, it's not his fault that he was selected to play in the World Cup squad. There's absolutely no doubt that he has the ability to be a world class rugby union player. He just needs to be allowed the time to develop and learn his game and learn that one position. I think it was a huge ask of him having gone from a back-row at Bath to playing centre at international level."
The odds are in Burgess's favour. He has four months to find his form in the West Country before the Six Nations comes about. The same cannot be said for Robshaw and Lancaster.
Lewis Moody was speaking on the set of 'NatWest presents The Fastest Interception' – a Guinness World Record rugby attempt which goes live on Wednesday 28th October. Follow @NatWest_Rugby or like NatWest Rugby on Facebook for more
Join our new commenting forum
Join thought-provoking conversations, follow other Independent readers and see their replies