The Independent's journalism is supported by our readers. When you purchase through links on our site, we may earn commission.
Six Nations: Victory over Ireland has made a statement says England captain Chris Robshaw
England won in Ireland for the first time in a decade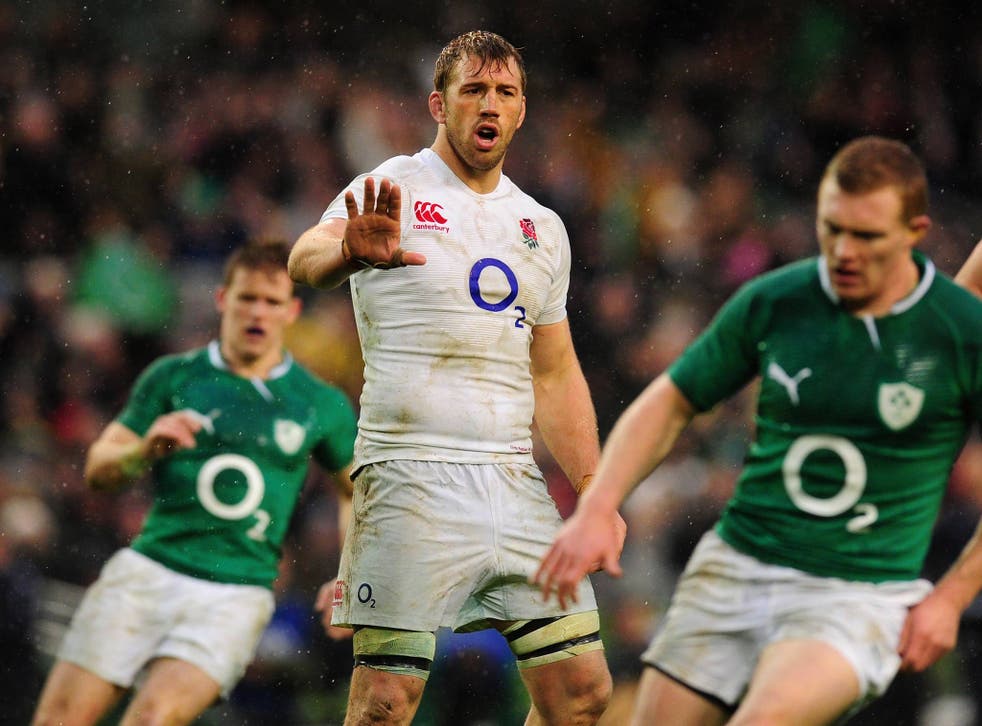 Chris Robshaw felt his side had delivered a powerful statement of intent to their rivals around the world after they claimed a 12-6 win against Ireland in a game played in atrocious conditions on Sunday afternoon – the first victory for England in the Fair City for a decade.
England signalled their title credentials with the victory over the only other undefeated side heading into the tie, but four Owen Farrell penalties meant it was Robshaw's side that remain the only team with a possibility of taking the Grand Slam.
Not since 2003 had an England side won in Dublin, when then-captain Martin Johnson led his own side to the Grand Slam - just months before their famous World Cup victory. Robshaw was aware of the troubles that the Irish capital had caused the nation, and was clearly delighted that record was now laid to rest.
"We came here to put a marker down and we will build on that," said the man-of-the-match Robshaw. "We knew we hadn't won here in 10 years and we knew why. Today we got it spot on." He had every right to be pleased with their performance. England fronted up physically, and when Ireland - and particularly the over-exuberant Cian Healy - decided to take aim at the English, every player was ready to take whatever they could throw at them.
"We are always fired up and the message today was 'no backward step', whether it is little off-the-ball stuff or going after them from minute one and we did that today," continued captain Robshaw. "It was all about defence at the end of the day and someone like Owen kicking the goals. That performance is definitely right up there."
And it was. Rarely has an England side taken so much punishment only to dish out more to the opposition. The commitment of the men in white to not give an inch was exemplary, and off the back of wins against New Zealand and Scotland, Stuart Lancaster's side now has an expectation that they must rise to each week.
"I am delighted to get the win here," said the England head coach. "When you have the conditions as they were it was going to be a tight game and down to small margins. To come here with a young side and show that kind of maturity to close a game out was hugely pleasing."
The Irish crowd did their part to spur the home-side on, and the atmosphere came to a boiling point when both packs prepared for the first scrum of the game - a clash of monumental importance. The noise was deafening, with every individual packed into Lansdowne Road understanding the importance of gaining momentum from the get-go.
But England remained strong, and even when their six point lead had been whittled away by two Ronan O'Gara penalties and their side down to 14 men with James Haskell in the sin-bin, they suddenly turned the tide against a rejuvenated Ireland.
Fly-half Farrell went on to slot another two penalties, and his father Andy explained what it meant to the team as a whole. "We have come to Ireland and we have played against a very good Ireland side," said the assistant coach. "I put that up there as an absolutely massive win, a huge win."
"There was a tricky point in the third quarter but the way we composed ourselves and finished the game - our energy got better, our line speed got better, our composure - was a masterclass of how to handle that last 20 minutes. For a young side to play like that in a pressured situation against a team that has been there and done that, and been successful with it, is a credit to everyone."
Join our new commenting forum
Join thought-provoking conversations, follow other Independent readers and see their replies