Maggie Alphonsi interview: Former England star has her eye on Rio 2016
The former England rugby captain and role model has exchanged the egg-shaped ball for the shot put – and already has her eye on Rio 2016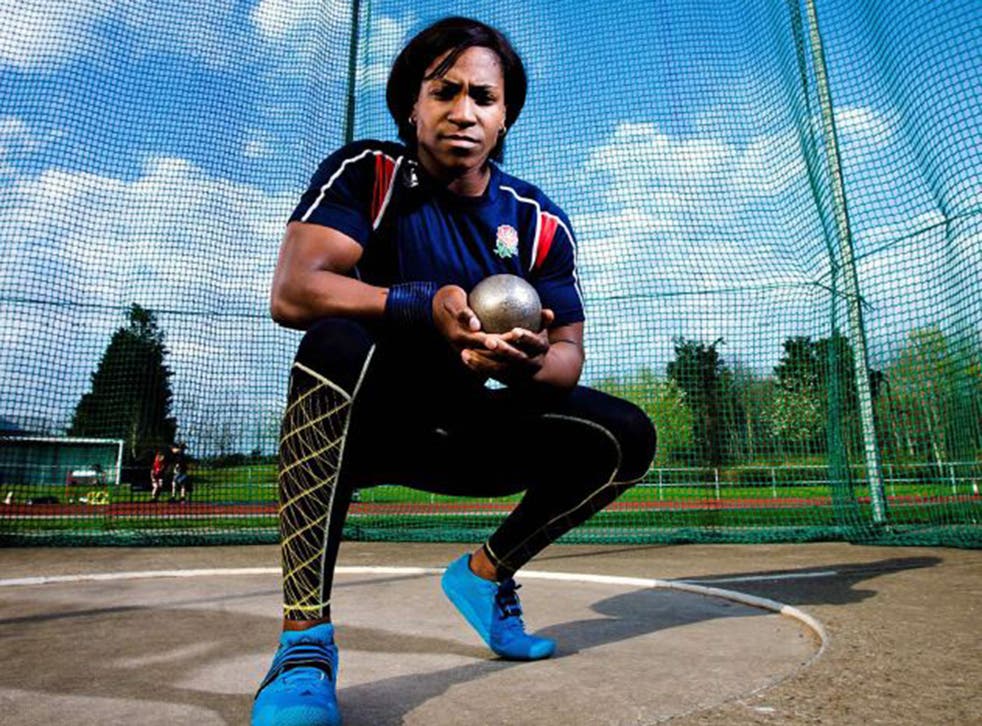 Maggie Alphonsi is standing by the side of a running track in north London, weighing things up. Cradled in her palm is a stainless-steel shot – it's a deceptive little thing, smooth and spherical, but at four kilos, eight times the weight of a rugby ball – and there is a discussion at hand about transformation: in sport, in attitudes and in life.
"People always say 'do you feel like you're a role model?'" remarks Alphonsi, who won more than 70 caps for England over 15 years, and is British rugby's best-known woman player. "It's funny. I never thought 'oh God, we're females playing a male sport', or that the majority of the time I was the only black person in our England team. But what's nice is I've had a subtle impact on a lot of black and ethnic minority girls and boys, who said 'I really want to give rugby a go'. They've seen this woman who grew up on a rough council estate in Edmonton, and she's an ethnic minority, and they've said 'I want to do that'. It's so nice when I go round to schools and I might get a faith girl from a religious background who loves touch rugby and is playing in a veil."
Four weeks ago Alphonsi was cheered from the field after her final rugby match, as her club Saracens won the English Cup to go with the league title. Seeking a new sporting challenge, at the age of 31, she has rekindled the shot-putting promise of her youth. Her 'PB' to date is 11.44 metres. The best in Britain are throwing five metres further. The Olympic Games in Rio in 2016 is her aim; or maybe Tokyo in 2020. "I won't be that old," she says, "and I reckon I could be throwing 14 metres or even 15 by the end of this summer."
Her rugby swansong was a homely scene with a few dozen spectators, in keeping with the overwhelmingly amateur status of the women's game. Alphonsi has not become rich through the sport at which she excelled. While 20 players have recently become centrally contracted, she works for the Youth Sport Trust, managing 85 athlete mentors. She would welcome offers of funding for her shot-put endeavours. But her impact has been uniquely transcendent. As an indomitable flanker with a brilliant positional sense, Alphonsi became the first female to be named the UK rugby writers' personality of the year, in 2010. She was awarded an MBE in 2012, sang in the celebrity choir for last year's BBC's Children in Need, and is an ambassador for this year's men's Rugby World Cup.
The 'role model' phrase in sport can be trite or unwanted. With Alphonsi, it rings so true. As an only child living with her mum, she was disruptive at school and, at 13, on the brink of expulsion. "I hung round with the wrong crowd – not necessarily trouble-makers but a lot of my friends had kids early on. I wasn't a stupid kid, I was articulate and on the ball. Mum did everything to raise me really well. But I had a lot of anger in the sense of being really frustrated with my situation. It was my PE teacher [Liza Burgess, a rugby captain of Wales] who made it click." Alphonsi went to train with Saracens, a bus ride from her estate. "The first hit on the tackle pad, I thought 'this is a good sport'. Rugby made me a better person. I got good GCSEs and went to college and university."
Like that stainless-steel shot, she packs power in a small but sharply-defined frame. "The size I am now – 5ft 3in and 73kg – well, I wasn't that when I was young. I had big strong thighs. I was self-conscious because I'd think 'oh God, my thighs are really big'. I could relate to Denise Lewis – ethnic minority, and athletic, I think she came from a single-parent family on a council estate in Birmingham. But my role model was my PE teacher. I'd think 'she's athletic and doesn't care how people perceive her'."
Alphonsi applauds 'This Girl Can', the national campaign against the fear of judgement that keeps women and girls from doing exercise. "You've got Jessica Ennis and Christine Ohuruogu in athletics, or Kelly Smith in football, or Val Adams [the Olympic and world shot put champion, at 6ft 4in and 120kg] – these are different athletes with different body shapes. You think of Rebecca Adlington and there were people who loved the medals but were critical about her looks. I think the perspective in our society has changed. Sporty is beauty as well. People look and say 'wow, we love that athlete', and that's all."
So does she yearn for a day free of taboos? "I want to encourage more ethnic minority people to get into sport," she replies. "I got into rugby, I love it and I wouldn't change it for the world. I'd love my kids – when I have kids – to get into the sport as well. I haven't thought about that yet because I'm still an athlete. All I am thinking about now is trying to get to Rio.
"I worked with one kid who changed my life: Wayne Instrell, he won our Sky Sports student of the year in 2013. He lost his dad and had a rough time being bullied but he's done so much, and is a role model for young people. A quote I live by is 'life is measured by the impact you have on other people'. If one person can have an impact on a thousand people, that's a legacy."
--
The only number that matters to Maggie Alphonsi is 17.80, the distance in metres she must throw to achieve the A qualifying standard and book her spot on the plane to Rio.
Should her crash-course in the distance take her that far then the Olympic dream will have been realised and it will be a truly formidable achievement, as good as anything achieved in her rugby career.
But the former back-row forward needs to make a gargantuan improvement for such aspirations to prove realistic. As things stand in the 2015 season, she is ranked 43rd in Britain among the female shot-putters, her best effort being a throw of 11.44m set at Lee Valley Stadium where she trained back in March. And her throws have tended to be around about that mark in the period of time since.
To highlight the enormity of what she's attempting, the dominant force in the sport, New Zealand's Valerie Adams, boasts a personal best nearly 10m further at 21.24m.
In terms of distance and size, the two athletes are poles apart: Adams measures in at 6ft 4in and weighs nearly 19 stone. In contrast, Alphonsi is 5ft 3in and 11st 7lb. But tellingly that's about the same size as Jessica Ennis-Hill, a mere shot-put part-timer who has thrown close to 15m.
The figures may be against Alphonsi but that is not to say that she won't get there. After all, it is still incredibly early days on her new sporting journey and she has yet to fully get to grips with the technical difficulties of the discipline.
--
WHERE ARE THEY NOW? World Cup winners
Claire Allan, centre/full-back, Richmond: RFU central contract, former police officer
Maggie Alphonsi, flanker, retired: Mentor for Youth Sport Trust and men's World Cup 2015 ambassador
Natasha Brennan, wing, Richmond: Central contract
Rachael Burford, centre, Thurrock: Central contract, first female on Rugby Players' Association board
Rochelle Clark, prop, Worcester: Personal trainer, head coach at Chesham Stags and Bucks Univ
Emma Croker, hooker, Richmond: Head of PE, Swakeleys School for Girls, Hillingdon, London
Rebecca Essex, lock/back row, Richmond: Teacher with specialism in autism spectrum disorder
Heather Fisher, back row, Thurrock: Central contract, MSc student at Gloucester University, ambassador for Alopecia UK
Vicky Fleetwood, hooker, Saracens: Personal trainer, diet and nutrition adviser
Sophie Hemming, prop, Bristol: Veterinarian in Staple Hill
Natasha Hunt, scrum-half, Lichfield: Central contract
Sarah Hunter, No 8/flanker, Lichfield: RFU's university rugby development officer in South-west
Laura Keates, prop, Worcester: Lifeguard at Birmingham Univ
Ceri Large, fly-half, Worcester: RFU community coach in Wiltshire
La Toya Mason, scrum-half, Wasps: RFU community coach in Surrey
Alex Matthews, flanker, Richmond: Central contract, sport psychology graduate
Jo McGilchrist, lock/No 8, retired: Assistant physiotherapist at Bradford Bulls rugby league club
Katy Mclean, fly-half, Darlington Mowden Park Sharks: Central contract, former primary school teacher
Kat Merchant, wing, retired: Personal trainer and coach at Chesham Stags and Bucks Univ
Marlie Packer, flanker, Wasps: Central contract, plumber
Claire Purdy, prop, Wasps: Underwriter for Zurich Insurance
Amber Reed, centre, Bristol: Trainee school teacher at Bloxham School, Oxfordshire
Emily Scarratt, centre/ full-back, Lichfield: Central contract
Tamara Taylor, lock/No 8 Darlington Mowden Park Sharks: RFU community coach in North-east
Lydia Thompson, wing, Worcester: Occupational therapist part-time for 2gether NHS Foundation Trust in Gloucestershire and Herefordshire
Danielle Waterman, full-back, Bristol: Central contract, Masters student and athlete mentor
Kay Wilson, wing, Thurrock: Central contract
Join our new commenting forum
Join thought-provoking conversations, follow other Independent readers and see their replies