Another 'final chance' for Gavin Henson as he prepares to lead Exiles to safety
Former reality TV star tells Chris Hewett he is relishing his return to rugby reality with London Welsh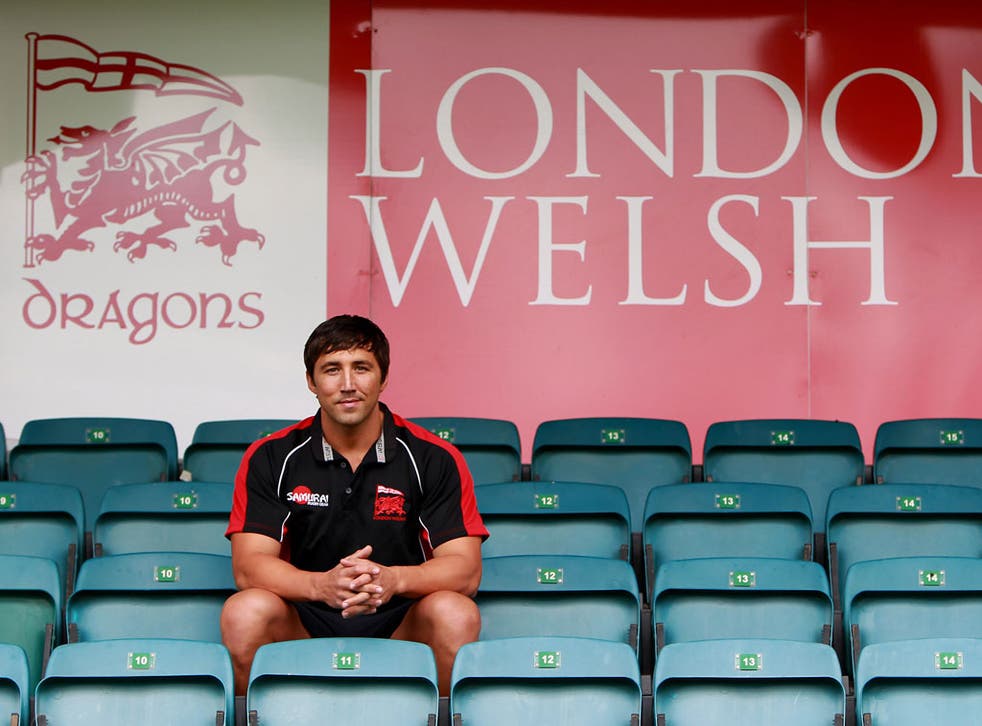 There are enough lost souls congregating inside the broad church of English rugby ahead of the new season to justify taking the biggest matches away from Twickenham and holding them in Limbo instead.
Danny Cipriani has returned from a self-imposed exile in Wallaby country, Dean Richards has been released from his three-year incarceration in Nowheresville and Gavin Henson is back from the weird and wonderful world of reality television, where some souls are lost forever. Whatever happens over the next eight months, this campaign will not be dull.
When Henson surfaced yesterday at his latest "last chance" club, the newly-promoted relegation favourites London Welsh, he answered the usual awkward questions with characteristic good humour, mixed with a natural humility wholly at odds with his long-established reputation as a difficult cuss. "There is some self-doubt," he admitted. "When things didn't work out for me at Cardiff Blues, I thought that was me finished rugby-wise. I'm grateful for this opportunity, not least because I didn't feel that I could allow my career to end in such a way, and I feel fit. I want to go out there and excite people. But when you look at the last few years, I haven't played much, have I?"
This chronic shortage of rugby is partly Henson's fault, partly not. The long goodbye he bade Ospreys, the most successful of the Welsh regional sides, was a masterpiece of self-defeating nonsense and he did not cover himself in glory during brief, half-hearted stints with Saracens and Toulon. On the flipside, he was not treated terribly well by Cardiff Blues, who had marginalised him long before he engaged in a valedictory bout of drunken high-jinks on a flight home from a Pro12 league match.
"I don't want to go back over old ground but I'd been told I wasn't being kept on and felt demoralised," he said by way of explanation. "I wanted and expected to finish my career at the Blues, but being brought off the bench and stuck on the wing in that last game just about summed up where I was with the club. The writing was on the wall and I fell into the trap. If anything good came out of the situation, it was that it left me feeling that I had to bite the bullet and make sure I didn't leave rugby on such a low note."
A decade or so ago, good judges saw Henson as a player of unusually rich potential – an all-round midfield playmaker who not only had the world in his hands, but at his feet as well. Welsh romantics steeped in the tradition of outside-half genius – Dai Watkins and Barry John, Phil Bennett and Jonathan Davies – celebrated the arrival of another world-class No 10.
God was in his heaven and all was right with the world.
At least, all was right until Henson went wrong. Injuries took a toll, the celebrity lifestyle took over and he went from back page to front page in double-quick time. After the Blues washed their hands of him, everyone in rugby assumed he was washed up.
Then London Welsh happened. More specifically, Lyn Jones happened. "I think I played my best rugby back in 2003-04, when I was being coached by Lyn," said Henson. "He's super-intelligent when it comes to the game. He's a very clever coach and a very funny person. To be funny, you have to be intelligent. I'm happy to be here at London Welsh with Lyn in charge. He's the kind of coach who knows how to make players listen. There aren't too many people who switch off when he's running a team meeting."
Jones intends to restore Henson to his chosen position of outside-half, which is music to the ears of a player who has always resented being shunted to full-back or squeezed in at centre. But the No 10 role brings its own pressure. Henson is acutely aware that while London Welsh are plotting a route through the Premiership minefield over the next few weeks, the onus will be on him to act as chief guide. Unlike many of his clubmates, he knows what it is to play at the very highest level.
"The thing is, the people at London Welsh have made me feel a part of things: I feel completely involved and I'd like to think I can be a leader and take people with me," he said. "Most of all, I'm hoping they'll give me a fair chance here. Things haven't been easy; initially, my body let me down and I struggled to get back to the heights. After I took time out of the game I found it tough to get back in. It's still hard now, but I'm sticking with it because this is what I want to do."
Will travel: Henson's journey
Llanelli (2000: 1 appearance)
Swansea/Ospreys (2000-10: 142 apps)
Had 18-month unpaid break after injuring an ankle in 2009. He was released in October 2010.
Saracens (2010-11: 4 apps)
Signed for Saracens shortly afterwards, but did not make his debut until Boxing Day 2010 due to commitments with BBC's Strictly Come Dancing. Made just four appearances before asking for his contract to be terminated.
Toulon (2011: 2 apps)
Suspended for two weeks after drunken bust-up with senior players. Club opted not to renew his contract.
Cardiff Blues (2011-12: 8 apps)
Had contract terminated after six months after he was reported to be drinking and behaving inappropriately on a flight home from Scotland in the morning after a match against Glasgow.
RORY MILLAR
Join our new commenting forum
Join thought-provoking conversations, follow other Independent readers and see their replies