Are rich European clubs killing the World Cup?
Pacific Islands players get cherry-picked and face range of inducements to turn their backs on an international career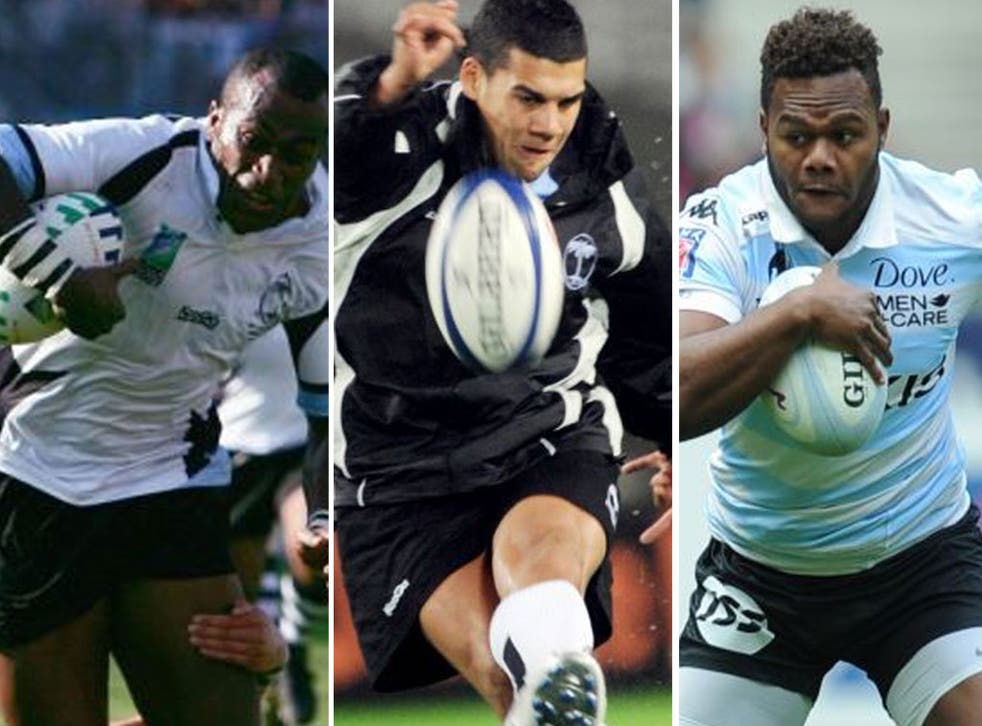 On the field there is seldom anything little about Pacific Island rugby; big men, making big hits, as England will discover at Twickenham on Saturday. Step off it and this is about the big men's little countries, a perennial tale of small nations trying to survive among the giants of the northern and southern hemispheres, and receiving little help to do so.
The International Rugby Board's failure to investigate Simon Mannix's allegations – that his then club Racing Métro paid Fijian players to choose a foreign club ahead of representing their countries in the World Cup – is characteristic of an institution where the powerful call the shots, potentially at a cost to the global good of the game. Like in football, the rising power of Europe's clubs is challenging the breadth of the international game and its governors appear reluctant to act.
There are not many of the world's leading rugby nations – those the IRB term "Tier One" – that do not boast a player of Fijian, Samoan or Tongan descent. Wales have Toby Faletau, there is England newcomer (and Faletau's cousin) Mako Vunipola – and Manu Tuilagi – and keep an eye out for Virimi Vakatawa, Racing's 20-year-old threequarter, who declined selection for Fiji for this month's Tests and is now eligible for France.
"It's the Pacific nations who tend to suffer," says Rob Nichol, chief executive of the International Rugby Players' Association. "It's not such an issue for the top-eight nations who run the IRB – clubs don't have the same kind of leverage on, say, a South African or an Englishman who is paid enough by their union for it not to matter – so what's the incentive for them to change the situation?"
Clubs can exercise leverage over players in one of three ways: a sweetener to remain available for club duty, the offer of a conditional contract or docking wages – or a combination of these. Bungs and offers of conditional contracts tend to be off the books, so difficult to prove, but contracts do exist in black and white where wages are docked: it's hard to see how this doesn't constitute a disincentive, contrary to the IRB's regulation nine (see below).
Yet whistle-blowing looks suicidal. "A Pacific Island player who complains is effectively taking on his own employer in order to play for his country, who can't compensate him at the same level or offer any job security," says Nichol. "Alternatively, the national union complains, in which case they're poorly viewed by the player who is trying to preserve his career. So it relies on one of two injured parties shooting themselves in the foot."
The major European club competitions will be well under way by the time the 2015 World Cup starts on 18 September, so it is tempting for clubs who are unable to pick their first-tier internationals to apply pressure where they know it will be felt. "If clubs can circumnavigate regulation nine they will – and international rugby is the worse for it," says Nichol. "The growth of the emerging nations is one of the pillars of the World Cup's credibility. Players from 'Tier Two' countries are in professional competitions outside their national union's jurisdiction so they can be competitive at the top level. It's exactly where reg nine and the IRB should allow them to get their best players, but don't."
The problems related to accessing players are not limited to the World Cup. The Tonga Rugby chief executive, Epi Taione, points out that the best Pacific Islanders often have relatively few caps – despite an international career spanning 10 years he played only 18 times for his country – making it difficult for national sides to build continuity in between tournaments. "'Tier One' teams have the means and the opportunity to get together for regular training camps, which we simply can't do as often as them, so we have even more ground to make up when we get together," says Taione.
Money remains the heart of the problem for the second-tier nations. "Under the current system smaller unions will continue to struggle because they simply don't have the grunt to sort it out," says Nichol. "The IRB is relying on principles inherited from the amateur era. That simply doesn't work any more."
Franck Boivert, Fiji's national coaching director, also wants improvements. "It would be a great help if the IRB could compensate the players contracted to clubs for national duty," he said. "Selecting overseas-based players has become a Catch-22 situation. We want players to get pro contracts for their own professional development and it has a hugely beneficial financial impact for their families. But then we can run into problems selecting them at international level – or, if they're uncapped and show enough potential, we might lose them to the bigger unions where they're based, who can offer a more attractive package. Three of our best guys from last season's Under-20 team appear to be lost to us now – one to New Zealand, one to Australia and the other to France."
The contrast in what players earn on international duty offers a clear pointer as to why it is so difficult for Pacific Islanders to choose country over club. "A friend of mine who played for England was paid £15,000 for a single Six Nations win," says Nicky Little, Fiji's former No 10. "For Fiji we get $F50 a day: £17 daily, which may double if we tour overseas, but Tonga and Samoa don't count." The disparity doesn't end there: "I played a Test for Fiji v Italy on a Saturday, then next morning was told by my club that I had to play for the second team on Monday night to be in contention for the rest of the season."
The ability of Pacific Islands to punch above their weight has become one of the great attractions of Rugby World Cup. Yet in the Islands, despite massive enthusiasm for the game, there is a widespread feeling that the IRB has no real enthusiasm for Pacific rugby. Argentina and Italy have been given a foot up to the next level – their greater populations mean a bigger commercial upside.
"I guess," sums up Little, "things are just the way the IRB wants it: the big boys making money, and us others being exciting to watch and fearless."
Case study: 'I knew that if i signed racing's contract I couldn't go to the world cup. I didn't have any other offers...'
Three Fijian players were offered financial inducements by Racing Métro not to take part in the last World Cup, according to the then club's coach Simon Mannix.
The former All Black claims the trio – Sireli Bobo, Jone Qovu and Josh Matavesi – were paid to make themselves unavailable in order to play in the French Top 14.
Mannix, coach at the club from 2006 until last November, said: "Racing Metro had Fijians who declined to go to the World Cup… because the club gave them a cheque if they stayed [in Paris]."
Manasa Baravilala, chief executive of Fiji Rugby, says that "the fact so many players from one club were suddenly unavailable certainly aroused suspicions". However, no official complaint was made. There is widespread reluctance in Pacific Island rugby to jeopardise European careers.
Matavesi said: "I had a verbal agreement with the club, who offered me a two-year contract. I knew that if I signed, I couldn't go to the World Cup. I didn't have any other offers. It was a difficult decision, but in the end I thought about the security of me and my family."
Bobo, under contract with Racing since 2007, admits getting an additional payment of €20,000 (£16,000) that he deemed "a bonus".
The Racing president Jacky Lorenzetti also says it was a bonus and denies any illegal payments were made or any regulations broken.
The Racing Metro three: Missing in 2011
Josh Matavesi
The 22-year-old utility back, who was born in Cornwall, has been a regular starter for Worcester this year after transferring from Racing. A part-time goal-kicker whose last-minute penalty against Wales in 2010 secured Fiji a 16-16 draw in Cardiff. Will have an important role in the Fiji squad.
Sireli Bobo
The 36-year-old winger is perhaps best remembered for his finish against South Africa in the quarter-finals of the 2007 World Cup: his try allowed Fiji to draw level with the eventual champions with 20 minutes to go. Not selected for this tour.
Jone Qovu
Over six seasons with Racing Métro, the 27-year-old colossus (124kg, 1.97m) has played lock or loose forward. Sometimes used by his club as an impact player with devastating effect, Qovu was initially selected by Fiji for the November tour but has pulled out due to injury. His experience will be missed.
Join our new commenting forum
Join thought-provoking conversations, follow other Independent readers and see their replies