'Blackmail' threat to Rugby World Cup: clubs pay players not to appear
2015 rugby showpiece risks being devalued by incentives offered to Pacific Islanders to ignore countries' call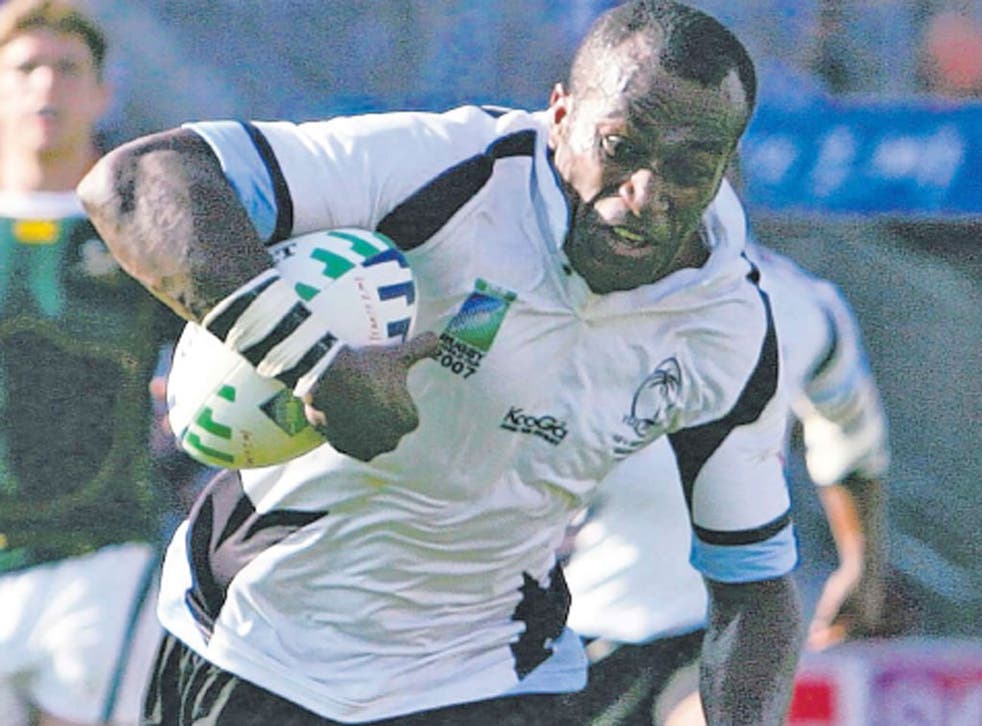 The 2015 Rugby World Cup in England risks being devalued by European clubs preventing players from Fiji and other Pacific nations from representing their countries.
That is the stark warning from a leading players' representative following new claims that the integrity of previous tournaments, notably the 2011 event in New Zealand, was compromised by the participation of weakened teams.
England – who play Fiji on Saturday – are preparing to host the World Cup for the first time since 1991 and, with it once again overlapping the European domestic season, the practice among some clubs of offering financial incentives to Pacific Islanders to ignore their countries' call could mean Fiji, Tonga and Samoa are deprived of key players in rugby's global showpiece.
Nicky Little, the former Fiji fly-half who has played club rugby in five European countries, describes the practice as "blackmail". A former coach of French club Racing Métro has claimed three Fijian players were offered financial inducements not to take part in the last World Cup, while other clubs are also understood to have tried to dissuade Pacific Islanders from turning out for their country.
Damien Hopley, the International Rugby Players' Association chairman, said: "The IRB [International Rugby Board] are aware of this practice. It is imperative that the World Cup is defined by the best playing against the best.
"We look forward to receiving a formal response to a problem that is threatening the integrity of this fantastic competition."
The IRB has rules in place – in regulation nine – that forbid clubs from offering any form of disincentive, either through "contract or conduct", to players to represent their country, but critics say the sport's governing body has shown little appetite to enforce it.
"For many seasons, European and UK-based Islanders have either been blackmailed not to play for their countries, or had pay docked when they were with their national teams," said Little, who represented Fiji in four World Cups.
Rob Nichol, chief executive of the IRPA, said: "We have been made aware of various situations where this kind of thing has happened but the players concerned haven't wanted to take it to the next level. If clubs can circumnavigate regulation nine, they will – and international rugby is the worse for it."
The IRB has yet to investigate allegations made by Simon Mannix, a former All Black and coach of Racing Métro, that Fijians at his club were paid to make themselves unavailable for the 2011 World Cup in order to play in the French Top 14. Mannix, who coached the Parisian club from 2006 until last November, said: "Racing Métro had Fijians who declined to go to the World Cup … because the club gave them a cheque if they stayed here [in Paris]."
The IRB responded that it can only take action if a complaint is received. A statement read: "The IRB can only act on player release issues if requested to do so by a union or if it is provided with credible evidence that would allow it to pursue its own enquiry."
The Racing players declined to play for Fiji in the 2011 Pacific Nations Cup, effectively ruling themselves out of World Cup selection: Sireli Bobo and Jone Qovu, both still under contract with the Parisian club, cited "personal reasons" while Josh Matavesi, now at Worcester, said he wanted to focus on club commitments. The Racing Métro president, Jacky Lorenzetti, denied the club have made any illegal payments or broken any regulations.
Fiji are not the only team that may have suffered. The Northampton lock Samu Manoa, of Tongan descent but capped by the US Eagles, was unavailable at the last World Cup. Last year, the United States coach, Eddie O'Sullivan, said this was because "a clause in his contract prevents him from travelling to RWC". Northampton deny this. A club spokesman said: "There is no clause in his contract preventing him playing international rugby; it was Samu's choice not to go to New Zealand with the USA."
Join our new commenting forum
Join thought-provoking conversations, follow other Independent readers and see their replies