Brian Moore calls Manu Tuilagi 'a complete and utter prat' over bunny ears prank on Prime Minister David Cameron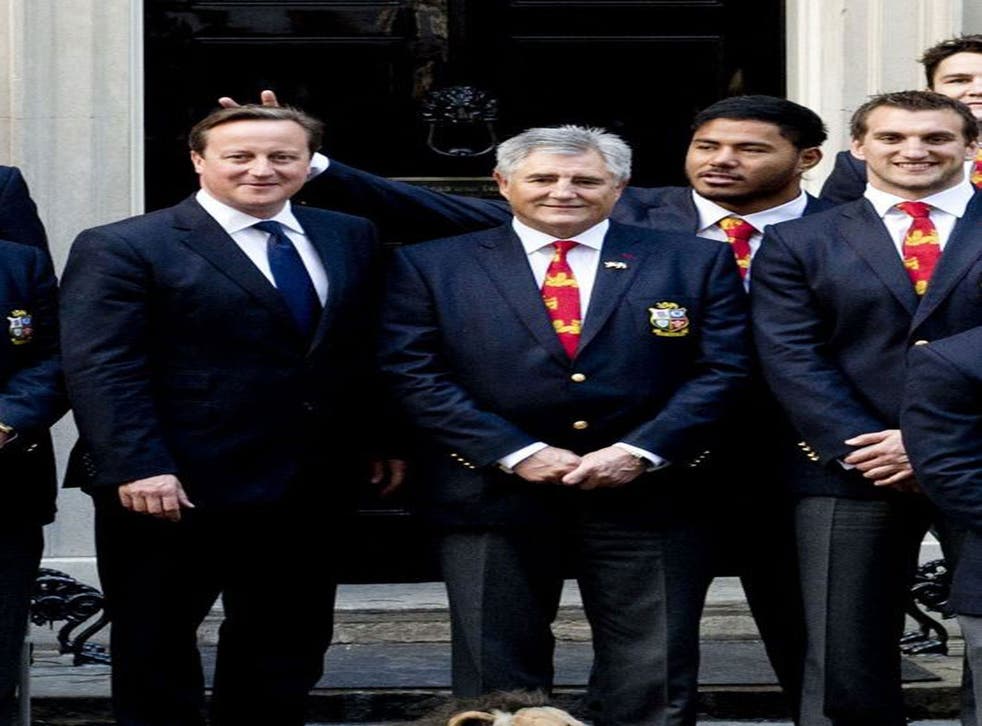 Former England hooker Brian Moore has branded Manu Tuilagi a "complete and utter prat" for his prank on David Cameron when the British and Irish Lions gathered at Downing Street on Monday afternoon.
Mr Tuilagi issued an apology for pulling a prank on Mr Cameron during the team's visit to Downing Street.
Mr Tuilagi stuck his fingers above the Prime Minister's head to give him "bunny ears" during a photo shoot of players and management at the function, to honour the Lions' victory over Australia.
"My real objection is it wasn't very inventive," Moore told talkSPORT.
"People are saying they are offended. Are they really offended, or is it more a case of Tuilagi being an absolute prat again and taking the attention away from his team-mates?
"He has been a complete and utter prat. He ought to grow up, it's as simple as that, but people saying they are offended, are they really offended?
"The authorities I'm sure will do what they should do and say, 'Manu, everyone thinks you are a two-year old, do you really want that? Now go away and grow up please'."
In video footage of the event, he can be seen slowly putting his hands up to give bunny ears, before gingerly taking them down as the team and Mr Cameron continued to pose for photographers.
The players had been invited to number 10 to celebrate their 2-1 series victory over Australia this summer.
The Leicester Tigers centre later took to Twitter to express his remorse. In tweet, he said: "Apologies for messing around on Lions photo. No offence intended. Great Day at Downing Street. Thanks to Prime Minister for hosting us."
After the photocall, Tuilagi's team-mates posted their reactions on Twitter.
Ben Youngs, a fellow British and Irish Lion, England and Tigers player, tweeted: "The manManutuilagi just couldn't stop himself."
The scrum-half later removed the tweet and replaced it with a picture of himself posing outside 10 Downing Street.
Gloucester fly-half Freddie Burns tweeted: "Great bottle from Manu Tuilagi! Haha. £chief".
Tuilagi has found himself at the centre of controversy previously when he was fined £3,000 by the Rugby Football Union after jumping from a ferry during England's World Cup campaign in New Zealand two years ago.
He was handed a caution from police on that occasion and disciplined by then England coach Martin Johnson.
Mr Cameron welcomed the victorious British and Irish Lions rugby squad for the reception yesterday, when he was presented with fly-half Jonny Sexton's number 10 jersey.
He said: "It's a huge honour. My son, just because of you guys, has just started tag rugby. He will be so excited about this jersey."
Mr Cameron congratulated captain Sam Warburton and coach Warren Gatland as they brought along the Tom Richards Cup to Number 10.
The players and coaching staff were joined by their wives and girlfriends for the event.
Join our new commenting forum
Join thought-provoking conversations, follow other Independent readers and see their replies