Chris Wyles: Star of a different stripe
All-American hero is the quiet man among Saracens' team of big names – but as his side prepare for a tough Heineken Cup visit to Munster tonight, he tells Chris Hewett he wants to be known as more than just a safe pair of hands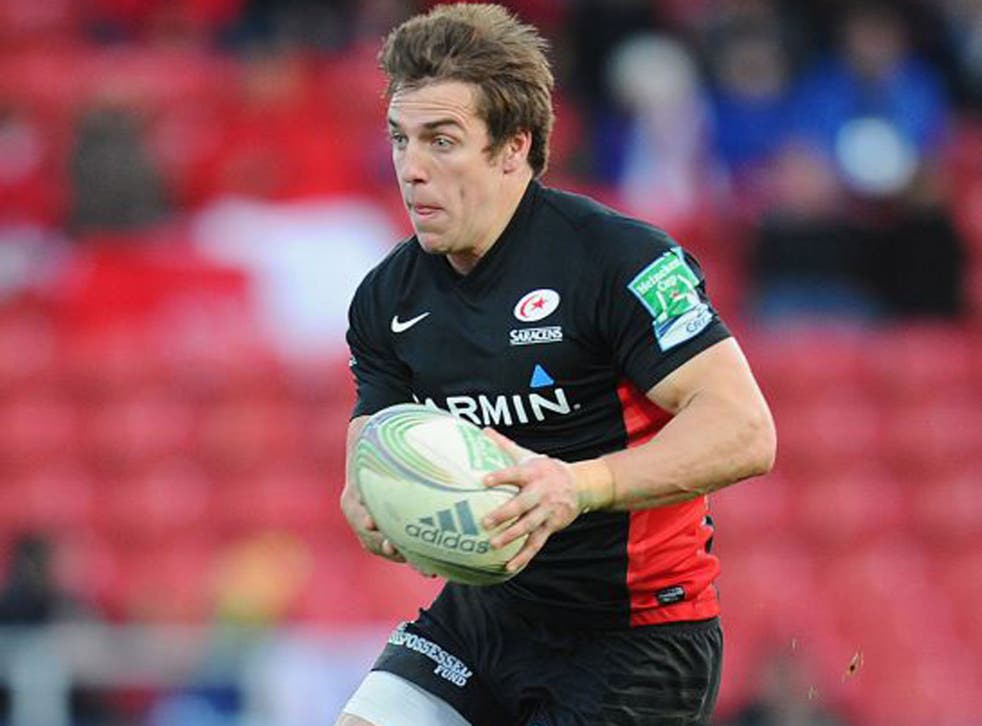 If Saracens are to be found guilty of the union code's deadliest sin of omission – that of going through entire games of rugby without playing any rugby – prosecuting counsel would be ill-advised to produce the current Heineken Cup statistics as Exhibit A. Five tries at Murrayfield against Edinburgh, last season's semi-finalists; three more in the unusual surroundings of the King Baudouin Stadium in Brussels against the fabulously wealthy Parisians of Racing Métro… this is hardly the strike rate of a team who have had the attacking gene coached out of them.
So what is it about the former English champions – obvious candidates to reclaim the Premiership title in a little over five months' time – that generates so much suspicion and attracts so much criticism? It may have something to do with the powerful South African influence at the club, both in the team and on the board, or reflect the widespread loathing of Vicarage Road in Watford, pretty much the most joyless union venue in Christendom. Or are Saracens unloved because there are so few sins of commission on the charge sheet?
The nomadic tribe from the northern reaches of the capital tend to make a bare minimum of technical errors over the course of their matches and in Chris Wyles they have a player who frequently appears incapable of making any at all. In a back division positively chocker with big names – Owen Farrell and Charlie Hodgson, Brad Barritt and Chris Ashton, Alex Goode and David Strettle – the 29-year-old American is as effective as anyone and a dozen times more important to the side than his low profile would suggest. Does it matter that, amid the glitterati, the only spangly thing about Wyles is the flag to which he swears allegiance?
"I don't want to be seen just as a safe pair of hands," he says in response, although his coaches will readily settle for that this evening when Saracens square up to Munster in a highly significant Heineken Cup match at Thomond Park. "I do pride myself on my consistency, but I love running with the ball in my hands, just like any other back-three player. Do I get the chance to do that at Saracens? Sure I get the chance. Perception in rugby is an interesting thing: people come out with all sorts of stuff without really understanding what's going on. I don't deny we're a pragmatic team when we need to be, but is that a crime? Ultimately, we're there to win games. This is a sport that demands so much in terms of effort and sacrifice, there's not much fun to be had in losing. A huge percentage of the enjoyment I take from what I do is in winning.
"Our criticism of ourselves would be that we're not clinical enough, often enough, when it comes to taking the opportunities we create. There is a very fine line between the games against Edinburgh and Racing Métro, when we scored quite heavily, and matches where our scoring was much lower. It's not as if we change our game from week to week: the truth is that sometimes we're simply not accurate enough to finish what we start. Our job is to improve that side of our rugby."
Wyles, who played at outside centre when Saracens beat Leicester in the 2011 Premiership final but is generally to be found at wing or full-back, describes himself as "a pretty competitive kind of person" who revels in the daily training-ground contests with his more celebrated clubmates; and while he does not put it in these terms, there is a sense that he takes great pleasure in striking regular blows for the so-called "minnows" of the world game – the countries who lie outside the top dozen in the international rankings and have to qualify for the right to participate in World Cup tournaments.
He was born in Connecticut – his father's marketing job had taken him Stateside – and lived in Pennsylvania until he was 11. "I was the all-American kid," he says, "and I still feel very strongly that my American roots make me who I am, even though I lost my accent within about six months of coming to England. I played the games every American plays in his childhood – baseball, basketball – but football was the sport I loved best and it stayed that way until I was 15, when schools rugby took over."
By the time he graduated from Nottingham University with a degree in politics, a number of rugby opportunities had opened up for him. The England Sevens selectors were struck by his talents – a near miss, as it turned out, for one appearance in the white shirt would have put him off-limits as far as the Americans were concerned – and so were Northampton, for whom he played a handful of games in the 2006-07 season.
"We were relegated that spring," he recalls. "It was a tough time for the club, a tough time for me, and I contemplated packing it in and finding myself a job in London, possibly in the City. But the American coaches knew I had a USA passport and they came in for me. I was picked for the Sevens squad in the big Hong Kong tournament and ended up as captain. It was a great experience."
And 2007 turned out to be an equally great year, despite its early miseries. Wyles went on to play, exceptionally well, at the World Cup in France (where the Americans gave England a serious hurry-up in Lens) and caught the eye of the master coach Eddie Jones, who promptly signed him for Saracens.
Since when, he has made more than 100 appearances for the club and won 30-odd caps for his country. In the week of the 2015 World Cup draw –depending on whether they beat Canada to the "Americas 1" slot in qualifying, the Eagles will either share a pool with South Africa, Samoa and Scotland or find themselves in the company of France, Ireland and Italy – where does Wyles see his nation's rugby going in the short and medium terms? Can we expect to see the US realise more of its vast potential at the next global gathering? Will Olympic status for Sevens, which makes its Games debut in Rio de Janeiro in 2016, have them falling in love with the union code from New England to New Mexico?
"As far as 15-man rugby is concerned, this idea of 'sleeping giants' is a pretty superficial one right now," he says, thoughtfully. "We have some talent: our forwards, in particular, are all athletes and they're all physical; you don't have to tell them to hit and hit hard. When we played England in '07 and Lawrence Dallaglio came round the corner at us, he didn't get too far. When we played Ireland last year, Jamie Heaslip found the same thing. The physicality isn't a problem for us."
Join our new commenting forum
Join thought-provoking conversations, follow other Independent readers and see their replies