James Lawton: Johnson invests faith in Wilkinson's steady hands and lion heart
What Jonny Wilkinson has now he will have always. It is a set of certainties, an absolute understanding of what he can do and, just as crucially, what he can't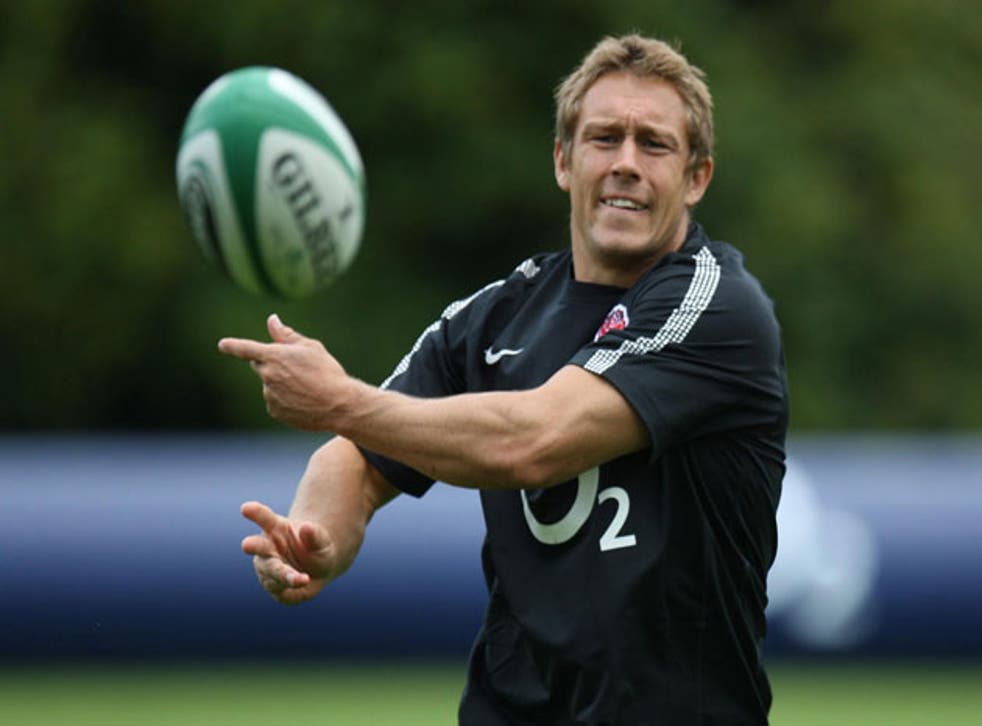 There will always be a touch of ambivalence when we look at the amazing career of Jonny Wilkinson – and maybe never more so than in the next few weeks when once again he finds himself returned to somewhere near the centre of England's hopes.
He has been put there by his former World Cup-winning team-mate Martin Johnson, the manager assailed by the view of the rugby cognoscenti that the best he can believe in when the New Zealand hosts launch the seventh tournament against Tonga on Friday is a place in the semi-finals.
By going back to Wilkinson, some believe Johnson is accepting that his horizons must necessarily be restricted, that the relatively expansive adventure promised by Toby Flood is too flawed, too subject to the kind of self-doubt Wilkinson relegated to history when he graduated to long school pants and told his housemaster: "I want to play for England – that's all I want."
It means we have to place an intriguing question against the old pro Johnson's decision to grant still more satisfaction to the craving of the 32-year-old who has found new life and ambition in the rollicking naval town of Toulon.
The question is this: has Johnson done no more than slip into default mode or has he made one of the most stupendous investments in the history of English rugby?
Has he considered all that he has learnt about Wilkinson down the years and weighed it against the impressive evidence of enduring appetite and force that he has produced over the last few weeks, especially when finding the limits of England's possibilities in the recent psychological trial in Dublin?
We have to believe this is so. We also have to bring back into focus another conclusion. It is that in New Zealand Wilkinson has the chance to confirm the belief of many – and it is body of opinion not exclusive to men who like to wear moth-gnawed Barbour coats and sing "Swing Low, Sweet Chariot" at Twickenham – that his career has become a unique example of commitment to the sporting nation.
But then, of course, there is that ambivalence. If for a dozen years Wilkinson has tackled like a runaway truck, if his place kicking has been rarely less then phenomenal, there is still no point in ignoring the limitations.
He has never been mistaken for one of those outside-halves Wales used to accumulate by simply whistling from the hillsides. He has never shown us much of Cliff Morgan or Phil Bennett or Barry John, least of all Barry John – nor the genius of Ireland's old hero Jackie Kyle and the fluency of today's All Black paragon Daniel Carter.
This, however, is an aspect of life once hauntingly expressed by a James Baldwin character, a down-at-heel jazz musician who said, when his fretful sleep in an all-night Manhattan cinema was disturbed: "You took the best, why not take the rest?"
At least we know already that what Jonny Wilkinson has now he will have always.
It is a set of certainties, an absolute understanding of what he can do and, just as crucially, what he can't. No, he cannot flood the rugby field with the inventions and the colour of a Bennett or a Barry John. He can, however, produce a steady light by which a team set up in the way of the current England might just find a way to go to, and maybe a little beyond, the boundaries of its talent.
That was certainly the old message when England overcame Ireland on their own battleground the other day. It wasn't an imperious performance by Wilkinson. Some of his kicking from hand lacked both surgical precision and, less surprisingly, creative fancy but what he did in the old-fashioned way was move England around the field with a steady purpose, an unbroken feel for how an important win might be achieved.
In one of the most critical phases of his career, when he was struggling to give England a sense of authentic momentum in the 2003 World Cup, he lapsed alarmingly into some obscure tactical theory. Before the ordeal of his quarter-final performance against Wales in Brisbane he became so obtuse some of the old sweats around him might have thought he had taken to speaking in tongues.
That, though, was hardly the Wilkinson reflecting on the performance in Dublin which has so plainly given him such a key place in Johnson's thoughts. "You have to have an open mind, adapt to the path that opens up in front of you," he declared. "That is the hardest bit. Four years ago the tournament became one of enormous pressure around field position, around those sorts of things. You don't know that at the start. Nothing is decided until you get on the field and get shown the best way to try to win the game."
Not the most searching essay on the practicalities of rugby at the highest level you might say, but, surely, a guide to Wilkinson's more relaxed view of what he can achieve after so happily decamping for the culture of Provence.
Certainly Flood, who has lost so much ground since the first optimism created by his partnership with Ben Youngs, was not slow to grasp the implications after his own poor showing in the defeat by Wales.
There was not a lot anyone could say to soothe his bruising when he declared: "There will always be 58 million people in England thinking I shouldn't be in charge of the No 10 shirt."
Flood probably didn't need telling that we have only to go back to the last World Cup to understand why this might be so. Wilkinson secured his place in history with the drop goal that won the 2003 title in the last seconds of a night in Sydney smeared by rain, but in one sense he was also getting himself out of jail.
There could be no such equivocation about his contribution in France in 2007, when in some ways the resurrection that took England into the final against South Africa was more remarkable than the triumph in Australia.
He was missing when South Africa inflicted humiliation in a group game at the Stade de France. But when he came back England, while still a long way from the coherence they had eventually found four years earlier, were a quite different force. He kicked all the points in the quarter-final win over the shocked Australians. With infinite calm, he expelled the French, conquerors of the All Blacks, and had he managed to land two drop goal attempts in the final, England might have been champions again.
If there was a flaw in the script, and rare failures of execution, there was no doubt about the immensity of England's recovery and the part Wilkinson played.
As England work in their base camp, as they try to lift their heads over the parapet of modest expectations, once again there is not much doubt about their best chance of some distinction. It is that once again Jonny Wilkinson will find a path that holds a little promise, a small invitation to reach out again for at least a touch of greatness.
No, it will not come from the light presence of pure inspiration. It will be from the promptings of just possibly the most competitive heart in all of the nation's sport.
Join our new commenting forum
Join thought-provoking conversations, follow other Independent readers and see their replies