Lewis Moody: Gatland's Wales are good enough to take on the southern giants
Moody Views: The subconscious will be screaming at those Welsh players to make amends for that World Cup semi-final defeat by the French in Auckland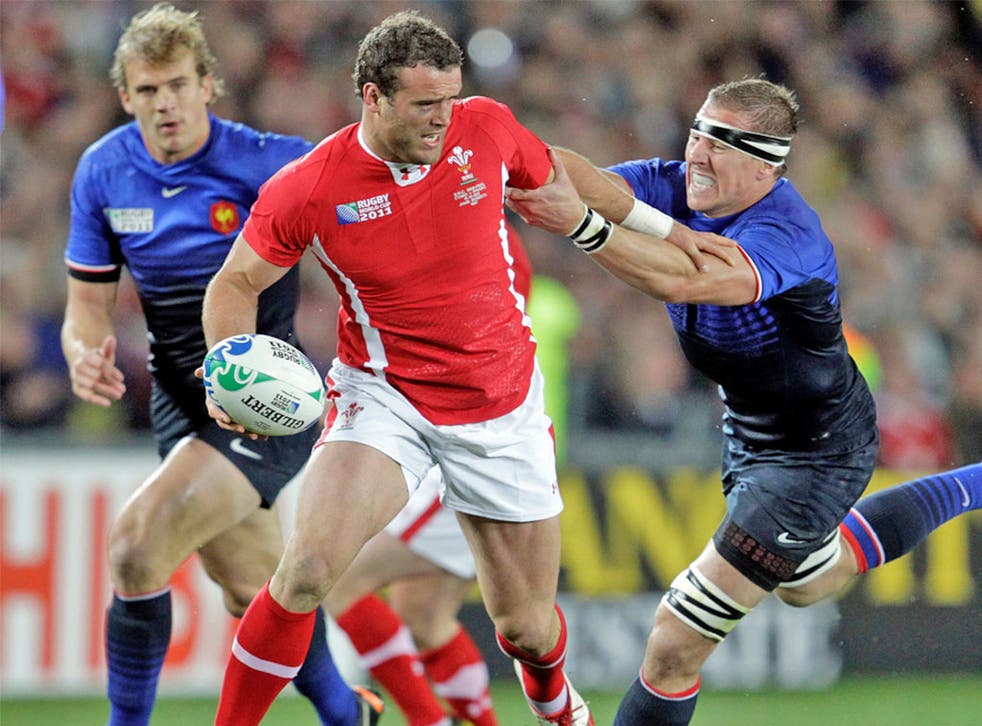 Wales should, and I think will, win their third Grand Slam in eight years. By any token it would be an incredible feat and one I'm sure will be appropriately celebrated on Saturday evening.
Just think that Sir Clive Woodward was coach of England for eight years and how many Grand Slams did his all-conquering team win? Yes, under Sir Clive England won the same number of World Cups as they did Grand Slams.
If you remember how dominant that team were, then it becomes immediately apparent how difficult it is to sweep the Six Nations. So if Wales do it, when they do it, all credit must be given. I certainly will be toasting their success.
Yet I'm sure Warren Gatland knows there is a bigger challenge for his team. They are at the stage now where they should be putting away Tri-Nations opposition. That's how good they are – and this squad have the potential over the next three years to make themselves genuine contenders for the World Cup in 2015.
Of course, they emerged as genuine contenders at last year's World Cup, but next time around they will surely go in with expectation on their shoulders. Let's be honest, in 2011 there weren't too many people backing them. But their coach made a big call and installed a young captain in Sam Warburton and pinned faith in other kids like George North, Toby Faletau, Jonathan Davies and Rhys Priestland. It was a risk but it paid off, and the Kiwi is still at the pay-out counter.
That World Cup experience galvanised his team, made them believe in each other and set out, in stark terms, a common goal. I've always believed that having a singular mindset is 80 per cent of winning rugby and this Welsh side have only reinforced that view.
It will be emotional at the Millennium Stadium on Saturday – and, very probably, personal as well. To the press and public, teams will insist they aren't out for revenge and even in the team room the command will be to play with cool heads. But the subconscious will be screaming at those Welsh players to make amends for that World Cup semi-final defeat to the French. Regardless of the rights or wrongs of the Warburton red card, they know they should have won that night. And that will inspire them as much as one of the best home supports in the sports world.
I back them to win, but I also expect the French, a talented team without a great deal to lose, to bounce back from their England defeat. I wouldn't be surprised if it is a nervy affair, maybe decided by a late Priestland drop goal, which will blow a hole through the roof if it's shut. Then the party will begin – and so it should. The Welsh should be as proud as they are excited about this.
To my mind their progress says so much about the young players who are charging on to the scene. You can see it with England; these lads hit the hostile grounds running. Naturally, it's all changed since the professional era came in. Yet it wasn't instant, it did take time. My experience proved that.
I left school and became a professional rugby player, but as it was new and as the older players had previously been in full-time employment, they treated it like they would have treated a normal job. The likes of Dean Richards, John Wells, Rory Underwood and Martin Johnson announced "We work nine to five" – so we did. In truth, there was little rhyme or reason. How different it is now.
Progress demanded the set-ups became sophisticated and scientific. Training is structured to ensure players produce their best on match days, not run out already knackered. The build-up is tailored to the position and the individual.
It's the same in the gym. Everybody used to do the same thing, whether you were a prop, a back-rower or a winger. Each player now has his own schedule, his own targets. They are constantly assessed and continually updated as to which areas need strengthening. The talent is identified from a young age, too. Is there any wonder the pros seem so advanced to those of us who were just thrown in as 18-year-olds?
Don't feel too much sympathy for the supposed veterans, however. Just look how well some of those Welsh guys have risen to the challenge. It was so admirable to hear a player like Ryan Jones – with two Grand Slams under his belt already – say that as an old dog he has been motivated by the young pups. That's the attitude.
Success is all about the "competition for places" element within the squad, and the older players simply have to step up a level. The Welsh old guard have, and that is why they have such a giddying mix of experience and exuberance, of the old and the new. Gatland and his coaching staff should be applauded for the job they have done, the gamble they took and the endeavour they have displayed in succeeding.
I don't believe we have seen the best of them yet but when we do, and when Wales do put it together for 80 minutes against southern-hemisphere sides, they will be a force the world over.
I'm praying that the RFU won't bomb out Lancaster
I find myself saying "make the right decision, please". And 99 per cent of me believes they will. There's just one per cent which warns me that the Rugby Football Union might still look elsewhere than Stuart Lancaster.
This is the classic case of "don't throw the baby out with the bath water". I understand Ian Ritchie, the new chief executive of the RFU, wants to overhaul the union. And I respect what he did at Wimbledon. I just pray there's a rugby man alongside, telling him "look what Stuart has done in such a short time – it's unbelievable".
It took Sir Clive three to four seasons to install the culture which ultimately was to win the World Cup. Stuart, with so many new caps and a new coaching team, has gone a long way to achieving it in months.
That victory in Paris last week was the reward for a set-up which is prepared to put everything on the line for each other. It has the talent, but more pertinently it has the camaraderie and the spirit encapsulated in a shared purpose. To shelve all this progress would be absolute madness. I'm sure the RFU will do the right thing. Almost.
Ireland at home is a massive game for this group. England have done it away, in the hostile settings of Murrayfield and Paris, but they have to do it at home. They were given something of a free pass for their first game at Twickenham against Wales; and they fared commendably. But now they will be expected to win and nothing short of that will do. Having watched this bunch of guys bind and grow I have no doubt they can shoulder the favourite's tag.
I was so chuffed to see my old Leicester pal Tom Croft have such a stormer at the Stade de France. He's performed well in the previous games without standing out. Against France he was in blinding form and the try was vintage Crofty. I've always thought he was special and will love being proven right.
Lewis Moody is a TAG Heuer ambassador. TAG Heuer are the official watch of England Rugby
In association with:
Join our new commenting forum
Join thought-provoking conversations, follow other Independent readers and see their replies