Andy Murray vs John Isner report: Master class sees Murray through to French Open quarter-finals in straight-sets
Andy Murrat beat John Isner 7-6, 6-4, 6-3 to set-up a quarter-final clash with home favourite Richard Gasquet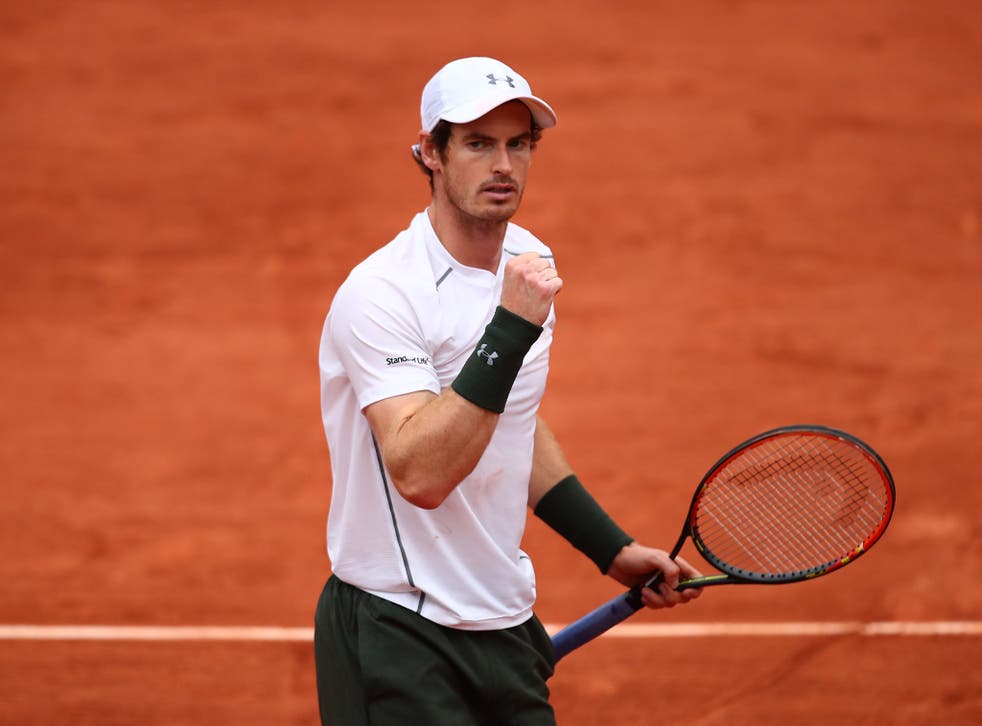 It may be nearly three years since Andy Murray last won a Grand Slam title but you cannot argue with the 29-year-old Scot's consistency. By beating John Isner 7-6, 6-4, 6-3 in the fourth round of the French Open here Murray reached the quarter-finals for the 20th time in the last 21 Grand Slam tournaments he has contested.
Just as he had in the previous round against Ivo Karlovic, Murray gave a master class in how to play one of the game's big-serving giants. Isner, who is 6ft 10in tall, has never beaten Murray in their six meetings. Despite hitting 18 aces with his cannonball serve, the 31-year-old American again came unstuck against a player with one of the best returns in the business.
The match might have taken a different course if Isner had won a tense tie-break at the end of the first set in which he had three set points, but once Murray had his nose in front he pulled away. Murray, who has now won his last nine clay-court matches, broke only twice in the match, but regularly threatened Isner's serve in the last two sets, forcing a total of 10 break points.
The perfectionist that he is, Murray sometimes grew frustrated when he failed to convert break points. At one stage he described his own play as "absolute turnip", while at others he used even more colourful language. He was pleased, nevertheless, with the way he defended successfully all five break points against him, putting first serves in court on each occasion and twice hitting aces.
In his sixth Roland Garros quarter-final - which is more than any British man in history has reached, beating Fred Perry's total of five – Murray will face France's Richard Gasquet, who enjoyed one of the finest wins of his career when he beat the world No 5, Kei Nishikori, 6-4, 6-2, 4-6, 6-2.
Gasquet, who will be playing in the quarter-finals here for the first time, has lost seven of his 10 meetings with Murray, who has won all four of their matches at Grand Slam level, including two at Roland Garros.
The weather forecast for the day had not been good, but the rain was still holding off when Murray and Isner entered Court Suzanne Lenglen just before 3.30pm. However, the skies were a gloomy grey and there was plenty of moisture in the air.
Murray admitted later that the conditions were in his favour in that Isner's serve was not so effective in the cold and damp atmosphere, particularly after they returned to the court following a rain break and the balls got wetter and heavier.
As expected, it was a match of short, sharp rallies. Of the 234 points played, 169 were of four shots or fewer and only 19 were of nine shots or more. Isner knew that he could not afford to be drawn into lengthy baseline rallies and went for his shots throughout. Murray, meanwhile, kept telling himself to remain focused on his task in the knowledge that he could not allow himself any lapses on his own serve.
There were only two break points in the first set and Murray defended both of them successfully. The Scot started the tie-break well, winning the first point against Isner's serve after a beautifully constructed rally, but Isner, serving with great power and accuracy, fought back. Murray saved three set points – one against serve with a splendid backhand winner down the line when Isner led 6-5 – and went on to convert his second set point when the American missed a forehand at 11-10.
Rain had started to fall in the tie-break and by the fourth game of the second set it was heavy enough for play to be suspended. Murray had been calling for the umpire, Damien Dumusois, to stop play several minutes earlier.
"When you're returning his serve you have to be very explosive, very quick, and if you lose traction on your feet, it's very easy to tweak your groin or something," Murray said later. "I think on clay courts that the players really need to be the ones that decide [when to stop]. If they don't feel comfortable then you have to stop, because it's a surface where if you get that wrong you can hurt yourself."
The match resumed 63 minutes later. Isner immediately saved two break points with unreturned serves and one more two games later, but when he served at 4-5 and 30-40 Murray won a drop shot exchange to take the second set.
Murray broke again in the fourth game of the third set on his third break point of the game when Isner netted an attempted drop shot. The American's body language told of his increasing despair, though he forced two break points when Murray served at 4-2. The world No 2 held firm, however, and served out for victory in style with aces on two of the last three points.
"I was beaten by a better player, no doubt," Isner said afterwards. "That's why he's No 2 in the world."
Both men agreed the tie-break at the end of the first set had been crucial. "I didn't have any chances, really, in the first set until the tie-break," Murray said. "I was a bit lucky on the 6-5 point. He had a great serve and I guessed the right way on his approach shot. That point was very important, for sure.
"After that I was starting to create a lot more chances on the return games. Most games I felt like I was having opportunities and wasn't giving him any chances on my serve, so that was positive."
Stan Wawrinka, the defending champion, reached the quarter-finals thanks to an entertaining 7-6, 6-7, 6-3, 6-2 victory over Viktor Troicki. It was Wawrinka's eighth successive victory on clay following his triumph in the Geneva Open last weekend.
Troicki matched his opponent blow for blow in the first two sets, but the Serb started to struggle in the third, when he had treatment for a hip problem. Wawrinka went on to close out a victory which takes him into a quarter-final against Albert Ramos-Vinolas, a 28-year-old Spaniard who has never previously gone this far in a Grand Slam tournament.
Ramos-Vinolas, the world No 55, beat Milos Raonic, the world No 9, 6-2, 6-4, 6-4. Raonic probably knew he would be in for a tough time as soon as he walked out on to Court Suzanne Lenglen. As Isner was to discover later in the day on the same court, the damp and cool conditions were not made for a player who relies so heavily on his big serve and heavy groundstrokes.
John McEnroe is to help Raonic on a consultancy basis in the first three weeks of the forthcoming grass-court season in the build-up to Wimbledon. Raonic, who is coached by Carlos Moya and Riccardo Piatti, said: "I was looking for another set of eyes to be a bit more efficient on grass. It's about generally improving. I want to improve that coming forward and I want to improve putting more pressure on my opponents."
He added: "I'm sure [John] will consult throughout Wimbledon as well, but he has his obligations through Wimbledon. I'll have Carlos there with me, but at the end of the day [John] loves tennis. He's going to see matches. I'm sure he'll have some quality advice to give."
Jamie Murray and his Brazilian partner, Bruno Soares, were beaten 7-6, 7-6 by Marcin Matkowski and Leander Paes in the third round of the men's doubles. It was the first defeat in Grand Slam competition for Murray and Soares following their victory at the Australian Open in January. However, Murray and Hao-Ching Chan won their second round match in the mixed doubles, beating Alla Kudryavtseva and Rohan Bopanna 2-6, 6-3, 10-8.
Join our new commenting forum
Join thought-provoking conversations, follow other Independent readers and see their replies