Australian Open 2014: Becoming world number one 'is not my goal' says Stanislas Wawrinka, despite winning first Grand Slam
Reaching the top of the rankings is beyond 'my level' says the humble Swiss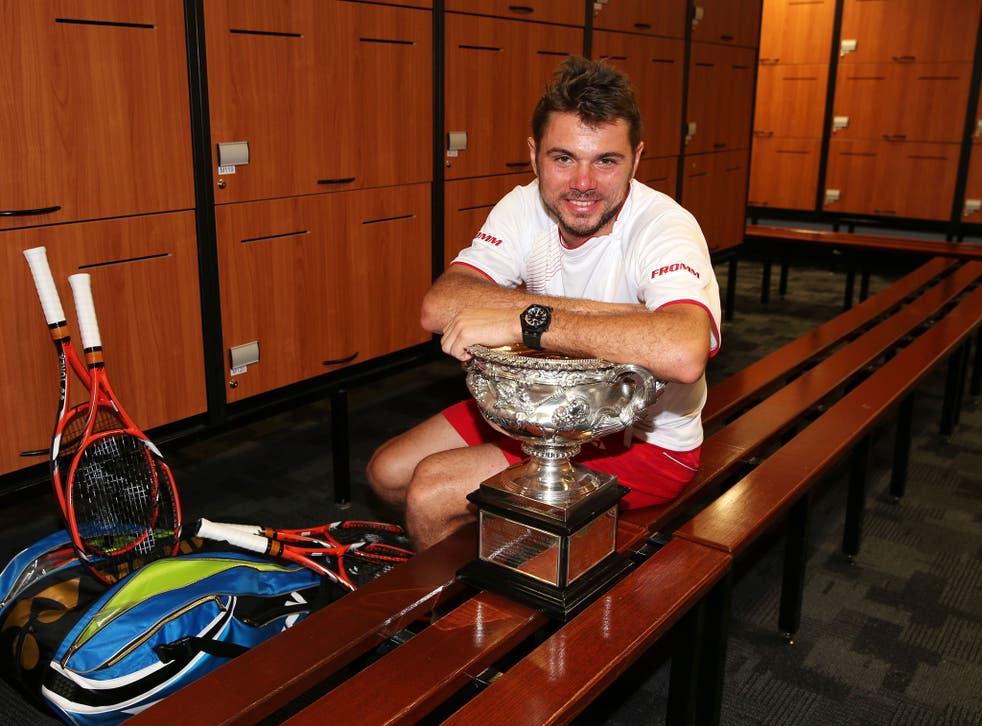 They were words that Stan Wawrinka had probably never uttered before. Asked here on Monday morning, in the wake of his victory over Rafael Nadal in the final of the Australian Open, whether he had spoken to his friend and fellow Swiss Roger Federer, Wawrinka replied: "I talked last night with him. I just said that when I had time I would call him back."
There was not a hint of arrogance in those words - the new world No 3 is much too good and much too humble a man for that - but the reality is that Wawrinka is now the Swiss No 1. Not that the man himself sees himself as superior to Federer in any way.
"I really don't care [about becoming Swiss No 1] because when you're No 2 after Roger it's really not a problem," Wawrinka said. "He's the best player ever. I will always feel that I am No 2 behind him. For me it's more about being No 3 in the world. That's really big and something amazing.
"I don't think a lot of people in Switzerland were expecting me to win a Grand Slam. That's simple. Until last year I wasn't close at all. My best result in a Grand Slam was making the quarter-finals, so I was far away from winning a Grand Slam title. All my career, I've been on the tour when Roger was already there. In a way that was good because he was taking all the attention and I could do my own things and concentrate on my own career."
Wawrinka, who admitted he had had little sleep after celebrating long into the night, said that even last year, when he reached the semi-finals of the US Open before losing to Djokovic, he had not thought he had it in him to win a Grand Slam title. "Even if I had won that match I would have had to play Rafa in the final," he said. "For me that was too much. That's why I always say I had never dreamed about winning a Grand Slam. For me it was just not my level."
So why had everything finally come right for him this year? "I think it's because of what I've been doing for many years. I always try to improve. I always practise hard, try to play better, try to improve my game, try to find solutions. It's just my time. I'm 28, I'm more mature, I understand better when I win and when I lose and why."
Monday's updated world rankings list saw some notable changes, with Wawrinka at No 3, Juan Martin del Potro at No 4 and Andy Murray and Federer down to No 6 and No 8 respectively. Wawrinka said that a number of the other top players now believe that they can challenge the game's Big Four for the major honours.
"I think they were already saying that last year," Wawrinka said. "We were thinking that the four major guys were still there, were still amazing players, but we had more chances to beat them. We hadn't won a Grand Slam but we were close to them. I think we all realised that it could be possible to do something big."
Nevertheless he added: "When you're No 3 and you win a Grand Slam, a journalist will expect you to say: 'Now I want to be No 1.' But I feel that is so far from me, so far from my level. That's why it's not my goal, that's why I have to take time for myself, alone, with my family, with my team, to see exactly how I am going to deal with that for the rest of the year."
Nevertheless, Wawrinka admitted that his own expectations would now rise. "I realise that when I play my best tennis I can beat Novak, I can beat Rafa, in a Grand Slam, in a final, in a semi-final," he said.
Might the likes of Tomas Berdych and Jo-Wilfried Tsonga now emulate Wawrinka by winning a Grand Slam title? "I always thought before this week that they were closer than me to win a Grand Slam," Wawrinka said. "But it's tough. The big four, even if they're not top four any more, they've been there for many years, winning everything."
Wawrinka was asked what it would be like to return here next year and see his photograph on the wall, alongside those of other past champions. "The first thing I will do is take a picture of myself," he said. "It's big when I see all those champions. For me, they are the real champions. To be there is just something crazy."
Join our new commenting forum
Join thought-provoking conversations, follow other Independent readers and see their replies