Australian Open 2014: Sloane Stephens denies she was celebrating loss of Serena Williams to Ana Ivanovic
The American said she was mimicking members of Ivanovic's entourage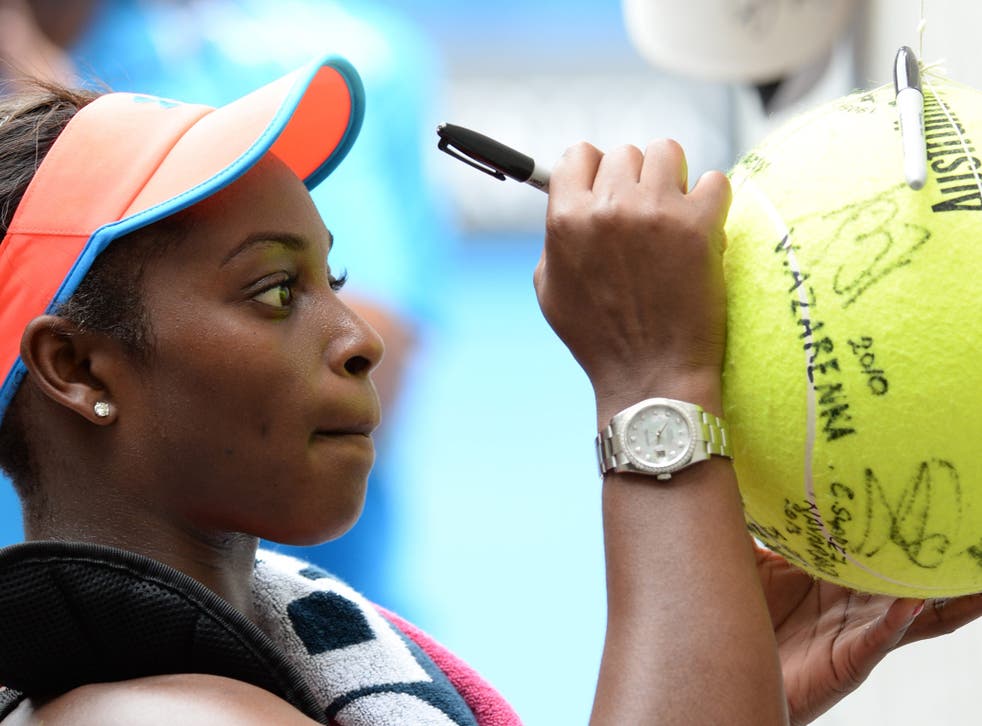 Sloane Stephens and Australian Open controversy go together like beaches and beer in the capital of Victoria. Twelve months ago the young American earned the Melbourne crowd's sympathy after Victoria Azarenka's much-criticised medical timeout in their semi-final. Stephens lost to Azarenka again on Monday, this time going down 6-3, 6-2 in the fourth round, but a number of the post-match questions centred on her behaviour the previous day after Serena Williams' defeat by Ana Ivanovic.
Television pictures had shown Stephens with a big smile on her face at the end of the match, after which she seemed to raise her arms in triumph and attempt to high-five a member of her entourage. The pictures fuelled speculation about her relationship with Williams, which has been said over the last year to be less than cordial.
Stephens, nevertheless, insisted she had not been celebrating Williams' defeat, but had simply been mimicking members of Ivanovic's entourage. "Ivanovic's coaches pretty much gave each other headbutts and kisses, and I thought that was the funniest thing ever," Stephens said.
Azarenka's chances of winning the title for the third year in a row increased with the defeat of Maria Sharapova, who went down 3-6, 6-4, 6-1 to Dominika Cibulkova. Azarenka now plays Agnieszka Radwanska, who beat Garbine Muguruza 6-1, 6-3, while Cibulkova faces Simona Halep.
Sharapova, who made 45 unforced errors, has only just returned after a lengthy lay-off with shoulder trouble. "I have to look at the positives and see where I have come from in four or five months," the Russian said. "I haven't played a lot of tennis in that time. I certainly would have loved to play a little bit more before playing a Grand Slam."
Join our new commenting forum
Join thought-provoking conversations, follow other Independent readers and see their replies