Johanna Konta eager to show she's learned from her past in opening clash with Madison Brengle
Konta has described her American opponent as 'a tricky player'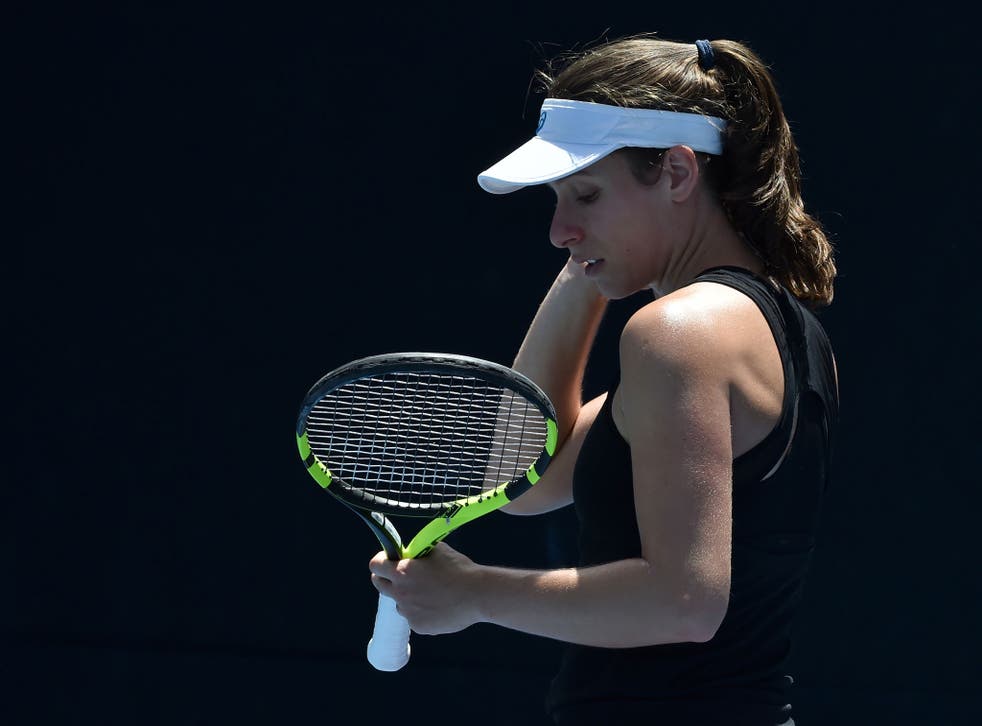 After her experiences at the French Open and US Open last year, you can be sure that there will be no complacency from Johanna Konta as she prepares for her opening match on Tuesday here at the Australian Open.
In both Paris and New York Konta fell at the first hurdle when facing opponents whose game is less predictable than most, losing to Taiwan's Su-Wei Hsieh, the world No 109, at Roland Garros, and to Serbia's Aleksandra Krunic, the world No 78, at Flushing Meadows. Given that Konta describes her first opponent here, Madison Brengle, as "a tricky player", the world No 10 will need to be wary from the start.
Brengle, the world No 90, won her first three matches against Konta, who retired hurt in the first two of them. Although Konta won their most recent encounter in Indian Wells two years ago - for the loss of only four games - the 27-year-old American has claimed some significant scalps. In Auckland 12 months ago she beat Serena Williams, who went on to claim the Australian Open title later that month.
Konta, who has dropped one place in the world rankings after failing to defend her Sydney title last week, said: "I think her game style is definitely a tricky one to play. If one thing's for sure, you never go up against her underestimating her. She is incredibly tough in the way she competes, the amount of balls she's able to get back. I'm going in preparing for a tough match."
Asked what she had learned from her defeats to Hsieh and Krunic last year, Konta said: "I think it's patience more than anything. I think it's especially relevant to my beginning of the season this year. [I need to] trust in what I do out there and try to keep my mind on what I'm looking to achieve out there and not so much on where the match is scoreline-wise, how I'm feeling, just try to be my own biggest fan and keep cheering myself on in what I do well."
Although Konta lost in the first round in Sydney last week to Agnieszka Radwanska, having beaten the Pole in the final of the same tournament12 months earlier, she thinks the experience was an important part of her preparations for the Australian Open.
Not only did it give Konta the chance to prove that she had overcome the hip injury which she had suffered in Brisbane the previous week, but it also provided her with a reminder of the need to keep her composure in difficult moments. After the match, in which she struggled at times to cope with Radwanska's unpredictable game, Konta admitted that she needed to "panic less" in matches.
"I think it's really positive that I had a match like that because if I use it the right way, I can learn from it," Konta said. "I don't think it necessarily works that you get it out of your system and then you won't face it again. I think it's more that if I face it again - or not even if but when, because you have these matches throughout the year - I'd like to think that I will deal with it a bit better.
"That's more what it comes down to. It's just acknowledging and being aware enough of situations in a match and then kicking back into being my own biggest fan and keep backing myself in what I do out there. That comes with matches, that comes with time, but it's what I'm trying to do."
Konta has reached the semi-finals and quarter-finals here in the last two years but prefers to look ahead rather than back. "It's a constant process of building," she said. "We're like big computers. We obviously do work from our memories as well. We do work from past experiences. We do bring those back if we're faced with a similar situation, but in terms of specific results or titles, points and things like that, you do move on, you keep moving on week to week, not even just year to year.
"You move on every week because the beauty of tennis is that there is always an opportunity every week if you really want there to be. Not many sports can say that. Actually no other sports can say that with how long our season is, so you've got to look at it that way and, for me specifically, trust in the style of play that I have and trust in the game that I have, trust that that will bring what it will bring."
Join our new commenting forum
Join thought-provoking conversations, follow other Independent readers and see their replies