Forty years on, how Billie Jean King led the revolution that propelled women to greater equality
The road to fairer prize money and a higher profile began in a London hotel room back in 1973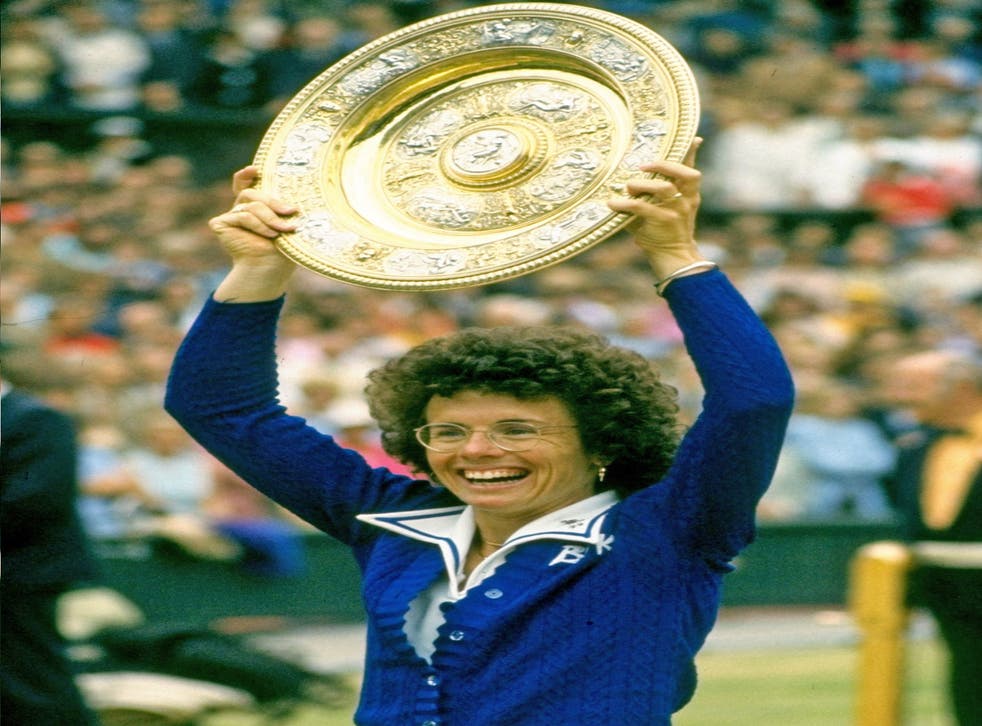 A meeting of players in London exactly 40 years ago tomorrow was never going to be on the same page as some of the other momentous events of 1973 – a year when a ceasefire ended the involvement of American ground troops in Vietnam, when the Chilean president Salvador Allende was overthrown and when Britain joined what became the European Union – but there has never been a more significant date in women's tennis.
After more than a decade fighting for a better deal for her fellow female players, Billie Jean King called more than 40 of the world's top women to a meeting at the Gloucester Hotel just days before the start of Wimbledon. They voted unanimously to form the Women's Tennis Association, which has changed the game for ever.
Today the world's leading women compete in 33 countries for more than $100m in prize money. Maria Sharapova is the world's best-paid female athlete, with annual earnings estimated at $29m (about £18.5m), while Serena Williams and Victoria Azarenka last year became the first women to pocket more than $7m (£4.5m) in prize money in a season.
In the early 1970s, however, tennis had a very different landscape. After the sport had gone "open" in 1968, professional players had been welcomed back into the mainstream and tournaments started to pay prize money, but the pot for women was often a fifth of what the men earned, or even less.
When the Pacific Southwest Champ-ionships in Los Angeles announced in 1970 that their men's and women's champions would receive $12,500 (£8,000) and $1,500 (£960) respectively, the impetus for change grew stronger.
In the same year a group who became known as the "Original Nine" – King, Rosie Casals, Nancy Richey, Kerry Melville, Peaches Bartkowicz, Kristy Pigeon, Judy Dalton, Valerie Ziegenfuss and Julie Heldman – risked the wrath of the tennis establishment by signing $1 contracts to compete in a women's event in Houston sponsored by a cigarette brand, Virginia Slims.
The Virginia Slims circuit quickly took off, but King knew that the players still needed their own association. "We just wanted a situation where any player in the world, if she was good enough, would have a place to play and make a living and be recognised and appreciated," King said.
Three years later King brought the players together at London's Gloucester Hotel. The media thought the women were planning to join that summer's boycott of Wimbledon by many leading men after the banning of Niki Pilic for not playing in the Davis Cup. King, however, had been told that the men were not interested in their support. She also realised that a Wimbledon without the leading men could provide a showcase for the women's game, particularly if they had just formed their own association.
The French player Françoise Durr, who was to become the WTA's secretary, recalled: "Sitting in that room at the Gloucester Hotel, I felt like we were going to make history. Well, we hoped that was what we were going to do, but we couldn't be sure. So we locked the door and we said we would not leave until we'd created an association of some kind. Some of the women were more nervous than others. But my good friend Betty Stove, who was very tall, stood guard – and nobody left. Of course Billie Jean was the main force behind it all, but Rosie Casals was right there and me too."
King told the meeting that if they failed to form the association it would be her "last breath" on an issue which had left her drained. After lively debate there was unanimous agreement. King had had legal documents prepared which all the players signed. From the start the leading women were heavily involved in the running of the association; King was elected president and Virginia Wade vice-president.
"I'm glad we held our nerve because when more people come together it only makes your position stronger," Durr said. "Afterwards I remember feeling a real sense of achievement. When you are on the court, you have to take things into your own hands – you are playing for yourself. But after taking the decision to create the WTA as a group, we were very happy. The men were making more money and it was time to show what we could do too."
King, who will be a special guest of the All England Club this year, believes that tennis has played a major part in the fight for women's rights in all walks of life. "We're visible," she said. "We have the most exposure of any sport. In tennis you see strong women, you see beautiful women, you see accomplished women."
When the WTA stage their pre-Wimbledon party at a celebrity-packed gathering in London tomorrow, glasses will no doubt be raised to King and her fellow pioneers. Stacey Allaster, the WTA's chairman and chief executive, said they remain an inspiration today. "Generation after generation, the tour has been graced by young women who've embodied the passion and steely determination of the trail-blazers, on court and off," Allaster said.
Join our new commenting forum
Join thought-provoking conversations, follow other Independent readers and see their replies