The Independent's journalism is supported by our readers. When you purchase through links on our site, we may earn commission.
French Open 2013: The king of clay returns as scintillating Rafael Nadal swats aside compatriot David Ferrer
Spaniard caps comeback from knee injury with win over Ferrer to claim French Open title No 8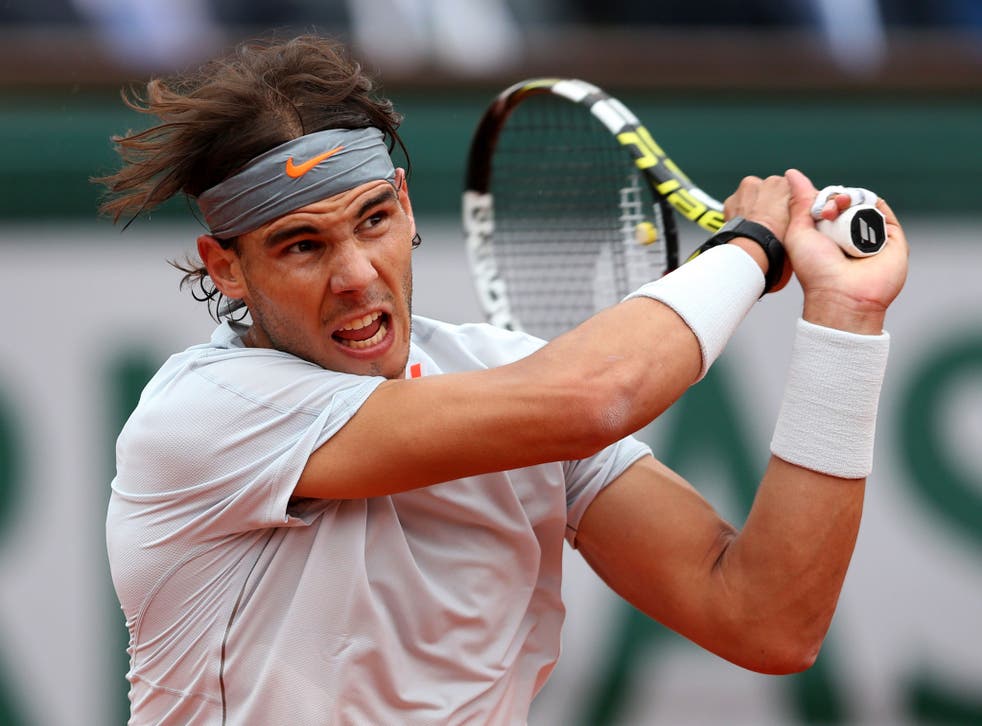 On a day when not even a court- invading protester could get close to Rafael Nadal, the 27-year-old Spaniard sealed his place in history as the greatest clay-court player of all time. A 6-3, 6-2, 6-3 victory here over David Ferrer in the final of the French Open saw Nadal become the first man ever to win the same Grand Slam title eight times and took his astonishing record at Roland Garros to 59 victories – more than any other player – from 60 matches.
The bare statistics, nevertheless, barely do justice to Nadal's achievement. Only four months ago there were serious doubts as to whether he could ever rescale his former heights, but after a seven-month absence following the latest in a series of injury crises with his knees he has made a comeback beyond his wildest dreams. Of the nine tournaments Nadal has played since he began his return at a minor event in Chile in February, he has won seven and finished runner-up in the other two.
Nadal is a player who respects every tournament in which he competes, but this was clearly the prize he sought above all others. Last year the Spaniard took himself clear of Bjorn Borg's record of six French Open triumphs, while this latest victory established him as the second-youngest player – behind Roger Federer – ever to win 12 Grand Slam titles. Only Federer and Pete Sampras, with 17 and 14 Grand Slam titles respectively, have won more than Nadal, who has moved equal with Roy Emerson on the all-time list.
Although he refused to elevate this victory above any of his other Grand Slam triumphs, Nadal admitted it was special. "Five months ago nobody in my team dreamt of a comeback like this," he said. "They thought it was impossible. But here we are today. It is just fantastic and incredible."
He added: "When you have a period of time out of the game like I had, you don't know whether you will ever have the chance to come back, so that makes this very special."
As a final, the match was a bit of a damp squib, the only major fireworks arriving towards the end of the second set, when a protester campaigning against same-sex marriage legislation in France invaded the court carrying a flare. Four years ago security staff were slow off the mark when a court invader tried to put a hat on Federer's head during his final against Robin Soderling. This time a security guard tackled the invader well before he could get to Nadal, who admitted later that he had been scared for a moment but praised the staff for their speed.
After one of the coldest French Opens in living memory it was fitting that much of the final was played in drizzle or light rain on another chilly afternoon. There was one short delay when the rain got heavier, but nothing was going to stop Nadal's march on history.
Ferrer, playing in his first Grand Slam final at the age of 31, had lost to his fellow Spaniard in 15 of their last 16 meetings. The world No 4 is never one to throw in the towel, but there were indications that he never truly believed he had a chance. As he tried to force the pace Ferrer made 35 unforced errors and five double-faults, some at crucial moments.
Although Ferrer held to love in the opening game and broke back immediately after dropping his serve in the third, Nadal took charge midway through the first set. A winning backhand cross-court pass saw the king of clay break to lead 4-3 and another break two games later gave him the first set after 40 minutes.
By the time he had gone 3-0 up in the second set the defending champion was firmly into his stride. When Nadal won a thrilling 29-stroke rally with another backhand cross-court pass two games later, the look of despair on Ferrer's face told its own story. Two points later Nadal was 4-1 ahead after a superb backhand winner down the line.
Ferrer broke back to trail 5-2, but the following game summed up his day. Pressing too hard, he served two double-faults to go 0-40 down and then blazed a forehand wide on the first set point.
Early breaks were exchanged in the third set before Ferrer dropped serve for the eighth and last time to trail 5-3, hitting another double-fault on break point. Nadal needed only one match point in the following game, wrong-footing his opponent with an inside-out forehand before falling on his back in celebration after two hours and 16 minutes.
Ferrer, who thought the heavy conditions had been to his disadvantage, paid tribute to his fellow countryman. "I think he has the best mentality I've ever seen in my career," Ferrer said. "He has everything. He can play aggressively, he has good hands at the net and physically he's unbelievable. He played five sets two days ago and today he played just as well."
After giving his all during the clay-court season, it is no surprise that Nadal has pulled out of this week's grass-court tournament at Halle in Germany, which was to have been his only warm-up event before Wimbledon, which starts in a fortnight's time.
Bizarrely enough, Nadal will drop a place in the world rankings today, with Ferrer replacing him as world No 4. Nadal is also set to be seeded No 5 at Wimbledon – the men's seedings there follow the world rankings with a small adjustment for past results on grass – which could mean that three of the game's big four players will find themselves in the same half of the draw. Andy Murray, for example, could have to beat Novak Djokovic, Nadal and Federer to win the title – or he might have to beat only one of them.
It remains to be seen how much this effort will have taken out of Nadal by the time Wimbledon comes. He said he was happy with the way his knees had held up, particularly after his marathon victory over Djokovic on Friday, but would have to take time to assess his fitness for the challenges ahead.
However, such thoughts are for another day. For now it is time to celebrate the achievements of a player firmly established as one of the sport's all-time greats.
Join our new commenting forum
Join thought-provoking conversations, follow other Independent readers and see their replies